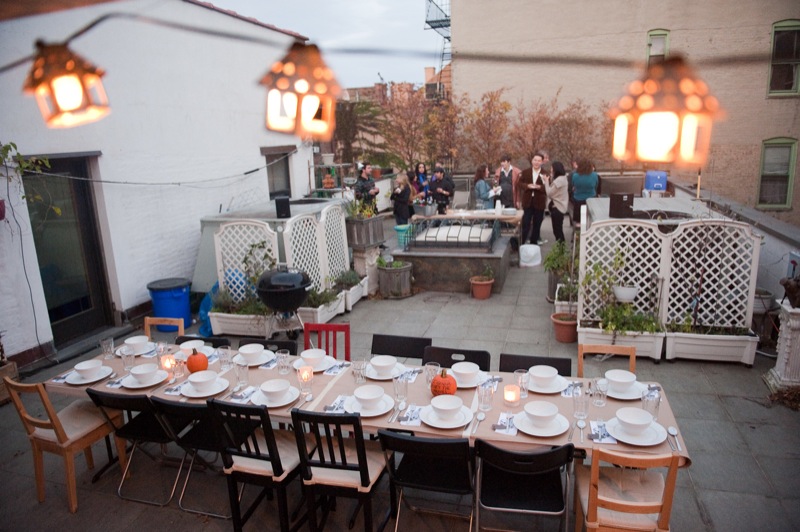 We never say goodbye, just see ya next time. Saturday was our last dinner on the deck for the season. As expected we threwdown some hardcore southern Italian tasty. Thanks to Brooklyn Based, we had some great new guests turn up and break bread with us.
As many of you know I have personally been waiting for this dinner all season. My morning consisted of popping around on Metropolitan Avenue getting the provisions for the evening. I jumped from the fish market to Mario's meat shop to the hardware store, stopping at the bakery and flower shop in between. The dialogue was routine to me but foreign to most without a vowel ending their surname. As Mario's pounded the braccioles from freshly cut meat, John gutted and cleaned my fish and Tony helped me find the new deck lighting necessary for the evening.
Back at the apartment and a good way into prep, Aimee arrived with the traditional box of goodies and the tasting began. A few hours later we were ready to go. The table was set, apps were being prepped and snacks were out.
photo credit: Kun Kim
Guests soon started popping in and Eric, one of our most loyal family staff, gave them the back of deck run down on the drinks and snacks. 6pm was an early start but with a fast sunset and a 2.5 hour gangster movie to screen we had to keep a quick pace.
photo credit: Kun Kim
Appetizers were sent after the snacks were gobbled up and we dropped our first round of rigatoni into the water.
photo credit: Kun Kim
Pea & mozzarella arancini
photo credit: Kun Kim
Prosciutto wrapped mozzarella-stuffed peppadews
photo credit: Kun Kim
Grilled polenta with gorgonzola and mushroom ragout
Small things that you never think about always pop up during these meals. For example, feeding 16 people rigatoni requires two pots of boiling water, but we only had one. Hence the batches.
photo credit: Kun Kim
By this time our guests stomachs were getting their first period of fullness and their mouths were practicing the finer art of congenial socialization. Our intention for the evening was to serve the meal as close to Italian style as possible. Everything served family style and multiple courses allows for high interaction resulting in comfort with your neighbor. In short guests make friends over food. And that is what we LOVE to see.
photo credits: Kun Kim
We sat our guests for rigatoni and my family gravy kicked up with some marscapone cheese around 7. That course was followed with a fresh arugula salad dressed simply with salt, pepper, killer olive oil and some lemon. This was an unexpected course but one that worked out well in the end.
photo credit: Kun Kim
The fish had taken an unexpected turn and was pulled from the oven underdone. Meanwhile the braccioles were off the grill and resting. One of the best parts of these dinners for me is dealing with these "problems" as our guests sit oblivious outside. I love problem solving and those relating to food I certainly revel in. As our guests nibbled their salads and the tempurature dipped a touch lower we, in the kitchen, fixed the fish problem on the grill and blasted the bracciole in the high heat oven to keep it warm. Ten minutes later these two dishes were plated and passed to the anxious 16 waiting outside.
photo credits: Kun Kim
We started the movie shortly after letting Pesci, Liotta and DeNiro entertain our guests for the next two plus hours.
photo credit: Kun Kim
After a short kitchen break we kicked into the parmesan popcorn making and delighted both guests and ourselves with this appropriate and tasty thematic touch.
photo credit: Kun Kim
After the crew, Aimee and I cleaned, it was unexpectedly time for dessert prep. Aimee went a bit overboard this time with five homemade cookies. Because of all the sweat equity and the fantastic outcome I think it is worth a call out by cookie.
photo credit: Kun Kim
clockwise from left: pizzelles, almond and walnut biscotti, chocolate-hazelnut sandwich cookies, pignoli cookies, pumpkin cookies with brown butter frosting
The cookies were accompanied by a homemade hot chocolate finished with a splash of frangelico and a homemade marshmallow.
photo credit: Kun Kim
This warmed our guests on several levels as Tommy got wacked and Henry went to trial. One final round of food, olive oil icecream arrived just before the credits.
The finally was a huge success and we had a ton of fun. This season was great. The people we met, the food we all ate and the experience all our guests and staff had we wouldn't change for anything. As I always say, REEL TASTY is about the great food and great cinema but without the connection of strangers the mix is without the proper glue.
We are taking a month or so off while we look for an indoor space to host a winter version. Hopefully we will get in one or two over the long cold. None the less, we will be back in the spring with fresh new menus and a new list of blockbuster hit movies. In the meantime stay tuned for our cookxperience book containing some delicious recipes and interesting happenings from all six summer dinners. All the proceeds from the book will go to a charity Aimee and I healthily support.
Thanks again to everyone who attended goodfellas and to those who attended the other five dinners. We look forward to seeing you all again soon.
Get on our list for upcoming dinners dinners@forkingtasty.com
Recipes:
Prosciutto-wrapped mozzerella-stuffed Pappadews
ingredients:
20 good-sized peppadew peppers (ideally the size of a ping pong ball)
10 small mozzarella balls – halved (or one large mozzarella ball cut into 20 pieces)
1/4 pound thinly sliced prosciutto
Preheat oven to 400 degrees F.
Stuff each peppadew with the halved mozzarella ball.
Split a slice of prosciutto into three pieces.  Wrap the stuffed peppadew – ensuring that the opening of the peppadew is covered (so that mozzarella does not melt out).
Cook for 7-10 minutes (until cheese is melted).
Anello Italian Gravy (Sauce)
ingredients
2 cans tomato puree
2 cans tomato sauce
2 cans tomato paste
1 med onion (chopped)
5 cloves garlic (minced)
parsley, oregano (dried or fresh)
red pepper flakes, salt, pepper, sugar
Some kind of pork (I used pork chops
Directions
Add some olve oil to a large stock pot. Saute porkchops until carmelized on both sides. Remove from pan. Sweat onions and garlic in pot for approx 5 min. Add in all tomato products. Add spices fresh and dried to taste. Mix thoroughly. When temperature of the sauce is hot, lower heat to a simmer. Add back in pork. Simmer for 6 hours. Ladle onto favorite pasta. Add Marscapone cheese for added richness.