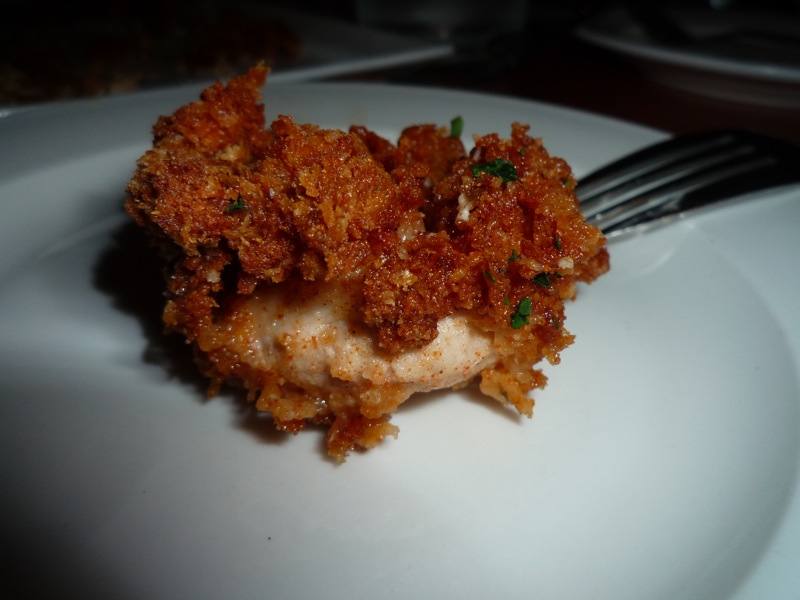 A couple weeks ago I was in Austin. You may have heard. In between my BBQ adventures and a trip out to a crepe trailer I had the pleasure of dining on some lamb parts with a crew of true gents. An impromptu "boys night" that well deserves its own post. This post, however, will focus on the food.
After finishing a smoke (not me) and passing Stevie Ray Vaughan's brother at the bar we settled into a large booth in Olivia Restaurant located on South Lamar in Austin. Olivia has a delicious menu that reads much like the back dumpster of a butcher shop looks. Let me explain.
A week prior to the trip my friend Brian told his old skool buddy Sean we were coming into town and he was bringing "this guy" who has tasted everything. Sean took this as a personal challenge. He was determined to peak my gastronomical interest and trick my tuned palette with some "nasty-bits-turned-good". Olivia's menu read like a collision between a whole foods and a key food freight train. Those of you unfamiliar with key food think Family Dollar or that sketchy meat market you pass in the latin neighborhood of your town.
When the waiter stopped by we did not waste any time going for the jugular, literally. Well almost literally. About three inches north. First up was lambs tongue with grilled bosc pears, citrus pan sauce and yaupon honey.
Following the tongue we moved to corazón.(President of the Philippines or in this case spanish for heart) A full plate of grilled lamb hearts stuffed in jalapeños and then wrapped in house bacon were finished with fireman's 4 syrup.
Next up was a giant plate of lamb fries with whole grain mustard aioli. If you are like me, you discovered what lamb fries were when you watch Chevy Chase in Funny Farm back in the 80's. If you are NOT like me, they are lamb testicles. Yes. Testicles. Get over it. They are delicious. Just take a look.
We rounded out the appetizers with some San Francisco Molinari salami and a killer bottle of wine.
This lamb trio was delicious. If you just watched the Chevy clip I linked to above, and I hope you did, you saw him spit out his 31st once he found out what they were. That's the problem with us. We eat with out mind. Those of us with predetermined ideas of what is good, bad and edible miss out. Scroll back up. Read some of the ingredients that were used in preparing these dishes. House cured bacon can't be bad. Jalepenos and syrup work the hot and sweet parts of the tongue. Who doesn't love some sweet kick? Chef's these days are being really inventive with their recipes. Part of that is using ALL of the animal. So next time you see some "weird" stuff on a menu, release your mind and give it a nibble. After all, you eat hotdogs don't you? You know what hotdogs are made of right?
So if I am so in love with the apps, what could I possibly have followed it up with? As good as those starters were my entree sang. A balsamic braised pork belly with honey crisp apples, twice fried yukon potatoes and fresh cilantro appeared before me and after the first bite, I lost my mind.
The meal ended with a last few sips of wine before the five of us piled into Sean's truck and headed over to see their friends band at the Continental. That's par for the course in Austin. Follow your nose to really good food and then follow your ears to really good music. We shut it down at 3am. I woke up for my 7am flight at 7:30am but that is another post. Hell, that is another blog.