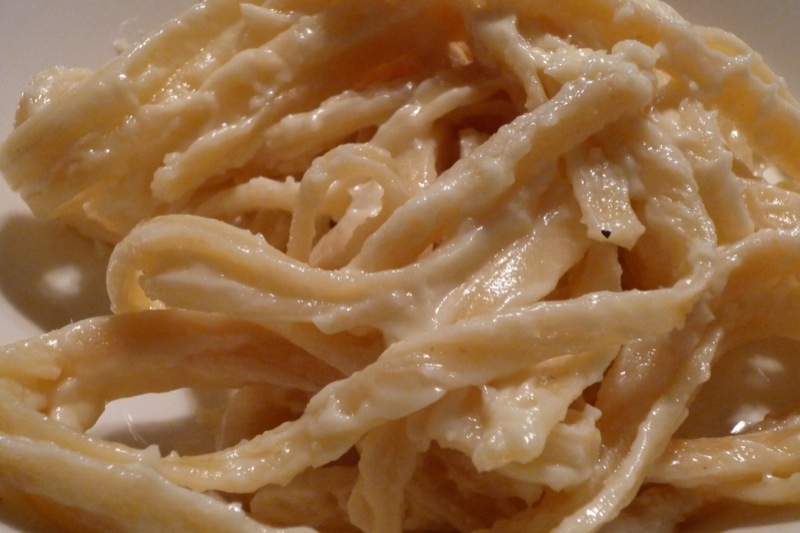 Christmas day starts off with a bang, and I am not talking about a frenzy induced, wrapping paper ripping, gift mania. I am talking about food. For better or for worse, my family does not do much if there is not food involved. I woke up in my grandmothers house which is covered in Santa Claus'. My parents were already stirring. My father had on coffee and my mom was making eggs. It was only about 9:30am. The tree, gift ceremony and "real" food would be back at my Uncle Doug's. Kickoff? 10:30am.
Ant woke up, grandma came out of her room in her favorite new Christmas outfit. I have one of those awesome grandmas that has several outfits for each holiday. Love her! By this time the coffee and eggs were ready and the family had a quick Christmas breakfast before loading into the car and heading over to my uncles.
On the left is out breakfast and on the right is meat pie. Meat pie is a specialty made by my Uncle Brian's favorite deli in Tampa Florida. He has the same feelings about this pie that my Aunt Joy has about an Apple Crisp, but we will get to that a little later. As we enter my Uncle Doug's house before you see any people you see meat pie. The warm and delicious scents set off olfactory alarms as you get bombarded with Merry Christmas hugs, kisses and the occasional hi-five. As the hellos subside I wandered into the dining room to find a table already filled with antipasti.
Homemade eggplant caponota and fresh made hot soppressata. We noshed for a while but then some of the prep for dinner could not be put off any longer. The trick was to get all of the big dishes going and then start the 4 and a half hour present ceremony. The idea is, once we are done with gifts dinner would be ready. Tonight we had a turkey and a prime rib as the main event. As sides, there was probably 4 or 5 of them. But before all that we had to rig up the Prime rib on the, now standard tradition, Ron Popeil Showtime Rotisserie.
The roast and the turkey go into their respective warming vessels and the gift giving, getting, ripping, playing begins. Highlights from this year include a special golf club, a Yankee Shakespeare mask, an awesome truck for little Nate and a convertible for my grandma. Just as planned about 30 minutes after we finished with the gifts, dinner was piping hot and ready to go.
23lbs Turkey and 8lbs Prime Rib
My now famous cauliflower dish(recipe at bottom). Roasted Asparagus with toasted breadcrumbs. Moms Italian stuffing (some goes in the turkey but we always do a separate dish too because it is a crowd favorite). And of course we can not forget the fettuccine alfredo (pictured at top). Shortly after that we slide into, yep you guessed it, dessert.
This is a homemade, giant peanut butter cup made by Amy. I have never seen anything like this before. It was outstanding.
Of course it was accompanied by several familiar friends from last night and the apple crisp I mentioned earlier. Forgive me for not having a picture of it. In my meat and sugar induced coma I must have forgot to snap a pic of the deconstructed, crustless, apple pie. My aunt made quick work of it anyway, so the chances of getting an appropriate picture would have been low.
As the evening came to a close I think my grandma expressed it best with her simple, wordless expression in this picture.
If you are interested in the full Florida set, check it out here.
Cauliflower and Chick Peas
ingredients:
1 head Cauliflower-cut into small florets
2 Lemons juiced
zest of 2 lemons
1 can garbanzo beans
capers-just a little
caper brine if so desired
Parsley-chopped
olive oil
directions:
Coat cauliflower lightly with olive oil. Roast cauliflower in Baking dish for an hour at 400 degrees. Let cool. Mix with all other ingredients. Serve warm or at room temperature