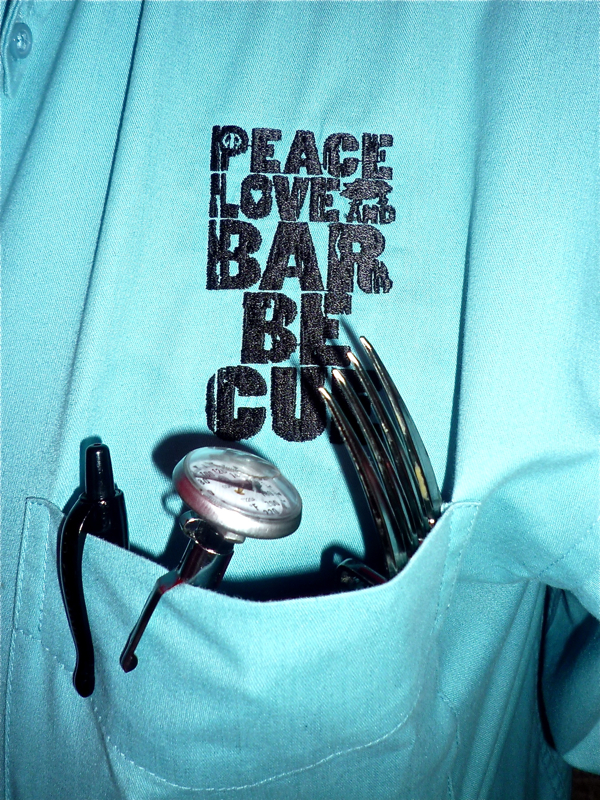 It's nice to be family. That's how Mike Mills started our conversation. Let's back up a bit before we get to the swine. Just over a year ago I met Amy Mills, Mike's daughter, down in Memphis at a talk she was giving about BBQ. Amy knows more about BBQ than anyone I know. A lot of that has to do with the way her father packs his shirt pockets. She took all that knowledge and put it into a book. Perhaps we should refer to it as gospel being that it's filled with stories about her dad and her dad's friends first hand accounts about the 'que.
Today she was in my town. She invited me over to her tent at the Big Apple BBQ to meet the crew and eat some award winning cooking. To say I was in heaven the second I stepped into the tent is an understatement. Smokers, eaters, pork and beer; what else do you really need? Amy started me off with a cup of Pink Pull Your Panties Down punch. Mike later told me this is the drink that all the judges sip on after the big Memphis in May competition. Right after that Amy told me the ingredients and one of them was NOT water.
After the punch I was treated to these hot links and instructed to sauce them up from the fountain. Yes, the fountain. I mean….have you ever?
Directly after that Amy showed up with this half rack of perfection that was just plucked out of the smoker. These ribs were amazing. A dry spicy rub that left you wanting another bite. The spices were mild but flavorful allowing the meat to shine in its smoked perfection. The pork released from the bone with a gentle tug just they way they should.
As I was savoring the last of the half rack the boys running the smoker started to pull, grill and chop these pork steaks. Now, I have never tasted nor heard of a pork steak until this moment. Mike explained that they a sliced a piece off the bottom of a pork but, smoked it for about 4 hours and then finished them on a grill to caramelize the surface. It gives the pork the best of both worlds. It sends the taste out of this world.
The pork steak was a super unique piece of 'que. With both the smoker and the grill in effect you had this deep smokey taste that just lingered in your mouth for a good five minutes. I have never had a piece of smoked meat that stuck around for so long bouncing flavors all over my taste buds. Apparently, this is a mid-west thing. Hooray for the gosh darn mid-west!
Back to those words about family Mike said to me when I arrived. He wasn't kidding. Everyone in the tent was treated like family. They shared food, laughed and chatted like old friends. I poked around the different smokers checking out the scene and made a new friend at every turn. Before I knew it some of the extended family had filled the tent and were reminiscing about old and new times. As I listed to Ed Levine talk to Jeffrey Steingarten of Vogue I noticed Danny Meyer chilling with his kids at the other end of the table. Those who know me know, I don't have idols but if I did one might look like this.
Danny got my heart years ago when I first tried his Blue Smoke BBQ. He has done some amazing things for Union Square, Madison Square and NYC in general. It was great to share a rib table with him. Throughout the next few hours food bloggers, food writers and BBQ pitmasters seemed to pour in and out of the tent like my Italian family during a Christmas Eve dinner. At the end of the pigout (I just had to) I was super grateful to my gracious hosts Amy and Mike. I figured the proper way to end this post would be with a pic of my new BBQ family. Thanks for the tasty Mills'.