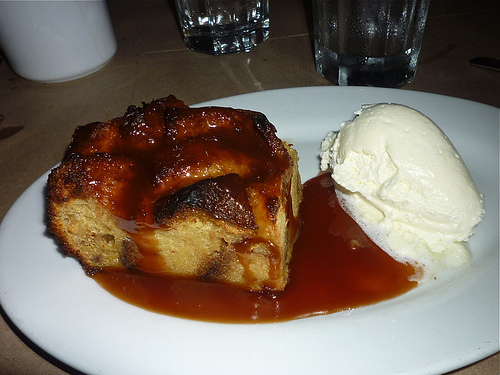 I usually don't start a post with a pic of dessert. In fact, I don't usually order dessert. As it turns out, that recurring Canadian I mention on this blog has some influence over my consumption after all.
A few weeks ago I traveled south to Carroll Gardens to dine with some friends who have the hood dialed. Knowing that I would be critical of the food choice, they started me out with some bread, cheese and a balsamic reduction at their apt. to ease me into dinner. Just across the street and a block down is Buttermilk Channel, named after the channel that used to be crossed for dairy farmers to sell their goods to Manhattan. Today's channel is much deeper and is home to the Queen Mary 2. The restaurant pulls form a bit of that old world by making everyone feel quite at home whether you are a regular patron or a first time visitor.
Since we started with dessert, let's continue backwards through the meal. One dessert over four people would just not be right so we packed two more on the bill. A Warm pear and riccota tart with ginger and brown butter custard just called out name. I mean come on, how can you skip anything that screams sweet ricotta? The other no-brainer was DOUG'S PECAN PIE SUNDAE. It's all caps because it's that good.
Backing ourselves up more into entrees lands us with some pretty unique twists on some staple ingredients and old time favorites. My buddy Elliott indulged in this DUCK MEAT LOAF with CREAMY PARSNIPS , ONION RING & DUCK JUS. Taking the meat loaf and doing it with duck is not only bold and nostalgic at the same time it is delicious.
Suze, Elliott's wife, and that Canadian mentioned above opted for the classic of classics. A BURGER made from HOUSE-GROUND BEEF with GRILLED ONIONS, NEW YORK STATE CHEDDAR and FRIES. This didn't have too many twists and turns but a fresh ground burger does have a certain flavor that oxidized store bought meat just can't achieve. I am not sure how public I have been with this but Alton Brown (@AltonBrownNews) is my favorite Food Network chef for those little science lessons.
I opted for the name sake. Besides the fact that I have been on a fried chicken kick, Buttermilk in that equation made it impossible to resist. The dish did not disappoint. BUTTERMILK FRIED CHICKEN with CHEDDAR WAFFLES & SAVOY CABBAGE SLAW. Mixing some cheese into a waffle gives a denser flavor that compliments the hearty chicken pieces. The secret to the dish was the syrup. I am not sure if you can reduce syrup but the flavor and viscosity were extra strong. Yet another twist on a traditional dish.
I like innovation in my food, it shows two things. One, someone in the back is thinking about what they are doing not just turning out food and hoping for a crowded front of house. Second, curiosity. Experimentation is the vehicle of discovery but with out taking the risk you will never move anything forward.
This brings us to the top of the meal, the appetizers. HOUSE -MADE PICKLES because you just have to try a brined cucumber if they are made on premises.
HUSH PUPPIES with GREEN CHILE AIOLI. Need I say more on this? All accompanied immediately after we sat down with these fresh brioche rolls. Hot and buttery.
I'll be back to the Channel soon. I like their vibe both in the dining room and coming out of the kitchen.