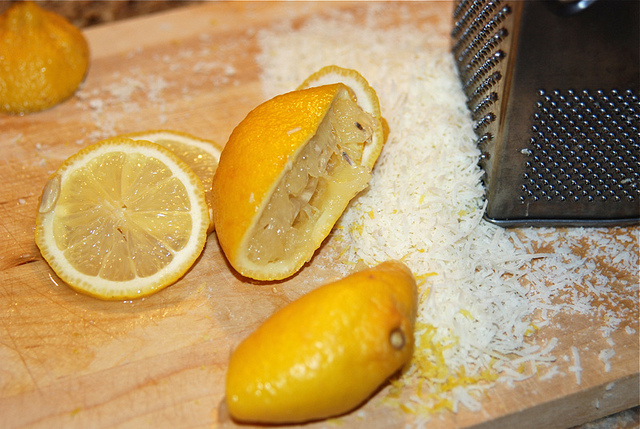 Sunday Standard
You can almost see the strong hand that squeezed the above lemon dry before tossing it to the cutting board and moving onto more important tasks, like eating. The post kitchen disaster is one we all know well but most of us don't love it like I do. No, I don't like cleaning. I really enjoy reviewing the food carnage after a good meal. Sunday afternoon suppers are especially heavy on havoc because the kitchen is a buzz with at least 5 people doing multiple tasks readying the food and table for the "BIG" meal. This moment shines a light on an ignored importance to the family meal.
This Sunday
As I walked through the kitchen on this particular evening, pockets of simple ingredients, like the lemon and grated parmesan cheese, could be found in every corner of the kitchen. On the stove was a lightly oiled pan containing some remnant garlic, chopped parsley and a few spaghetti strands. In the sink a starchy colander next to a bowl of sticky breadcrumbs and egg whites. The other counter had several glasses half full with pre-dinner wine abandoned for a proper glass and the better wine on the dinner table.
The hidden benefits
Aside from the clues around the kitchen reminding me of the meals preparation, the post supper clean up brings the conversation back to the kitchen completing the circle of dinnertime. In our house, when I was a kid, it wasn't just about the time we were sitting and eating. It was about the before and after just the same. These days we barely have 30 minutes to eat, let alone 3 hours to cook, eat and clean. So, Sunday's make me happy. Happy to cook. Happy to eat. And, happy to clean. Of course the food is always delicious but these overlooked bi-products of dinnertime are arguable more important. A meal like this slows down the craziness of life, catches us up with family and friends, hones our work ethic and relaxes our bones and brain. I believe it should get more conscious press. This weekend take a moment and cook, talk, eat…then clean. It might just be the relaxation you needed.