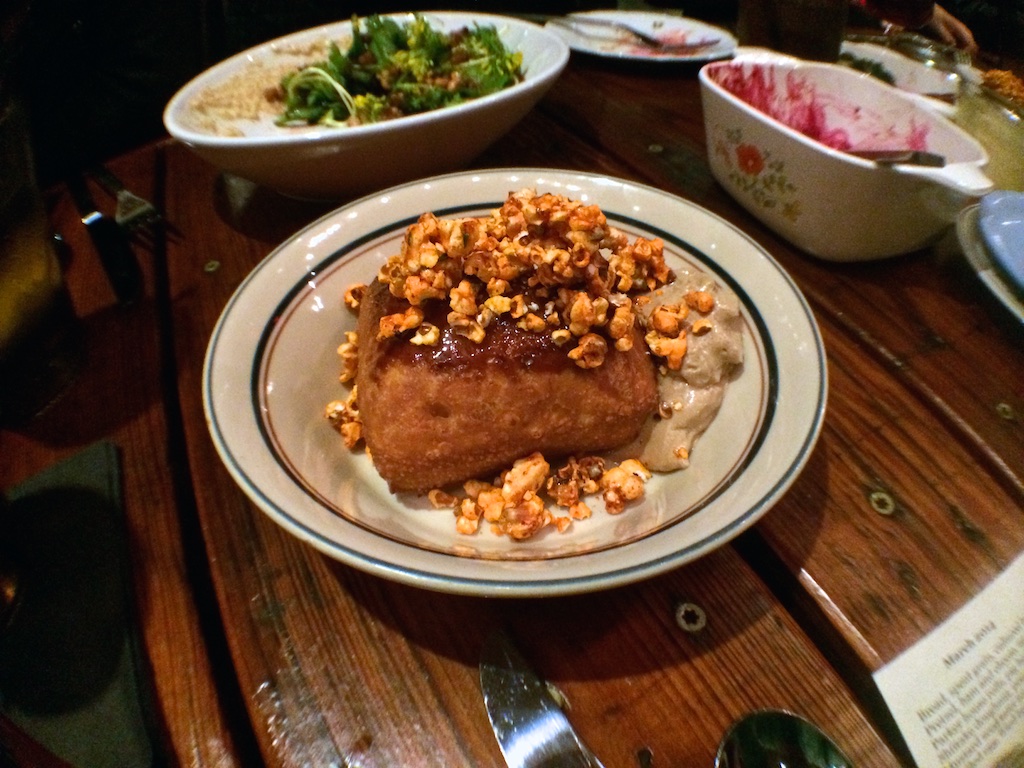 A year ago this week we dropped a bright blue firetruck in the middle of Austin and ordered the entire menu at Odd Duck. Which, as you'll understand after you scroll through the food porn below, quickly jumped to number 1 on the "Must-Eat-While-in-Austin" list. So, as this years SXSW festivities ramp up, I decided to post this most glorious post-event dinner that solidified a bond for the team last year with hopes that Odd Duck might do the same for a few lucky teams this year. When they ask if you'd like the whole menu just say yes. Then ask a a couple people to shout out their favorites and double up on those. Then glance down to the very last item on the menu and double up on that. Hell triple up on that. They deserve it.
I'm going to let the images do the rest of the explaining from here on out. Get that scroll finger ready. Here's the freefall of the 25 plate cacophony that was the best meal of SXSW 2014.
Parker House rolls with pig head
Pretzel, ham and cheese mustard
Shitake doughnut, popcorn
Mustard seed tater tots with smoked fish dip
Deviled eggs and fried brassicas
Marinated beets, citrus, blue cheese, pecans, charred olives (The finished plate was even prettier than the full plate)
Baked sweet potato, yogurt, peanuts, cilantro
Charred broccoli, field pea hummus, greens
Raw cobia, grilled bacon, soy, grapefruit
Pinto beans, lamb sausage, soured cream turnip
Chicken fried chicken egg, mushrooms, hot sauce
Boudin grits, pickled shrimp, fried pig skin
Rutabaga gratin, braised greens and chicken jus
Rutabaga gratin, braised greens and chicken jus
Black olive pasta, braised goat, sage, parmesan
Redfish, popcorn hominy, ham, mustard greens
Grilled quail, cabbage, refried beans
Brisket, slaw, dried chile, white bread
Bread pudding, malted ice cream, beer caramel
Brownie, milk chocolate, sweet potato, sorghum
Meyer lemon mousse, beet panna cotta, lavender honey
My favorite bite of the night was the black olive pappardelle. A perfect balance between the house made pasta and sauce. I would have never thought to use braised goat but it gave the dish that little edge that makes you say "Wait, this isn't lamb. It's better than that. What is this?" Which is exactly what you want in most dining experiences.
Enjoy SX if you're in Austin. Don't forget to grab a ressi.
Go there:
Odd Duck
1201 S Lamar Blvd, Austin, TX 78704
(512) 433-6521