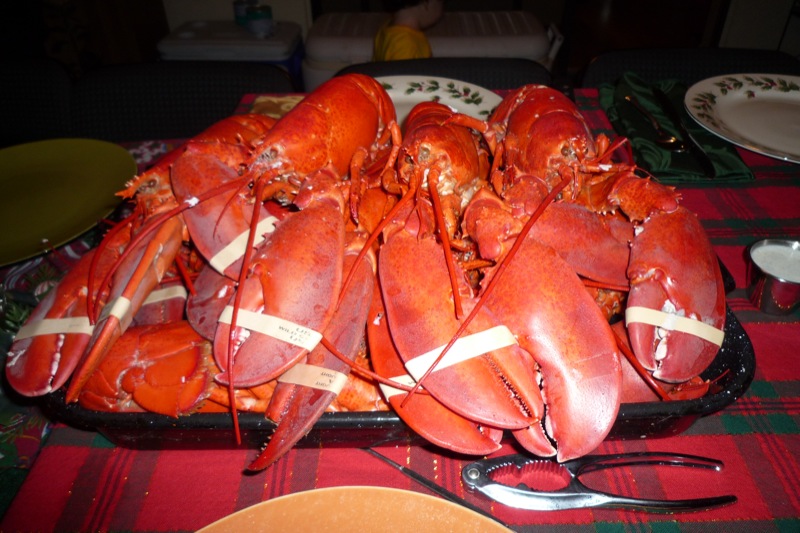 Twas the night before Christmas and all through the house every creature was stirring except a mouse. We just finished a feast made up of copious amounts of seafood, cheese, olive oil and vino. Not that I am surprised. This happens every year. Italian families have this Christmas Eve tradition called the Feast of the Seven Fishes. Now, started in southern Italy back in teh day the meal consisted of, well, seven fishes. Over the years, the country skipping and the desire to mix up the menu have sort of modified the traditional seven fishes to be more of a it-has-something-from-the-sea-in-it menu. Before I get into examples lets set the stage a little more. My brother and I pulled up to my Uncle Doug's house a few hours ago with my parents in the car. That is 4 people. Start counting. Already at the house was Debbie, Sunshine, Lisa, Sonny, Paco, Paco's mom, Paco's grandparents, Stu, Nate, Stephanie, Billy, Aunt Joy, Uncle Brian, Jonathan, Amy, Josh, Stu's wife, my grandma and, of course, my Uncle Doug. That would equal, say it with me, 24 people.
Because my uncle believes in one lobster per person, and I am one of the relied on cooks in the family, I parked the car went in the front door, kissed everyone hello, walked out the back door and went straight into steaming 25 lobsters. (the 25th one was for good measure) As that was going on, I was prepping the mussel dish, Uncle Bri was heating up two Quiches, Uncle Doug was shucking clams, Ant was chopping herbs, mom and Debbie were setting the table and everyone else was running around doing various tasks in between glasses of wine. Part of the fun of this night is seeing how much vino you can get in your system before you actually sit down and start eating. About an hour and a half later we were ready to plate and sit down at the table. One of the big tricks, and a personal pet peeve, is timing everything so it hits the table at the same time and is hot. Tough to do with all the food and the limited heating elements available.
Uncle Bri's mussels in Wine and Basil. Stephanie's crab cakes. delicious.
Raw and against the law clams on the half shell. Uncle Brian's Lobster quiche. Man, does that man like his lobster.
What happens next might be quit alarming. Shortly after the last mussel is slurped up and the final bit of meat is squeezed from the last lobster leg, the scent of coffee brewing fills the air signaling it is time for dessert. Try and keep in mind that these desserts last the entire week of eating from Christmas Eve to New years day. I don't really think that will help you understand this any better so I am just going to jump into this.
Chocolate stuffed walnut cookies (Uncle Doug)
Cream cheese cookies with jelly fill (joy)
Chocolate dipped cookie balls (doug)
Butterhorns(camille)
Rainbow cookies (joy)
Tortalina (camille)
American cheese cake (doug)
Peanut butter kiss cookies
Butterflies (doug)
Assorted goodness
Pignoli cookies (joy)
Italian cheesecake
That about wraps up the evening. I need to go lie horizontally for a while. After all, it is a only 6 hours until Christmas and the whole feeding frenzy starts again. You are not going to want to miss tomorrows update. If you are interested in the full Florida set, check it out here.