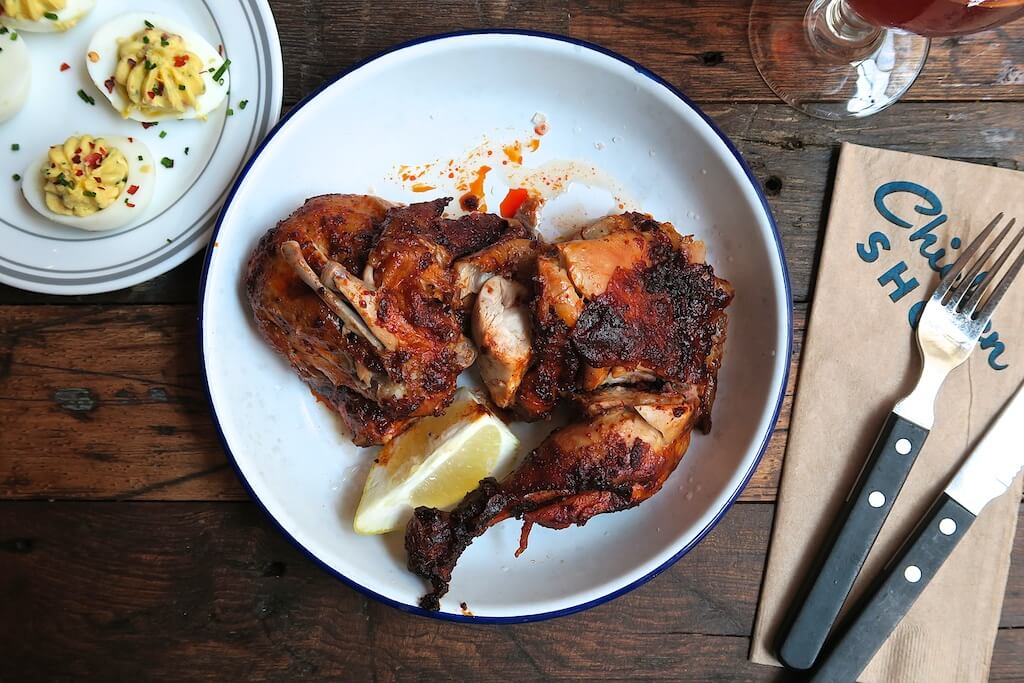 A few weeks ago I needed to jump over to Chicago for a good friends 30+ dude bachelor party. Unsure of how the impending antics and debouchery would impact my eating hitlist, I decided arriving a couple days early for a great food tour of chicago would ensure I checked a few boxes off my growing Chi-Town must eat list.
This video explains it all.
If that vid wasn't enough, or you are the scrolling type, here's a few special highlights. Starting with the picture at top. Chicken Shop is a drool worthy affair housed in the elite, swank begetting, SOHO House Chicago. Don't worry. No membership necessary. After stripping the succulent bones and licking my fingers clean I realized the "chicken sauce" was produced by SOHO House London where this chicken chain started. My bet, this is their Shake Shack play. Look out for more in the states wherever there is a SOHO House location.
You can't hit Chicago with out a ride on the train. In fact, it's one of the best ways to get around. Buy yourself a weekly Ventra card for only $33 bucks. It pays for itself in less than 2 days.
 Onion bread french toast with a yolky egg in the center covered in berries and FRIED CHICKEN. Holy damn is all I can say. Hungover? Double damn. It's a cure all. Check out the Stephanie Izard's entire mini-dynasty of restaurants.
 Hands down my fav building in Chicago. Marina City is right on the river and it looks so cool it should be in LA.
Paulina Butcher Shop is the thing legends are made of. Since 1949 these guys have been hacking up pork, beef, lamb…you name it they have it. They are so good Chicagoans come from all over the city to shop their meats. The real draw, the sausages. Over 25 types specializing in Eastern European blends. I pretty much lost my mind. The above veal brat weisswurst is the thing dreams are made of. From the loop, jump on the brown line to the Paulina stop. (About 30 min)
To close out this pictogram, eating adventure, you have to have a dog someplace. It doesn't have to be your main meal. Just a snack is fine. Whatever the moment make sure you have some of this neon green relish. It's sort of a thing and you don't want to hear a Chicagoan yelling, "Guy, add relish before you max that dawg or you'll feel salty when some Grabowski calls you on it."
Here's my Foursquare hit list. If you're looking for more options. look no further than my friends at The Infatuation.