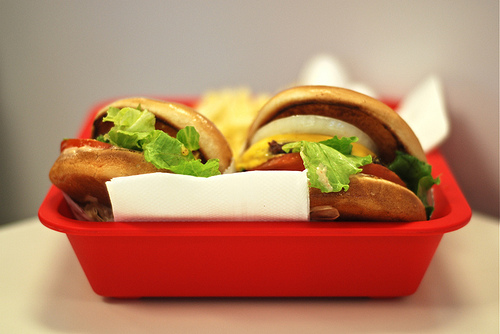 On a recent trip to California, me and that wonderful Canadian found ourselves in a defcon situation. (Defcon scale+amount of hunger=how processed your food is). After a day of wine and beer tasting in Paso Robles, we made a quick detour to wack down these beautiful In-N-Out burgers. The glory of fast food, big box chain's and IN-N-OUT burger in particular, is the consistency of the experience right down to the building in which you have the experience. In fact, IN-N-OUT has exactly the same layout in every store I have ever been in. Once inside you wouldn't know if you were in San Francisco or Modesto. Necessary evil or charmingly delightful, this cookie cutter aesthetic creates a window in which the attentive and observant will cherish.
Because the surroundings, employees and menu are all the same, the focus becomes on the guests waiting and ordering with you. As you sit on that little white bench waiting for your number to be called by the tall, football type, teenager in the too small paper hat and stretched red apron, take a look around. San Francisco and Modesto certainly have different citizens but I have found you are likely to see a myriad of burger fiend diversity no matter which city you are in. Our star customer this day was a young latin girl who decided dressing like Pat Benatar in a mostly rural farming area would be the best way to stand out. In her 4 inch black leather heel boots she barely scraped five feet tall. In the corner was a family of five. This 45 year old mother corralled her three kids while her young Mexican husband filled the drinks at the fountain machine. I'd love to know more about that story. To top off the mix a trio of farm hands came in for their early dinner sporting crisp dark jeans and worn, dusty cowboy boots. The whole ensemble was complete when I watch them all simultaneously tip their cowboy hatted heads up to read the menu. The motion reminded me of a farm machine starting up in the field.
Of course we still come for the food, but there is so much else going on during any out-of-the-house food experience. I implore you to take a good look around the next time you are waiting for your double double to be ready. I promise it will be an interesting game.