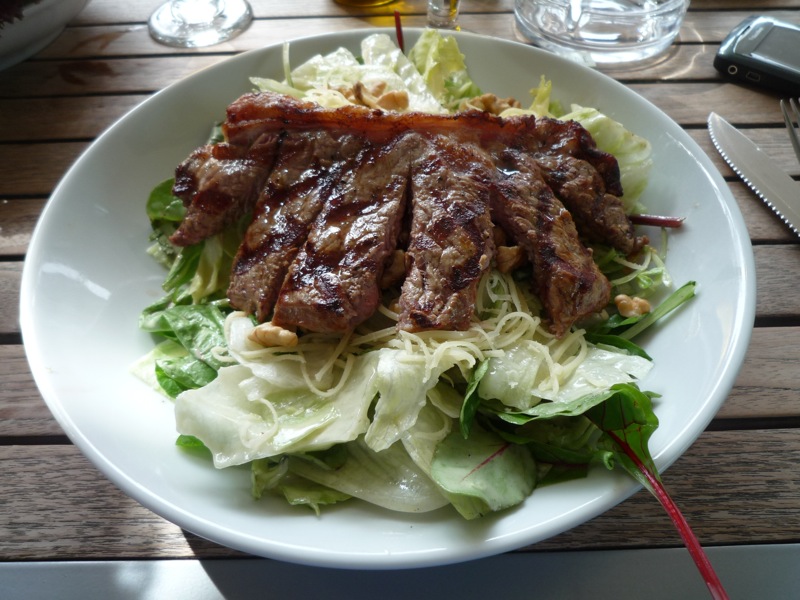 London, England, not my favorite place to eat. But, that just makes it more interesting. It means you need to dig in and poke around more. Talk to people, find out what they like. That's how you find what is good. I was in London for an entire week so there was a lot of "finding" to be done.
We started out with a delicious mid-day hot lunch. It was my first day off in a week and a half and I took in the Thames waterfront with Britt and Jen, my buzz travel partners. After a solid walk, thanks to Jenny, we sorted our hunger paigns at Black and Blue Steakhouse. The above grilled angus steak sandwich hit the spot. We, of course, threw in some grilled, marinated mushrooms and a quick order of goat cheese and crackers. I washed it all down with this ice cold Peroni.
There is something about a hot steak and cold Peroni that works in any city around the world. The only unfortunate thing about this meal was that the amazing Borough Market was closed for the day. Normally, this bustling market is filled with tasty treats from veggies to candy. A not to be missed visit to my friend Maria is a mandatory. Next time you are in London go visit Black and Blue on a Thurs, Friday or Saturday and treat your self to a BCB in Borough Market for breakfast.
Black & Blue Steakhouse
1-2 Rochester Walk
Borough Market
London SE1 9AF