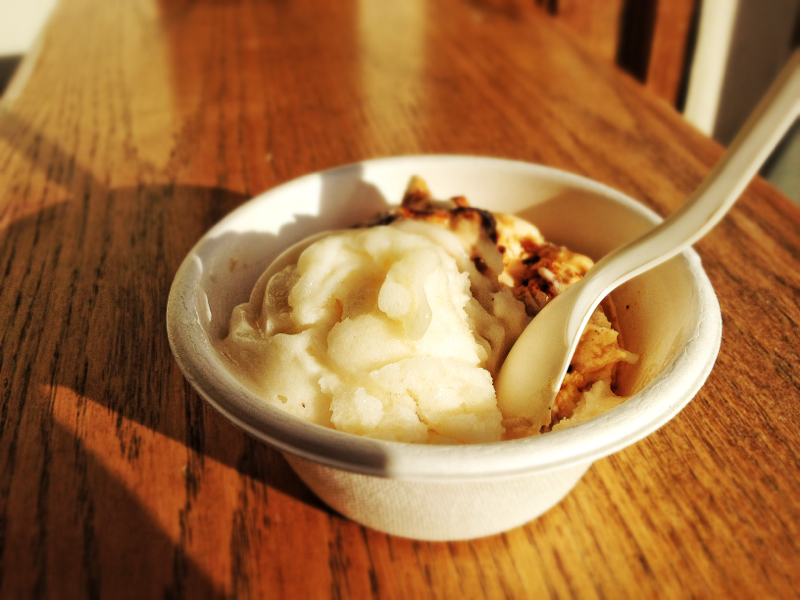 Eating Columbus
It's in Ohio. And it's all about ice cream. I had a one day trip in Columbus, Ohio, a place I'd never been and didn't think there would be much worth visiting. As it turns out there was a bunch of things that made the play side of this work trip very satisfying.
The Bites
Jeni's Splendid Ice Cream: Post business meeting I was driving the main street in Columbus near the University of Ohio and almost jumped out of the car when I spotted Jeni's Ice Cream. For the last two years I've seen her book in every food friendly bookstore I've visited. I knew her story front to back except one small detail that seemed to slip my mind. She started in Columbus!
After a legal U-turn and parallel park I walked into the shop with high hopes. Greeted by  a very helpful scooper behind the counter and an empty shop, (I was definitely visiting in off hours) I got to tasting some of the creative combinations and signature varieties.
Eventually I settled on 4 flavors paired accordingly. First up was sweet potato with torched marshmallows paired with riesling poached pear sorbet. Neither disappointed but the poached pair is hands down one of the best ice creams I have every licked. The next combo was the Brambleberry crisp and the Maple Walnut. Again I was not disappointed but the Maple Walnut wins the dual giving me a silky sticky syrup hit interrupted with just the right amount of walnut crunch. I could have stayed for hours tasting but my flight was calling.
White Castle: Not the place you put on the list for "must visit" but I happened to be with someone who had never tasted one of these  mini, thin, fried, stoner delights. Not able to pass up treating someone to their first, and possibly last, White Castle experience I pulled in for a quick hit. A simple order was placed. 2 single hamburgers and 2 double cheeseburgers. All with the signature onions. Yeah, you know, those that produce those after burn burps that last straight through your next meal. Conclusion from my first time companion was, "Never again". That said, White Castle is one of the very first fast food chains and still holds a unique burger position in the world wide burger rankings. If you've never visited DO give it a try. If you have been, don't let your aging memory tell you your last visit was delicious and keep the car moving.
The Rest
The Shoe: If in Columbus you have to visit the gigantic Ohio State University football stadium nicknamed the Shoe. Short for horseshoe because of it's shape, this 102,000 seating capacity goliath is the second largest college stadium in the country. Michigan University holds the record with The Big House. If it's not a game day find the open entrance with the guard. He'll let you in for a visit and have a few fun facts to share with you. Quick tip: Don't wear any sports t-shirts or caps. Keep it neutral. They take their games serious here and it's better to not offend. If you are looking to grease the wheel, were something red and throw in a few strategic "Go Buckeyes" where appropriate.
The Map
The Pictures
The Shoe. Where the Ohio State Buckeyes play.
White Castle. Tread lightly.
Jeni's Splendid Ice Cream shop
Jeni's Brambleberry crisp and the Maple Walnut ice cream