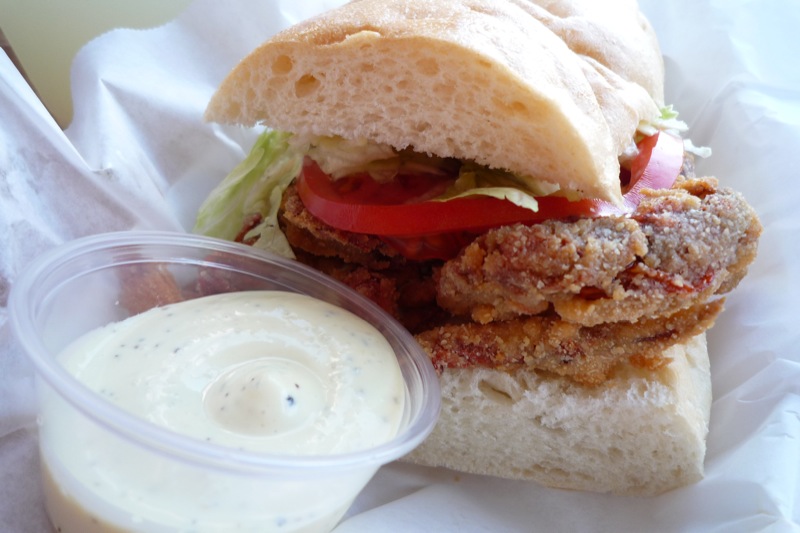 After being stranded in San Francisco because of snow in NYC, I finally made it to my next destination, Key West. I am at the bottom tip of the Florida keys to visit one of my favorite families, Bennett, Bruce and Baby Fallon Porter (And of course Butters too!). Shortly after my arrival Bruce and Bennett took me out to literally a fish shack on the side of the road. There is no health inspection certificate and they serve what was caught that day. MMMMMM. I tried the fried soft shell crab sandwich with key lime sauce (pic above). It was delicious in all of its health-code-violating glory.
Over the next few days we explored the uniquely, island feeling town and I was treated to a variety of delicious meals. I visited the Hemingway house, the beach from the Navy base perspective and a few bars with ….well….let's just call it some quite unusual patrons.
Food wise, Bennett made a killer chicken curry one night.
And then, for breakfast she made Bruce and I delicious chorizo, egg burritos. I loved every bite and second seeing Bennett cook. When you are used to hanging out with someone in NYC there usually is not a lot of kitchen cooking going on. You know, small kitchens….blah, blah, blah. Well, the south Florida domestic Bennett was a fun and impressive treat.
Today I am off to Miami to meet up with my bro. Thanks Porters for an awesome time and great hospitality. If you are interested in the full Florida set, check it out here.