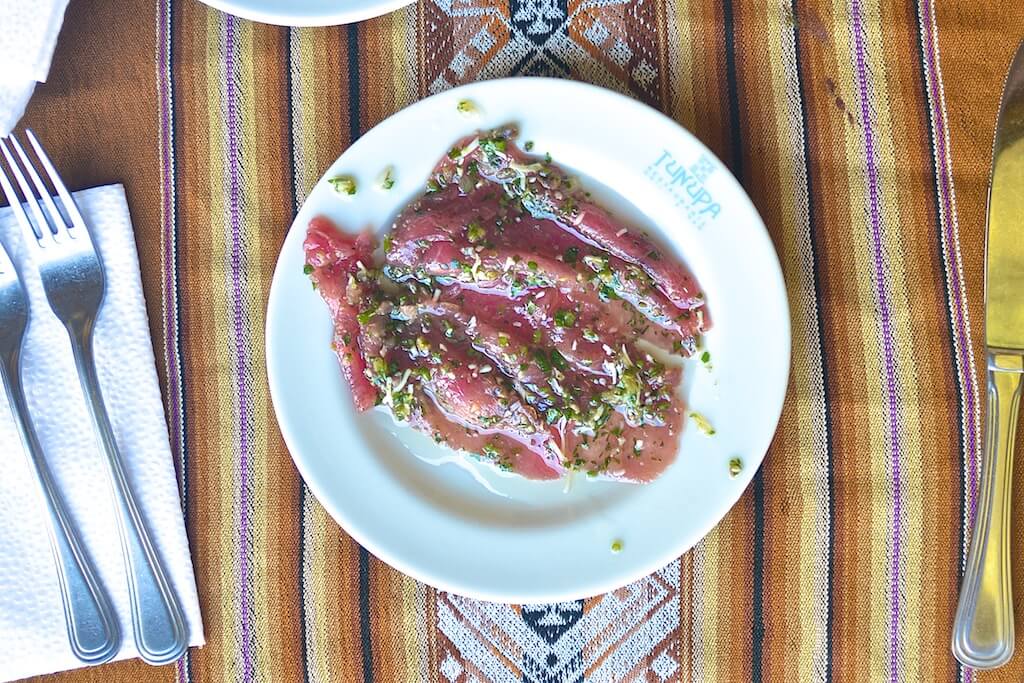 That headline might seem like a spoiler but hear me out on this one. It's not as deductive as it reads. It was 4:45am and I had barely digested the Alpaca carpaccio I gobbled down for lunch the day before in Peru's Sacred Valley. My eyes cracked open to reveal only a slight view of the tiny, rudimentary hotel room we rented in Aguas Calientes, the base town for trips to the sacred Inca town of Machu Picchu. Our bags were packed and supplies layed out the night before like a military SEAL team waiting for their "go" orders. Ant rustled awake in the bed next to me clicking off the alarm and on the light. Five minutes later we were fully dressed and heading down to the lobby with all our gear. As Ant checked our bags with the front desk I scavenged the complimentary breakfast buffet.
Ten minutes later we joined the ever growing line at the bus stop. We stood in darkness amongst at least 500 other people nibbling on our cheese sandwiches and inhaling diesel fumes from the 14, and counting, idling buses lining the street. These buses were to transport all visitors to the top of the switchbacks and base of Machu Picchu. My spiritual radar was bouncing all over the place and I struggled to dial my mind into the heady, contemplative focus I had hoped this visit would allow.
Straight Outta Cusco
Twenty four hours before we awoke in Cusco and met Doris in the lobby of our hotel. She escorted us to a small, but comfortable, van that headed out of Cusco and into the Andes towards the Sacred Valley of the Inca. That took us to over 11,000ft and our first bathroom break of our 7 hour journey. The Sacred Valley of Peru, also known as the Urubamba Valley, is the heartland of the Inca Empire. The valley was cherished by the Incas because of its special geographical and climatic qualities. It's a marvel in it's own right and not just the run up to Machu Picchu.
We made three important stops on the way to Aguas Calientes, the town we'd be spending the night before our trek up to Machu Picchu. Our first stop was the P'isaq ruins. Giant terraces cascaded below the trail that took us to the main buildings of the ancient site. We managed to distance ourselves from the crowds and envision a sense of what it might be like when this city was inhabited.
---
Our second stop was P'isaq market. Ant pet a lamb. I ate street corn. We avoided the jewelry and alpaca dealers that were ready to prey on the tourist bus bunch.
Our last stop was Ollantaytambo, a well preserved ruin that had quite the busling town at its base. During the Inca Empire it was home to Emperor Pachacuti who conquered the area and  built the town and a ceremonial center. It's modern day importance is that it is the typical start for tourists hiking the 4-day Inca trail.
From there we left our bus and boarded the train to Aguas Calientas. Disembarking the train three hours later felt like the monorail at EPCOT just arrived at the Magic Kingdom. Everyone got off. Everyone rushed up the same narrow path into town. It was more than twenty minutes before we could shed the crowd and walk in normal stride.
Our hotel was easy enough to find. We checked in, dropped our gear and quickly headed out to find some dinner. More importantly we made sure we knew where the bus stop was as we'd been warned the line starts early and grows fast. After too long a deliberation with an attempt to not eat in a tourist trap, we settled for some bastardized Peruvian cusine that attempted modern traditional. As if that's even a thing. Our pillows were a welcome acquaintance not less than thirty minutes after our last fork full.
The picture with Mickey.
The bus line moves fast once the doors to the 1980 era Fords and Chevys crack open. As we were half asleep the convoy climbed up the switchbacks in darkness until we arrived in a tiny parking lot just as the pre-dawn light allowed us to see without a headlamp. Once dropped off we were left to wait on a second line. Lets call this "Getting into the Disney Castle".
About an hour later we made it through passport control and scrambled up a few switchback foot paths to get the first peek of that iconic, picturesque view of the ancient city. We snapped the obligatory picture to brag on Facebook. We then watched the sun rise with 1000 plus of our closest strangers and zero spiritual connection to the experience at all.
---
I looked around taking stock of the scene. People everywhere. Serenity was the furthest thing from this moment. I began to wonder if I'd get the moment of clarity and focus I had hoped this place would bring.
It wasn't over yet. Ant and I had a plan B to reach a higher level of conciousness and that required us to physically climb higher. There are two spires that loom over the ancient ruins. The larger of the two is Waynapicchu. They only allow 200 people a day to climb it. 100 at a time. We had the forsight to book tickets to the first group allowed in.
Having shed a tenth of the visitors by passing through the trail checkpoint we started up an increasingly acute grade. The trail spent 3 hours tacking up and back the edge of the spire. Cables assisted us. Ladders were placed at impassable junctions. Tunnels bore through the spire. All of it lead us up. Higher we went. Gaining altitude and losing breath.
Reverse Prayer
When we reached the top we were treated to a view very few poeple have the opportunity to admire. The reverse view of the overexposed, quintisenssial Machu Picchu picture was well worth the exertion. Standing high above the city and looking down into the valley was breathtaking BUT still not mind altering.
---
Perched on a tiny, four foot diameter bolder I looked around. People were moving about on the rocks next to me, below me and behind me. As incredible and rewarding as it was, it still didn't push me to that level of connection I dreamt of. I wasn't looking to vibrate off the mountain or anything, I just wanted some isolation. I was beginning to give up on the dream. I saw little difference between this and Disneyland. Everywhere I looked I saw lots of people moving from one pre-determined spot to the next. Yes, it's one of the most amazing things in the world and people should come see it in person BUT the overcrowding sucked the true meaning out of it for me.
True Picchu
After lunch we made our way back down to the valley and met our guide Eddie. He gave us the tremendously descriptive and intensely educational tour we paid for. Two hours later he had finished the delineated path he had performed thousands of times and was ready to set us on our way to the buses back to Aquas Calientes. We stopped him and questioned him about the natives. Those people who STILL live in these mountains and still follow the Inca traditions, "Do they come here?" He looked at us and then he looked over his shoulder, as if he was about to break a law. After a brief pause, to determine if we were worthy of his secret, he said, "OK. Follow me." We, of course, were immediately on his heals. He took us against the flow of tourists. He broke the rules of the sacred playground. We hopped a few ropes and slinked around a couple signs pointing us in the opposite direction we were moving. Ten minutes later we were in isolation between four large rock walls. We couldn't see or hear a single other person. Eddie removed a barricade and slipped us through an opening into a tiny stone room. In the corner were some ashes and half burnt sticks. He pointed at them. "A fire" he explained.
Eddie continued to explain that the native people of the mountains still come down to Macchu Picchu to perform spiritual rituals. He went on to expound on the hallucination inducing rituals they'd perform in this small room with just a tiny fire to see and keep them warm. By this point in the trip, we'd been well educated on the effects of Ayahuasca as well as the ceremonial needs it fulfills for the Inca .
As I stood there, in the tiniest room of the day, blinded from the beautiful valley, majestic spires and lush green pathways, my spiritual radar pinned itself to max. Without a tourist in sight or earshot, staring at a few ashes and dried sticks, a chill ran up my spine. For a few seconds, if not just one, I felt the connection. I felt what this city represented. I felt the bond to the sun, the gods, the people. The collective unconcious they speak of showed itself in the most unexpected of all places we'd visited in the entire day.
I suppose it all makes sense. Machu Picchu is still Disneyland. My "moment", although amazing, didn't give me divine clarity or raise my vibration unveiling a deeper meaning to life. Nor was I looking for such a definitive moment. My "moment" did prove one thing and that's this. Pre-concieved ideas are not roadmaps to find what you want. In fact they might actual be highways that keep you from discovering why you are truly on the journey in the first place.
A year ago today
I decided to post this story on the one year anniversary of this epic trip because it did lead to clarity that changed my life. It didn't happen in that tiny room at Machu Picchu, in the shadow of a volcano near Arequipa, after amazing ceviche in Lima, on the terraced outskirts of Cusco or at any specific spot during our 18 day saga. Those collective experiences gave me the room to make a decision I'd been curiously contemplating before the trip. That decision was to leave my five year old, thriving agency, Manifold, in search of my next "thing". I'm four months into looking. Somedays I find myself in a small room without a view of people, sounds of the city and Smartphone vibrations just staring at a half burnt piece of Palo Santo I brought back from Peru to refocus my mind and make my next decision.