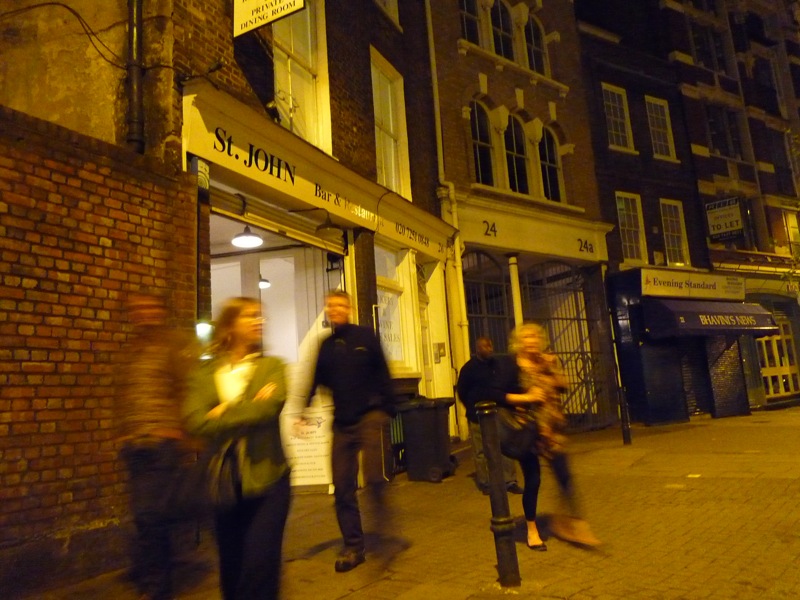 As the wheels of my plane from Copenhagen squeaked the tarmac I pulled out the SAS in flight magazine from the seat back in front of me. Tray table properly stowed of course.
I flipped quickly through the glossy and stuck on a restaurant review for a place called St. Johns. An interview with the owner revealed a true English preparation of tip to tail cuisine.
I made it through customs, waited on the taxi cue and chit chatted with my 30-year veteran driver before I realized I arrived in Clerkenwell at my hotel. The Zetter is in north London and has been a desired destination of mine for 5 years now.
The English charm started as soon as I walked through the double sliding, modern glass doors. The hotel host checked me in and then reviewed with me the hotel map which contained bar and restaurant options. As I scanned the list the second dining recommendation popped out. St. Johns, a tip to tail English mainstay was but two blocks away.
As serendipity imposes, I had to find my way to this place. It was a late Monday but I made a go at it anyway. Let's call it in the name of food. My first course was a.
My second a deliciously bloody
And my unintended third was a double dessert. First was and second a
After all of this, I have to say, I was not very impressed with the starter and main but I really enjoyed the dessert. But the point here is that the English love it and they pack in. So, no regrets on going, it just didn't hold my palette and pupils at the focused and tight attention I was expecting from the hype.
St John
26 St. John St
London, EC1M 4AY, United Kingdom
+44 20 72510848