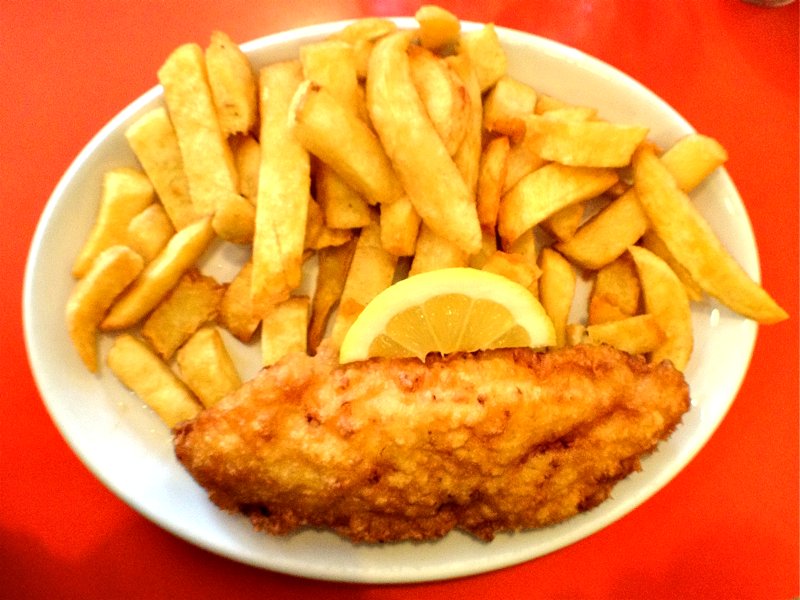 The name of this place always sounds like you'd walk into a velvet draped boudoir riddled with oil rubbed fry men being fanned by veiled mermaids. My over active imagination aside, any trip to Londontown without a stop at this bare bones chip shop is a failure as far as I am concerned. I hit it on the very last day of the trip during a long walk back to the hotel to grab my bags and head to Heathrow. Despite it being a bit dated and factory fry I enjoyed my cod and fries immensely. This was the last stop in what had been quite the afternoon eating adventure. Among my other stops in this final munch march were a cornicopia of London staples.
Here's the play by play of my last afternoon working backwards from the Delight.
Alen's Fish & Chips
Curry chips was on my list since wheels down three days prior. Believe it or not, it almost evaded me, but just a few blocks before the Fryer's Delight I popped into an even bigger dive. Alen's was my curry chips hero, it was horrible but necessary.
My final cask ale. This one came with a high alcohol content warning. Mmmmm.
Final Pudding also at the Bleeding Heart which was an upscale feeling standard looking spot in the diamond district.
The whole gastro walk home started here just behind Regent st.e between Piccadilly and Oxford Circus. Found in my pre-trip planning, this sausage and potato chain turned out some good bangers with a fun vibe. The menu is split into three steps. Choose your sausage then your mash and then your sauce. I choose Cumberland sausage, onion gravy and colcannon mash. Holy mother mash!