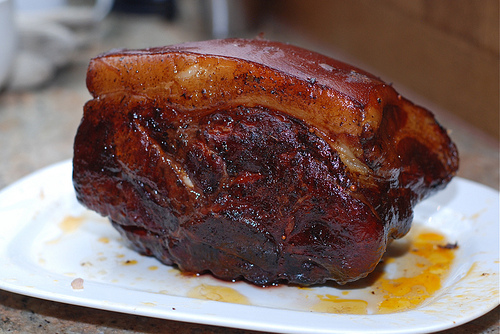 Happy 4th of July-REVISED
Smoke 'em if ya got 'em. And, WE JUST GOT 'EM!!!! My first foray into smoking. I have been putting it off for a longtime while I enjoyed the professionals excellent smoked tasty. What's inside? A rack of ribs and a half a pork butt. Both covered in Rendevous BBQ dry rub. Chips=Hickory. Temp 165. (this is my worry right now. I can't seem to get it up to 225 but not sure if I need to). Stay tuned for the verdict. AND NOW THE VERDICT…
I realized about an hour after I posted that I needed more air flow in the smoker in order to get it hotter than 165 degrees. This led me to some "on the job" modifications. When the job is on fire, it always makes for interesting work. Using my fire pit as a staging area/work bench I hatched a plan to pull the charcoal pan from the smoker flip it into the fire pit and drill several holes in the bottom of it. Of course the key part of this is not to let the smoker loose that much heat so, I needed to move fast. In order to be as fast as possible I would need new coals ready to go immediately. That menat I needed to have my chimney smoker filled and burner in teh fire pit as I worked on teh pan. To add more heat to the situation, once I flipped the coals that were in the pan they would continue to burn while I worked on the holes.
The plan wasn't the smartest but it was the quickest. Moving swiftly I started my process. Open, pull, flip, drill, burn, push, dump, close. All went seamlessly. In the words of Hannibal Smith, " I love when a plan comes together". Immediately my temp bumped up to 240. Exactly what I needed. For the next few hours I smoked in this heat range and things really started to work out.
The above pork shoulder came out nice. I pulled it exactly at 154 degrees. I would have liked it to pull from the bone a bit more. I think my temperature issue was to blame for this.
I also had some ribs in there. These came out nice too. A little dry and my pink ring was not as thick as I would have liked but not bad for my first go round.
After such a tough day battling the smoker I decided to keep dinner simple and authentic with the standard or July fourth fare. Next smoker date is tomorrow. Let's see how attempt two goes.