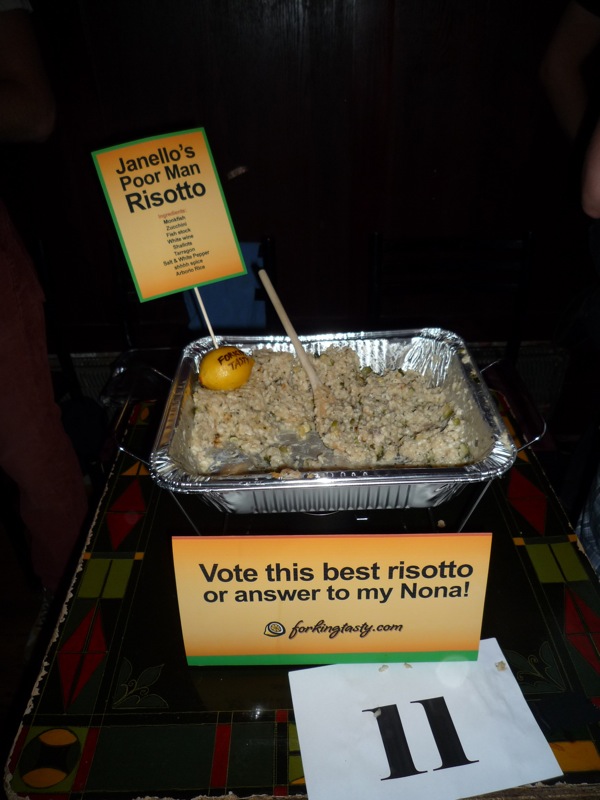 The Risotto Challenge
Last Saturday I competed in the risotto challenge. Me and 14 other contestants went head to head for best dish. The challenge was a lot of fun and it was great to see so many familiar faces but also meet a bunch of new ones.
I did not win, nor place, but I was doing it for the love of food and friends who love food, not for a prize. Noah, my competition neighbor won judges first prize. I will let Cathy explain the rest of the contestants and their dishes along with the winners over on her blog. She will do a much better job anyway.
Next challenge I hear is hotdogs. Stay tuned.
Monkfish Risotto
time 45 min + prep
yield 1 gallon
Ingredients:
4 zucchini diced
2 monkfish fillets
1 bunch tarragon
2 containers fish stock
1/2 bottle white wine
5 shallots
olive oil
3 cups arborio rice
Directions:
1. roast zuchinni and set aside
2. season monkfish with salt, pepper, paprika and cardimum
3. sauted monkfish until carmelized. finish in oven until cooked (stop just before it is done). reserve juices for risotto. strain them.
4. dice monkfish same size as zuchinni once cooled
5. add minced shallots and olive oil to risotto pan
6. add 3 cups arborio rice to pan. cook until taranslucent
7. add wine
8. once wine is absorbed add fish stock to just below rice line
9. keep adding stock until rice has absorbed most of the stock. check for donness.
10. add minced tarragon and white pepper to taste. add small dashes of cardimum until flavor can be recognized
11. add a tablespoon of roasted halibut juice
12. add a tablespoon of roasted halibut juice
13. mix through