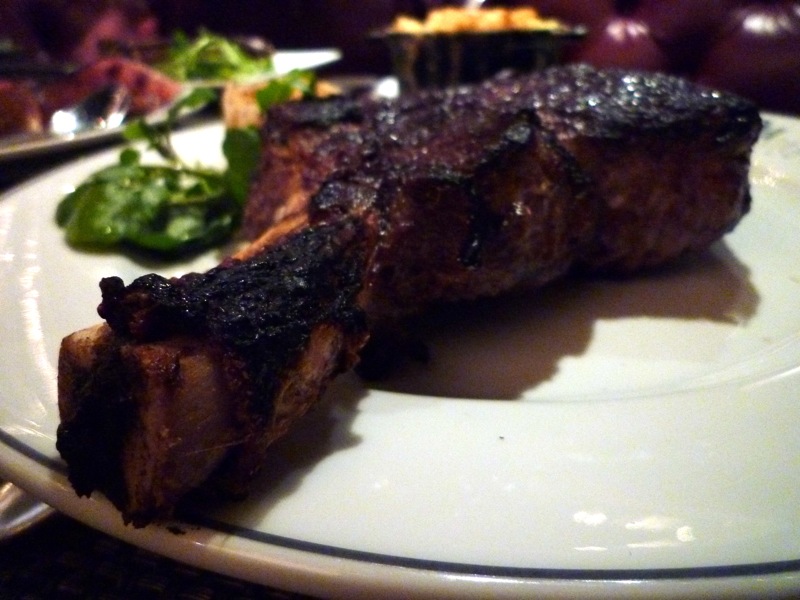 As traditions go this one is awesomely rich in more than one way. It started 3 years ago when my buddy Mike and I decided that acting like fat cats (which we are not) for an epic long, holiday lunch would be a fun and enjoyable idea.
The 5 rules on how to lunch like a fat cat.
1. Dress up. A suit would be best. But slacks and a cashmere sweater over a brooks brother shirt will suffice.
2. Find an old world, New York, steak restaurant where both the decor and the waiters pre-date your birth.
3. Over order in both size and quantity of your food. Above is an example of a proper size order. 32oz of Bone in ribeye.
And here is an example of quantity over ordering.

Truffle mac and cheese

Hash browns and 4 pieces of thick cut smoked bacon

Creamed spinach
4. Find a $100 bottle of wine and order it. In this years meal we knocked back a Brunello. Booyah.
5. Blow off the afternoon. A fat cat doesn't need to go back to the office. Fat cats are above the office and they have a staff that does everything for them. You are drunk, full of meat and in a suit. The only place you should be heading next is a gentleman's club.
The truth is we both officially took the afternoon off. The fat cat thing doesn't fly with the bosses. And, the strip club thing doesn't fly with girlfriends and wives. Call it a conscience I guess. I hope these rules don't fall upon you too late to create your own holiday lunch tradition. The boys at The Old Homestead did us right. We are already crafting the list of possible restaurants for next year BUT, suggestions are welcome. Let me know in teh comments what steak place in NYC we should go to next.
Old Homestead Steakhouse
www.theoldhomesteadsteakhouse.com
56 9 Avenue
New York, NY 10011-4994
(212) 242-9040