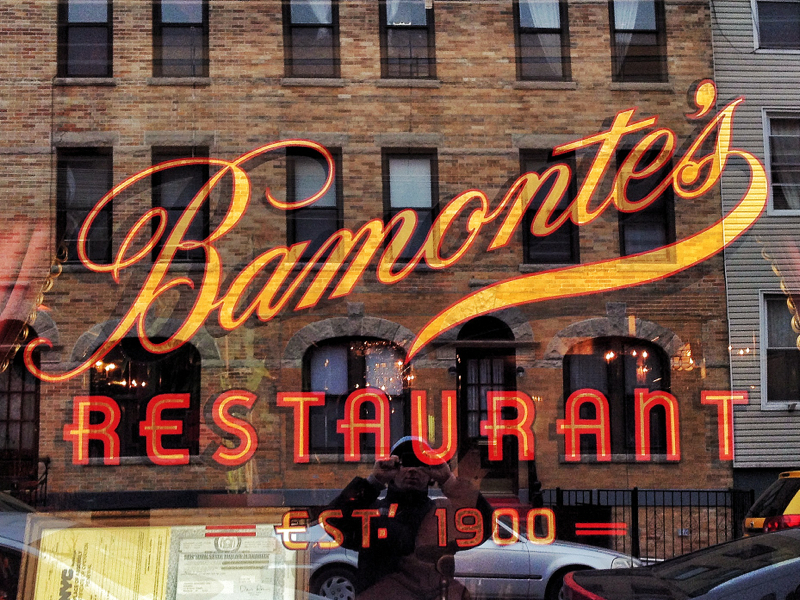 According to us of course! It occurred to me last week that Forking Tasty has never jumped on the top 10 list or the trends of year  thing. I thought this year is the year we do both so without further preamble here's what the whole Tasty family thinks you should look out for in 2013.
10. Pretty plates
Take yourself back to the 80's and 90's. Remember when everything had a delicate smear of sauce on a triple oversized plate and gold flakes were sprinkled over an edible flower as garnish having nothing to do with the dish at all? Well it's coming back but this time with purpose. The shift from farm to table back to haute cuisine will start with the plate presentation. Those rustic neighborhood joints will still throw great food on slate, old wood and odd metal trays but expect them to be a touch prettier.
9. Food apparel
Artisinal ingredients in restaurants is so 2007. Small batch chocolate, mayo and coffee have been trending for a while. Where to go next? Clothes of course. As chef's, restauranteurs and "foodies" look for more ways to represent their favorite animal, vegetable or celebrity chef they will turn to their dudes. The boys over at The Meatball Shop dynasty already have a head start. We snagged a LTD gold grinder hat for my dad.
8. Sicily-Food Destination (International)
It's not Italy! Well actually it is but most Sicilians think differently. In past years the politics and corruption has been sidelined and it's become a much easier destination for tourists to visit. The beauty of this mediterranean island, besides it's geographical schizophrenia, is it's culinary amalgamation. With influence from the French, Italians, North Africans and Muslims you'll find dishes as fractured as that 5000 piece jigsaw puzzle your nephew keeps trying to get you to help finish. Start in Palermo and make your way west around the island to Trapani and Marsala. See the salt farms and have some wine. Marsala wine of course. Continue down to Agrigento and see the amazing ruins. Pop over to the least pretty village in all of Sicily, and my father's families birthplace, Porto Empedocle if you'd care to see where half of our food passion originates. Then drive north through the center stopping in Cefalu and Santo Stefano di Camastra. Sleep at Sebastiano's olive farm in Pettineo. Finish off on the East coast with a stop in Taormina and Catania. We promise a tasty adventure.
7. Detroit-Food Destination (Domestic)
Have you been there lately? It's like an abandoned farm with 1000 acres of mineral rich soil. Detroit lays close enough to the heartland to get it's hands on some of the best livestock and produce our country produces. They've been through a ton of shit in the last decade and are ready to make a run to get back to their old Motown, rockin', Motor City-selves. With hot corners popping up like Michigan Ave and 14th St., it's only a matter of time before the Big D is a food lovers paradise. Go now and check out our rundown.
6. Tarragon and Marjoram
Two spices that are way underused but can surprisingly enhance many dishes. Tarragon is bold and needs to be used judiciously. Although, In everything from dressing to marinades to stock seasoning it creates a tastebud whirlwind. We've been using it in our house on the family garlic bread recipe forever. Marjoram on the other hand is more mild and has a suddle floral taste. It's a great substitution for oregano when you want to twist up an old favorite. We use it on a great squid dish we borrowed from Bar Jamon. Look for both of these herbs to be used fresh, and dried, in lots of restaurants newest dishes.
5. Weird poultry
It's time ducks, pheasants and ostrich get to play the popular kid. We've been through beef and pork in every way possible in the last few years. Chicken has been fried, winged, bricked and spun enough last year to…well…spin our heads. Chefs will look for a new twist and bring in some new feathers to do it. Our birds dinner gives a good idea of the kinds of dishes you can expect. Mark Vestri is already working it on a casual level with his pheasant ragu poutine at Alla Spina in Philly. When you see it try it. It's not weird. Most of it tastes like more flavorful chicken in a GREAT way.
4. Private/Home chef and ways to hire them
Kitchensurfing, Kitchit and CaterCow launched last year. Melba soft launched this year and there are a bunch more on the horizon. Look for some great home chefs to rise from the masses as more of these sites curate gastronomical genius' with time on their hands to launch a new career.
3. Hannah Hart
If you have not watched My Drunk Kitchen yet go do that as soon as you finish reading this list. Hannah Hart made one little video that spawned an entire web series with 41 million views and counting. The concept is funny and the community is excited BUT what makes this unique is Hannah's natural onscreen presence. She's quirky, funny, cute but more importantly, cares less about the cooking than she does the antics she could create while cooking. To add to her already huge community she's raising money for a tour of America to visit her biggest fans. If Food Network is smart, they'll lock her up now.
2. Immaculate Infatuation
The hottest restaurant review startup in NYC goes global. OK…well national but I predict world domination for these guys. Two music guys writing what they REALLY think about food is a double threat. Advice and entertaining writing makes this a weekly, if not daily read. Subscribe to their weekly newsletter and for the sake of steak, download their app. They just opened up a call for writers because their stomachs are too small to eat as much as required to keep up with the review list. Check out the writer requirements. That app I just told you to download is about to get even more useful once out of the 212.
1. Old Skool Italian-American
You know what I mean. Think Rao's, Il Mulino and Bamonte's. These legendary joints have pictures of nonas and mob bosses on the walls, are draped in red velvets and burgundy leather, smell like 14 hour red sauce and cash, have a familiar menu and treat you like you're family. The guys at Torrisi are on their way to kicking off this trend. Think old Italian-American hospitality with a more "now" spin on southern Italian specialties. Mario Carbone and Grub Street do a great job of explaining what I mean. The experience outplays the food in this trend which plays tricks on your mind a little. Challenge yourself. Can a waiter make you LOVE a simple spaghetti because he treats you like his cousin?