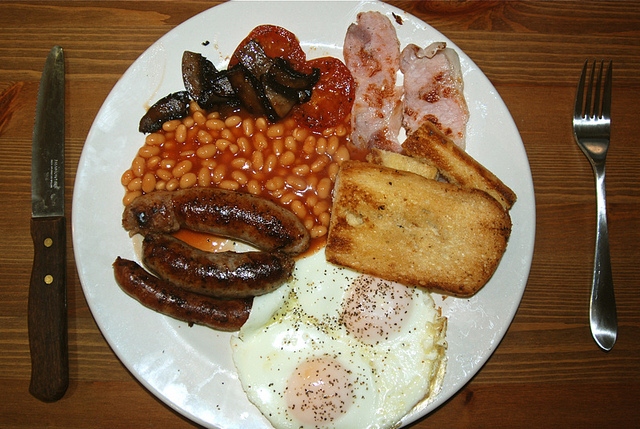 The Canadian's Full English in America
I took this opportunity to write a headline that is truly global since my wife was determined to make breakfast for dinner this weekend. For those avid readers this needs little explanation. For the new comers, my wife was born in the UK. This adequately explains her admiration for anything British, particularly bangers.
Her idea to cook a full English breakfast for dinner came immediately after I informed her of my Living Social coupon to Myers of Keswick. $10 got us $20 worth of necessary provisions at the little West Village shop. On a side note, I'm not sure you have to pay full price for anything anymore. Counter clockwise from the top:
1. Fried tomato – simple and necessary for any full English
2. Mushrooms – these were portobellos sautéed in dark beer
3. Heinz beans – Nothing but Heinz will do when making a true full English breakfast. If your are in the know there isn't even a debate, but we can start one below if any of you would like to battle the merits of different baked bean brands.
4. Banger – Getting it's name from occasionally bursting apart while cooking, my wife chooses to boil them first then saute to finish. Most British sausage contain a bit of breadcrumbs which seperate them from other regional sausages.
5. Cumberland sausage – My personal favorite. Lighter on the breadcrumbs and a bit more peppery than the banger. The big distinction here is that the meat is chopped not minced giving the sausage a chunkier texture and appearance.
6. Chipolata – A foreigner to a full English plate but we added it for fun. This sausage is derived from France and translates to "with onions". The texture was a bit soft for me but those who like the breadcrumbs in bangers will love this.
7. Sunnyside Up Eggs – Great for a good yoke. I always cover with a lid so that the top cooks just enough to hold the yoke together. It's mandatory to have a good yoke with a full English. See #8.
8. Fried Bread – This might be the best thing on the plate. It's simply bread fried in butter but it makes everything else on the dish shine. Dip, sop and layer the rest of the plates goodies on a bit of fried bread and it has an amazing way of bringing out all the other flavors. Best of all, break those beautiful yolks with the corner of a piece.
9. English Bacon – Myers sold us a very lean cut which offsets the sausage rather nicely. This is typical of full English's but our cut was even leaner than the traditional. Tough not to over cook but it was prepared with perfection.
A successful international twist on a regular old Sunday dinner made for quite the food adventure. The advice in all of this, besides marry someone who can cook, is to pick a country and then go find a speciality shop selling the chosen countries food. It makes for an interesting journey finding your food with a delicious, ethic conclusion. What's your country going to be? Tell us your favorite specialty shop in the comments below.