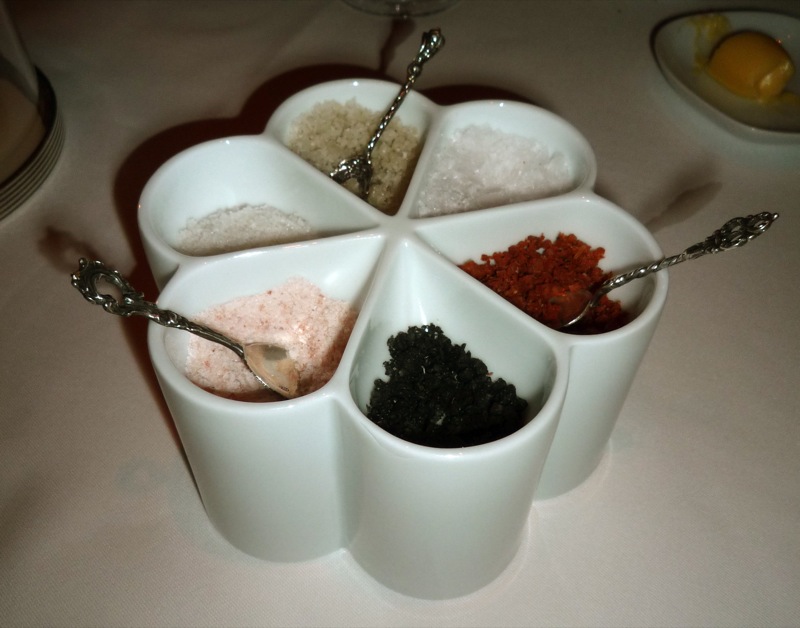 Last night I had what some might call an opportunity of a lifetime. Since Thomas Keller's Per Se restaurant opened in the famed Time Warner Center, a reservation has been as sought after in NYC as a yellow cab during a thunderstorm. My good friend Bennett scored a reservation and bestowed the incredible honor of accompanying her to this meal upon me. Rounding out our threesome was Mark, a creative director, who Bennett was working with on her latest Yahoo! campaign. Our reservation was at 9pm. Upon arrival I was told that gentlemen were required to wear a sports coat while in the dining room. I have not heard this in years and needless to say I was not wearing a sports coat. I was promptly and perfectly fitted with a coat from their stock and were were escorted to a waiting area. What happened next falls on the unbelievable side of my gastronomic adventures.
I think the best way for me to explain the meal is to use the courses as the anchor. From there I will attempt to paint a picture of the taste, service and presentation for each course. First some quick background on the format. Per Se is a price fixed menu. $275 per person gratuity included. You have a choice between the vegetarian tasting menu and the non-vegetarian tasting menu. All three of us chose that. With in that selection there are a few courses in which we each had a choice between two dishes. As we go through I will explain the choices and who had what.
Pre Course
The first thing they brought after we were seated was a silver bowl containing three fried cheese balls. Along with that came three cones of creme fresh with a scoop of something on the top which i can not remember but, it was delicious. Next they brought a salted butter from France and an unsalted butter to the table with a selection of breads. Finally they placed a large porcelain flower on the table and removed the lid. The waiter revealed six small bowls making up the petals of the flower. Each bowl contained a different salt from around the world. If you look at the picture above starting with the black salt and moving to the right counter clockwise we have: Hawaiian ash and red Hawaiian volcano salt. Next is from England. The following two are from France. The final, pink salt is from the Himalayas. The legend is that as Alexander the Great traveled through the region he noticed his horses liking the walls. Through that observation they discovered this decadent and soft salt.
1
OYSTERS AND PEARLS: Sabayon" of Pearl Tapioca with Island Creek Oysters and Sterling White Sturgeon Caviar
This came to the table in a tiny little porcelain dish. The caviar and the oysters sat beside one another as if they were in some sort of silent standoff. Mark and Bennett ate them separate but I ended the stare down by mixing everything in the bowl together. The oysters were very salty but the rest of the ingredients balenced that out very nicely. Paired with this course we had a sweet wine. A 2006 Kracher, Cuvee Beerenauslese from Burgenland Austria. Tasting notes: Subtle citrus fruit with candied apples on the nose. The palate displays lemon hard candy, marzipan, and a slight creamy texture on the finish from lees contact.
2 (Choice)



SALAD OF FRENCH BREAKFAST RADISHES: Squire Hill Farm's Ameraucana Hen Egg, "Pain de Campagne" Melba, Violet Artichokes and Confit of Holland Eggplant with Arugula Pesto
TERRINE OF HUDSON VALLEY MOULARD DUCK FOIE GRAS: "Gelée d'Agrumes," Belgian Endive, Confiture of Meiwa Kumquats,"Laitues Sauvages" and Balsamic Glaze with Toasted Brioche
(30.00 supplement)
We all went for the Fois Gras. I am sure the radish salad was great but come on, is there really a choice here? The plate came with a long square of Fois Gras. In one corner there was an "s" of balsamic vinigar reductiona nd in the other corner a simple ring of black pepper. Along teh top of the plate there was a few heirloom tomatoes and assorted green garnish. The dish was accompanied with fresh toasted brioche. When the dish hit the table we were deep in a conversation so we did not getto the plate quickly. As we continued to talk the waiter came back and removed our brioche plates. It jerked our conversation to a halt. We looked up and realized fresh, hot brioche was replacing the now 5 minute old (cold?) brioche. This happened 3 more times before we each finished our fois gras.
3 (Choice)



TARTARE OF AUSTRALIAN HIRAMASA: Koshihikari Rice, Spiced Granny Smith Apples and Scallion "Emincé" with Hass Avocado Coulis
CRISPY SKIN FILLET OF PACIFIC MOI: Marinated Shiitake Mushrooms, Bok Choy and Crispy Garlic with "Kanzuri" Sauce
I chose the Hiramasa. The dish was great but the star was the rice. It had a smokey soy flavor that augmented the fish and mixed with the other ingredients perfectly. This course was paired with a crisp wine from Burgandy France. A 2007 Vincent Morey, Les Embrazees 1er Cru is Pale gold. Tasting notes: The nose starts with plenty of brioche, slowly tightening and hardening and showing a little honey. The palate has some minerality and nice acidity, the finish is also not bad, lacks both depth and concentration.
4
NOILLY PRAT: Butter Poached Nova Scotia Lobster Caramelized Fennel Bulb, Holland Peppers, Crystallized Fennel Chip and "Sauce Noilly Prat"
This was the best dish we had. We all agreed. The lobster was so velvety that i could tell the difference between the meat and the butter sauce. I could have easily ate 3 more of these mini tails no problem.
5 (Choice)



LIBERTY FARM'S PEKIN DUCK BREAST: Young Beets, Washington State Field Rhubarb and Watercress Leaves with Duck Jus
PAN ROASTED MARCHO FARM'S "RIS DE VEAU": Abalone Mushroom, Sacramento Delta Green Asparagus, Tokyo Turnips and Ramps with "Mousseline Béarnaise" (Sweetbreads)
Here Mark and I went for the Duck and Bennett went for the sweetbreads. Presentation was nice. Nothing crazy outstanding. The flavors in both dishes were very complex and had tons of depth. The beets with teh duck breast were tiny and packed a big flavor that accompanied the duck both visually and on the palate. This course was paired with a red wine from Napa. The 2006 Rivers-Marie, Cabernet Sauvignon is supossedly very hard to find. The winery only produces 2 grapes the Cabernet planted in Napa and a Pinot Noir in Sonoma. A very boutique winery they produce less than 300 cases of each varietal a year. Tasting notes: 75% new French oak. 2006 has all the fresh fruit of a great year balanced nicely by both tannin and acidity. Saturated black-ruby with a nose of cassis, sandalwood, white flowers and crushed rock. The classic Cabernet taste components come up quickly: blackcurrants, more cassis, lavender, sweet tobacco, blackberries, blueberry, espresso and licorice. The finish is interrupted a bit by structure until the acidity cuts in framing and lengthening the backend. This wine drinks well earlier than either the 2003 or 2004 but is certainly in no danger of fading for at least a decade."
6
RIB-EYE OF ELYSIAN FIELDS FARM'S LAMB: English Peas, Glazed Sweet Carrots and Hadley Orchards' Medjool Date Purée with Meyer Lemon-Lamb Sauce
The wine went even better with this dish. The presentation here was amazing. The presentation here was superb. A perfectly round terinne of lamb crusted with a black pepper leaned on a mix of the carrots and the peas while the date puree and lemon sauce leaked out from under it all. The lamb was super tender and fell apart in your mouth. I took my time to set up each bite with a little of each ingredient and then ran it through both sauces before I dared bring the fork to my lips. Moments later it was all gone and I found myself wanting at least one more bite….maybe two.
7
ZAMORANO: Garbanzo Bean Croquette, Compressed English Cucumbers, Niçoise Olive Tapenade and Red Ribbon Sorrel with Espelette Pepper "Aigre-Doux"
I remember nothing of this course except the sorrel. It was so thin and had a coloring that seemed fake. It looked like a hand drawn piece of bacon with the white edges and dark center. I know that the dish was good but I can not remember even one stand out quality of this course.
8
STRAWBERRY SORBET: Pistachio "Panna Cotta" and Lemon Wafer with Pistachio "Pain de Gènes"
Delicious. Fresh. Unique. Accomplished exactly what a sorbet course is supposed to do. With this course we had a Cossart Gorden MV Madeira. Tasting notes: A fresh crisp Madeira with delicate but firm fruit. Serve as an apéritif or dessert accompaniment. This fine pale Madeira is often considered the most suitable for enhancing the flavour of sauces.
9 (Choice)



MUD PIE: Dark Chocolate Mud Cake, Liquid Caramel, Chocolate "Crémeux" and Caramel Parfait with Sassafras Ice Cream
MILLE-FEUILLE DE POIRE: Walnut "Bavarois," Bosc Pears and Candied Walnuts with Licorice Ice Cream
Bennett and Mark went for the Mud Pie. It was decadent, rich and super fine. I opted for the pears. A much fresher ending to my meal. I love to end with fruit and the pears mixed with the unique ice cream, just a hint of licorice, was just the thing I was looking for. Along with this course I had a macciatto. It was server in a tall glass, at least for espresso, which sat inside its own deep well saucer. Together the combo looked like a space ship hovering over the table.
10
MIGNARDISES
This is Per Se's version of Petite fours. It seemed like it never ended. First one waiter came over with a tray of 8 different small truffle based chocolates. The standouts in this group was one made with fennel and one made with bacon. The bacon is rendered with the grenache and then removed leaving a subtle smoky taste to the chocolate. We all chose three for our plates. I snuck 4. Next was a tall silver cylindar that flipped open to reveal 3 interior trays filled with cocoa dusted chocolates. These were made by a brother sister team from Itay. Apparently the brother walks the earth loooking for teh best cocoa. Then, he sends the cocoa back to his sister who makes the treasured chocolate into their final configuration. The waiter showed up over my left shoulder one more time to put down one last bowl of chocolates. This time it was filled with super small cocoa dusted truffles. I can not remember where they are from, why they were so good or who made them but they were outrageous just the same. We savored in this course for what seemed to be an hour. By this time it was well after 1am and we realized we were the sole table still sitting in the restaurant. The lights from Columbus Circle were creeping up the building and trickling in through the enormous windows that now sat in front of us unobstructed by other patrons. We thought we were done but there was one last thing
11
Along with the bill came a beautifully packed set of four of cookies(above pic). Pistachios, almonds and candied fruit stuck to the top of the brittle cookie with a sole of chocolate. The bill was a heart stopping $1300. Luckily Mark was kind enough to allow his giant corporate behemoth foot the bill. Sometimes big business has its advantages. We eased our way out of the seats. I retired my sports coat back to the closet in which it came and headed slowly down the four stories to the street.
On the cab ride home I took stock and reflected on the meal in between my alcohol induced cat naps. All in, the experience is unbelievable. The food is decadent and extremely unique. I can't say its the best I ever had but it was up there. I give it a slot around 7 or 8 in teh top ten meals of all time. If you ever get a reservation and you know someone with a corporate card take the shot, I promise it won't disappoint.