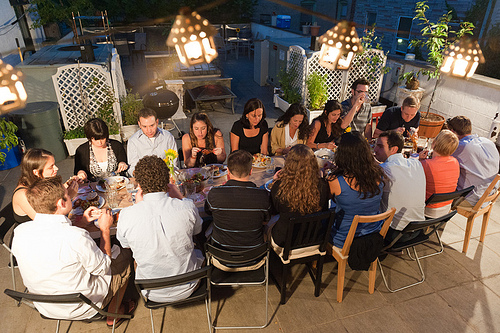 I am always amazed how hot food can silence 16 talkative, jovial and passionate conversationists in mere seconds. Perhaps food is the great equalizer. Perhaps it is the key to that ubiquitous and intangible "world peace" idea. If it is, we are doing our part every week on a big deck in Brooklyn.
For those who are unfamiliar with the dinners, Reel Tasty is our summer supper club where Aimee, my co-chef/host, and I screen a movie on a 2 story building while our guests sample some of our latest and tastiest gourmet dishes. It has been a while since we hosted this dinner and I apologize for the delay. The menu for Wet Hot American Summer was quintessentially summer camp through and through.
Aimee started out the evening with a trio of delectable summer treats twisted in the way only she can. Somehow it makes you feel like you are eating gourmet comfort food tapas style.
pall photos: Kun Kim
She started the apps light. Well, not really. Fried corn & lobster mac and cheese bites so popable that you'd think they were bite size from the way the plate emptied. By light I meant there is fish in them. The glazed baby back pork ribs were up next. With a sweet hit from the bourbon sauce you had to take two…or three of these bad boys. Finally, what is more summer than watermelon? We mixed it up a bit, creating Watermelon with feta, balsamic and basil. It also was a nice palette cleanser as the grill, oven and stove top raged prepping the entrees.
Lily got crafty this time pairing the wines not only for taste but for style. Boxed wines sound horrible right? Think again. Over at Dandelion Wines they know what's up. For the white she chose Château du Chatelard Bourgogne Blanc (100% Chardonnay). A classic white Burgundy made from unoaked Chardonnay is delicate with floral aromas. Honeydew, lime, and herbs mingle happily on your palate… For the red she went fresh and supple with flavors of black cherry and plum. Subtle notes of lavender and spice linger longer than expected in this Domaine Le Garrigon Côtes du Rhône (60% Grenache 30% Carignan 10% Syrah)
photo credit: Kun Kim
As guests sipped the kitchen prepped. The finishing touches went into the celery/nectarine salad.
photo credit: Kun Kim
The smoked Chicken was plated
photo credit: Kun Kim
And, the burger assembly line was turned on high speed
photo credit: Kun Kim
Somehow we were able to pull everything together at once. 32 burgers, 16 chicken legs, 2 bowls of salad and a giant bowl pasta with roasted cauliflower and broccolini marched out of the kitchen simultaneously and onto the stretched table of 16 guests. Presentation is never without a story or two. As we presented the dishes, their ingredients and their thematic characteristics of summer, guests wasted no time digging in.
photo credit: Kun Kim
This brings us back to that silent table I mentioned at the top of this post. The crunch of celery and squish of biting into a juicy burger replaced the sounds of laughter. Soon enough those sounds were then replaced with the unmistakeable beginning to Jukebox Hero as the movie lite up the back wall and guests turned to settle deeper into our summer camp adventure.
photo credit: Kun Kim
What summer camp story would be complete without smores. We just had to. Of course Aimee fashioned them into tarts for no muss and no fuss with fires and smoke.
photo credit: Kun Kim
That was followed by home made Pillow Fight ice cream. Nutella and marshmallow Fluff mixed with white and dark chocolate morsels churned up an edible pillow fight where clean up was NOT a problem.
photo credit: Kun Kim
Of course no recap is complete with out recipes and a shout out to the crew. This was an all hands on deck affair. Anthony was off the boat and he handled the task of burger assembly like a champ. Thanks as always to everyone who attended. You guys are the best. Our next dinner is August 28th. Hope to see you all soon.
Get on our list for upcoming dinners dinners@forkingtasty.com
Recipes:
Celery/Nectarine Salad
ingredients
celery
nectarines
cilantro
olive oil
scallions
pepper/salt
cider vinager
directions
1. cut celery and nectarines to the same size. About an inch long
2. mix with salt and olive oil
3. add cilantro and scallions
4. drizzle with cider vinigar
5. mix and serve
Wet Hot BBQ Sauce (served with the smoked chicken)
ingredients
1 can tomato paste
1 cup espresso
5 dried chilis soaked in espresso
3 tbs molasses
1 tsp salt
2 tsp black pepper
dash cumin
dash cayanne
directions
1. soak dried chilis in espresso
2. when rehydrated grind in food processor
3. mix in all other ingredients
4. mix well
5. simmer in sauce pan for one hour
6. transfer to container and chill in refrigerator