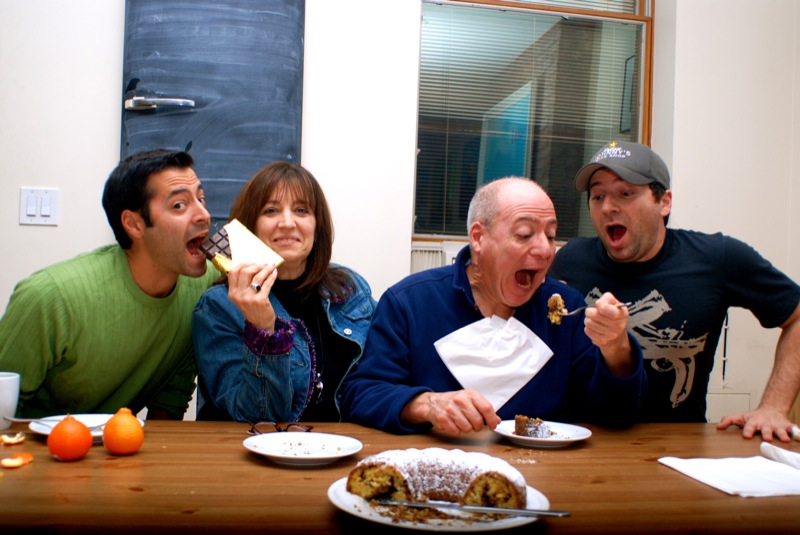 Homecoming Tradition
After 5 months at sea and with over 12 new countries under his belt (and in his belly), Ant returned home yesterday. Home for only a short 2 months before he heads out again, we made sure to start the eating immediately. My parents picked Ant up from his inbound flight, dropped his bags in Manhattan and then made their way to my place in Brooklyn for a traditional Anello homecoming meal.
Something that has not made nearly enough press on this blog is OUR lasagna. Growing up, making lasagna was one of our favorite things to do. Maybe it was the ALL day process of making the sauce, then the noodles, then the meat. Or perhaps it was the assembly line. Carrying an increasingly heavier pan across the kitchen from noodle station to sauce station to cheese station to meat station and back again was, somehow, exhilarating.
From those memories of our childhood to our modern day preparation, not much has changed with the ritual. The recipe on the other hand has had many iterations. To some degree, every time we make it there is something new involved. A different sauce, sausage meat replacing ground veal or a drier ricotta could be the test this time. Last night we mixed it up a bunch. We were all not just guineas last night, but guinea pigs.
There is no way I can tell you the ingredients with any meaningful insight that you could deduce the taste. I could, I suppose, launch into a bunch of rhetoric and explanation about how each intricacy and experiment performed during preparation had various profound effects on the final product. Instead, just look at the glorious image below and let your brain do the rest. My guess is I'll have you salivating in under 5 seconds. Just another reason to make sure you are on the REEL TASTY DINNER list. This season lasagna just might be on the menu.
After the binge, we all crawled home to digest. Luckily for me that was only 5 feet away. Since Ant is home look for a bunch of new posts featuring the brother's Anello and their eating adventures. Maybe we will even bring the 'Rents along for a few meals too. You guys seem to like their appearances in our posts.