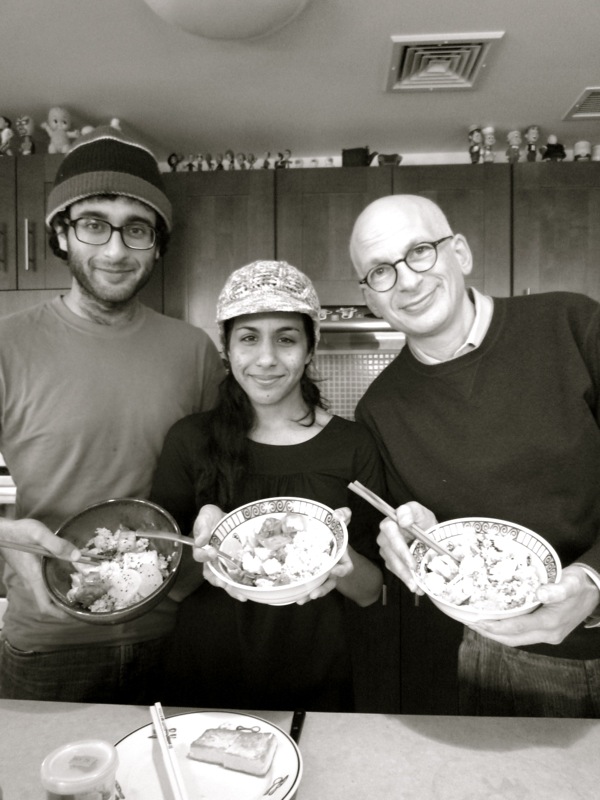 Forked with Amit, Ishita and Seth
Can you beat a home cooked vegetarian (almost) business lunch? Rhetorical, please hold your breath for a moment. I was in Hastings, New York with Amit to meet with Seth and Ishita around a few projects in the percolator. Only days before Thanksgiving I certainly have food on the brain and this gastronomical surprise was the perfect easement into my second to last business day before holiday.
If you are a faithful reader, you have undoubtedly heard of Amit before. Creator or Photojojo and Jelly, he has been my partner on the Yahoo! and Jelly "Jellytalk" series. Most recently, besides a red eye from SF and a quick nap on my couch, he has put out an awesome photo book with all sorts of great ideas in it. You know I rarely plug but, this is a great 'lil holiday gift from a super creative place.
Seth I had met once before at a Jellytalk in Brooklyn. Although he loves to complain about the space I know he had a good time, at least during the talk. Seth's office reads like a neatly organized exploration in fun and interesting. Not surprising considering his background, occupation and writing. His one line bio, (Seth is a writer, a speaker and an agent of change) may need another comma and the word cook added. Thanks Seth for the delicious lunch.
Ishita made the tea and kept the meeting on track. She is Seth's assistant and creator fear.less, an online magazine that empowers people through unique stories of overcoming fear. There seems to be some discrepancy over Ishita's role. After further clarification it is unclear if Ishita works for Seth, if Seth works for Ishita or if they are partners in crime. One thing is clear, Ishita's official title is "Head of Hoopla". That sounds like the boss to me. I'm just saying.
This was perhaps the most productive and tasty meeting I will have all week. Thanks again guys for the hospitality.
What we ate:
Brown rice with kimchi, hummus, egg and tofu