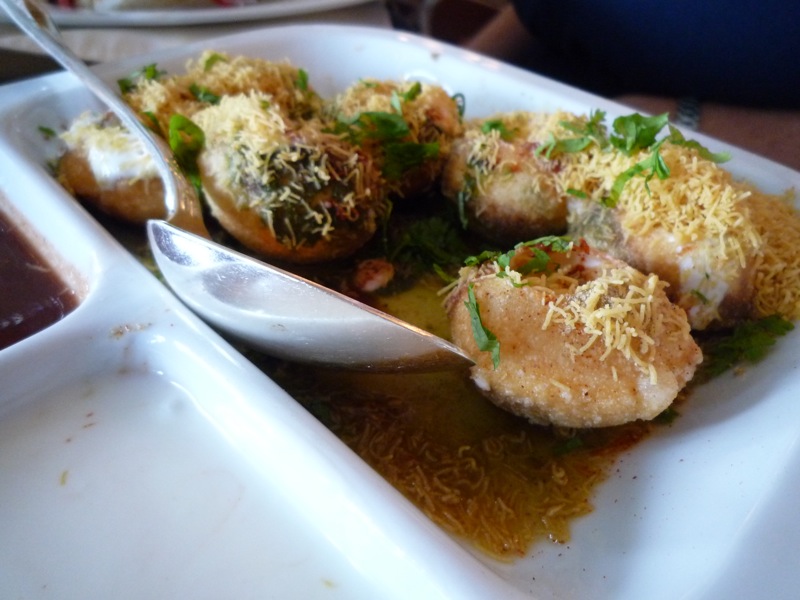 We eased into things yesterday with a lunch at the hotel. Prepping for the inevitable street food fiesta that I intend to embark on later in the week, we sampled the upscale version of these traditional Mumbai staples. Below and above is bhelpuri, sev batata puri, pani puri, dahi batata puri, steamed dhokla with ragda, warm ragda in a crisp puri. I am not sure which s which but I will do my best.
Bhelpuri is a a puffed rice dish with potatoes and a tangy tamarind sauce.
Pani Puri is a round, hollow "puri", fried crisp and filled with a watery mixture of tamarind, chili, chaat masala , potato, onion and chickpeas
This is the steamed dhokla with ragda. A moist cake like bread with a chick pea based mixture. Chickpeas, or besan in some recipes, are soaked overnight. This paste is fermented for four to five hours, then is spiced by adding chile pepper, ginger, and baking soda. The dhokla is then steamed for about 15 minutes on a flat dish and cut into pieces.
This was much like the pani puri but with a yogurt based sauce inside. The waiter told us to eat it immediately. Flavor explosion, very high.
Club Sandwich. You have to throw some western in every once in a while.