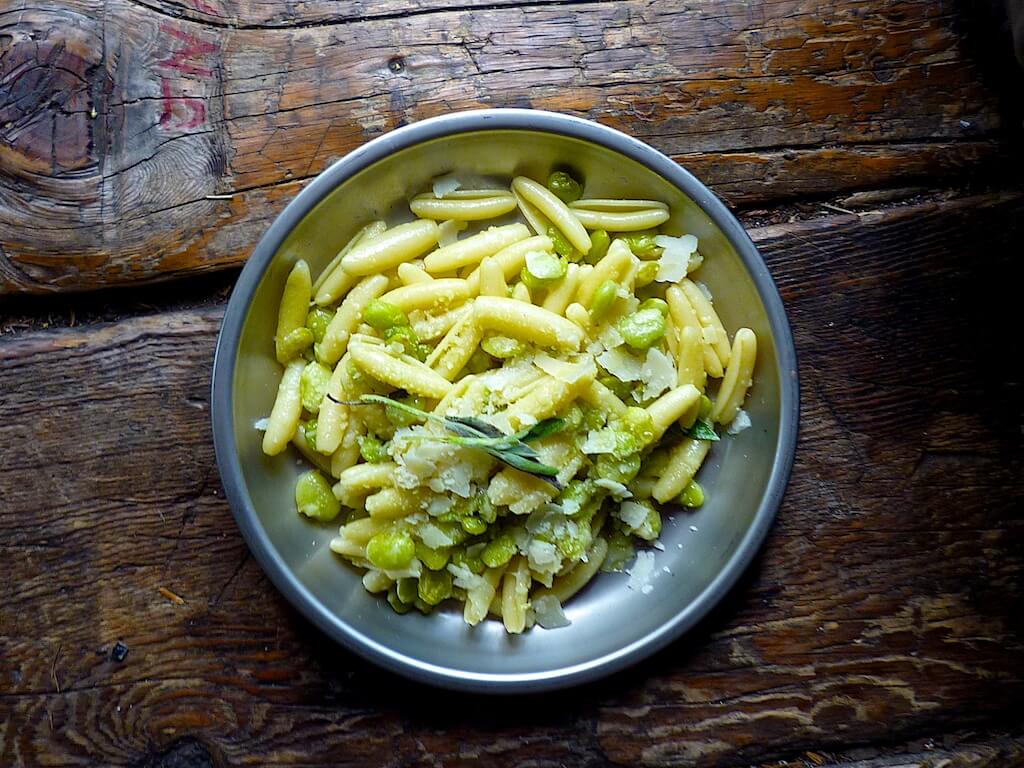 I like nature. I like the woods. I like the effort it takes to get in but I always try and bring some of the creature comforts with me. Specifically when it comes to food. On this years first trip, my buddy Joe and I, travelled to one of our tried and true regions in the Adirondacks but decided to explore a lesser traveled section of forest. That was one of two risks this trips itinerary had marked on our topographic itinerary. The second, I went mad gourmet with our meals in hopes of breaking the bar on the definition of camping food. I don't think you have to eat freeze dried hiking food, canned beans or GORP just because you're not near a sink or refrigerator. Sure, I know SPAM makes a great alternative for breakfast but I think we can do better. In fact, for years we've been progressively expanding our definition of "camp food" leading us up to this trip which I call FULL GOURMET.
To achieve this level of cuisine while five hours by foot from the nearest kitchen you just have to think through the menu logistics and be extremely organized. Like this.
Before I get into the specific meals and how they played out here's the run down of what we were dealing with.
Three days in the Pharoah Lake ADK region (map pictured below). Two MSR pocket rocket camp stoves. One Anello provisioned camp cooking kit. The menu was as follows.
FRI
Breakfast-On the road. As always.
Lunch-H.I.H. Hike in Heros (the origin is another story)
Dinner-Chicken burritos with black beans, yellow rice and mexican crema plus tortilla chips
SAT
Breakfast-Sunny side eggs and thick cut bacon. Pour over, intellegista coffee.
Lunch-PBJ
Dinner-Rosemary steak with a side of fava bean cavatelli and a fennel orange salad
SUN
Breakfast-banana + blueberry pancakes with maple syrup. Pour over intellegista coffee.
Lunch-Leftovers
Dinner-On the road
SNACKS
cheese
salami
oreos
coffee
We started our hike not sure what lean-to we'd settle into for the night. As it turns out the trail was unmanicured because it was early in the season, so less travelled, and the winter had brought down a lot of branches making for a bit of a bushwhack if you didn't keep a sharp eye on the markers.

Lilypad pond and lean-to proved a perfect in-between for our Day 2 hike and Day 3 return to the car. About three and a half hours in from the parking lot, Lilypad lean-to was surprisingly more equipped than most huts in this area. Two steel grills, a broom, sweep pan and a spade gave us a leg up on making this our home for 3 days.
When we dropped packs Joe and I immediately went into prep mode. Having been in this situation together a myriad of times and in a multitude of landscapes, we knew what chores each would tend to. Little talking went on for the next hour as we set up. He the fire and I the kitchen. A lot of head jerking, eye gestures and loud shouts was all the communication needed. Here's a video snack of our three day journey getting to the gourmet.
Gourmet camp cook tricks
The key is to prepare, organize and menu design according to the environment. For example, put everything you can in a squeeze bottle. Here's the tricks I used for this meal.
• I marinated the chicken in bold spices a day ahead.
• I brought condiments that were stable not refrigerated but also were not traditional like the Mexican crema.
• Olive oil instead of butter. Again, all bottled up like this.
• Use a griddle if you can find one. We are always weight conscious so we would never pack one but our lean-to had two available for use. I chose this cast iron option. Everything tastes better when cooked on a fire. Even if you are burning old beaver dam wood.
• Freeze meat for day two. The thicker the better because it will take longer to thaw. I really wanted to use hanger steak so it thawed quicker because its a thinner cut. To compensate and extend the non-refrigeration life I vacuum bagged everything. O2 is the catalyst for bacteria formation. By eliminating most of it I keep this process suspended as long as possible.
• Specialty oil goes the distance. I made a sage oil and used that specifically for the fresh cavatelli course. It added bold and unique flavor with simple effort.
• Fresh herbs will stay just as long as they do on your counter top. Heartier stems like sage and rosemary last longest and also have great bold flavor. They also make for great garnish when adding that gourmet visual to the final plate.
• I used an old coffee maker I picked up in Vietnam. Lightweight and stainless steel. It rivals the modern pour over and cost me less than a dollar. I ground the beans the morning we left for the trip so they were as fresh as possible. Included in my stock was a mini-parmalat milk. These are shelf stable and don't need refrigeration. Nothing makes for better camp coffee than real milk.
• The pancakes were a new trick. I pre-made the batter and then froze it flat in a ziploc bag. This makes for easy packing and quick defrosting. If you are using it later in the trip freeze it in a smaller bag and it will thaw slower because there is less batter surface area exposed.
• Fresh blueberries and banana are easy to pack and carry. They also make for real deal, fresh tasting pancakes.
• Salt and pepper everything. These two little containers are your best friend. Those finishing spice adjustments are the difference between gourmet and GORP.
• Know your environment. This trip was in early May and it was still cold at night which slowed the thaw on my frozen items. This image of the waterfall we stumbled upon proves the cold temperature. These two of the cascades were still frozen solid.
• Build a fire. Be careful, it's fire. But fires make everything feel cozier and more gourmet. The crackle, the poking the warmth and the light adds to the taste of whatever you cooked up even if you didn't cook it directly on the fire.
The next trip is slated for September. Fall color! Until then I leave you with this parting shot. To go gourmet you don't have to be fancy and expensive, you simply have to make some choices that are unexpected. A birthday cake Oreo instead of a classic is exactly what I mean.