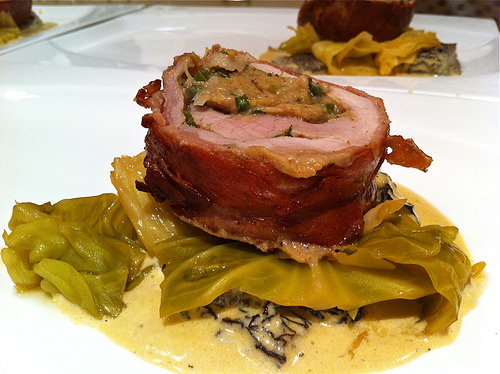 Finally Forking Spicy
It took over a year but chef Ben Long and I finally made it into the kitchen together. It had become our mission to collaborate on a 4-course meal since our mutual supperclubs, Spice and FT Suppers, came into existence. In our vision we cooked a magnificent, over-abundant, delicate and rich meal for over 40 bi-coastal diners who flew, walked and rode in just for the occasion. As it turns out we spent a random weekday evening crafting 4 succulent dishes for Ben's wife, my friend and business partner, Kelly. Sometimes your vision is wrong and reality is the only thing that can prove what's perfect. Shedding the pressure of the guests, the craziness of the kitchen and the perfection we both demand of ourselves we were left free to play and create as we sipped our way through a few bottles of wine.
First up were a duo of salads. Ben's was his family's traditional and classic caesar salad. Mine was the staple sicilian orange salad I had just served at my last supper club dinner.
In between I whipped up a quick and simple pasta dish I have been trying to mimic from Frank Prisinazo's Supper Restaurant for some time. I think I finally got it although I still go to Supper for the original.
As I plated the pasta Ben was tending to the 3rd component of his 6 component entree. The difference between Ben and my cooking is profound in preparation but astoundingly similar in taste. Ben's approach usually involves many ingredients that finish tasting deliciously and harmoniously simple. On the other hand I use a few simple ingredients to conclude with a rich and complex taste. Ben is meticulous with individual presentation. I like sloppy family style plates. Ben likes meat. I like meat. Enough said right? But to drive home my point, our different styles compliment each other by both posses incredible flavor but being derived from completely opposite preparation. When you place them on one plate this contrast becomes a main attraction. This is something we think might be worth exploiting to a bit larger of an audience. particularly in the side by side nature I am about to explain.
Hitting the butcher straight after work we both picked our cut of meat. I went with a boneless short rib and Ben with a pork loin. When we arrived in the kitchen the entrees were the first to get started. Mine required two bottles of cherry juice to start reducing over the stove. Ben's required a bit more. First he started with the gorgonzola stuffing. Next he started braising cabbage in apple juice. By the time my pasta was being plated Ben had stuffed his pork loin and was wrapping it with prosciutto. Simultaneously he had started rehydrating some morels with cream. My cherry juice was about half way reduced.
About 20 minutes later I pulled my simple salt and peppered short ribs from the grill just as Ben removed the pork from the oven. We pulled our serving dishes from the plate warmer. Wait. Pause. Ahhh yeah, they are pimp in their new place with the plate warmer. Booyah! It's a gem. Lining up our toasty porcelain to build three perfect plates, we worked side by side in synchronicity.
Ben sliced the pork and then built three serving with the mushroom sauce as a base, followed by the cabbage and crowned by a thick slice of the stuffed pork. On the other side I piled chunks of medium rare short rib cubes on top of each other and slowly drizzled the thick, syrupy, cherry juice reduction over top.
In the end we sat back satiated and satisfied that our meal and cooking skills complimented each other so well. It was definitely worth the wait but I think we need a second collaboration sooner than later. If you'd like to see this happen in a city near you let me know. I'll see what I can do. Between NYC and San Fran we have that covered but we wouldn't be opposed to putting this show on the road if the audience was hungry enough. Drop us a comment if you'd like to entice the duo to your neck of the woods.
In the meantime, We will get to dreaming up the next menu.