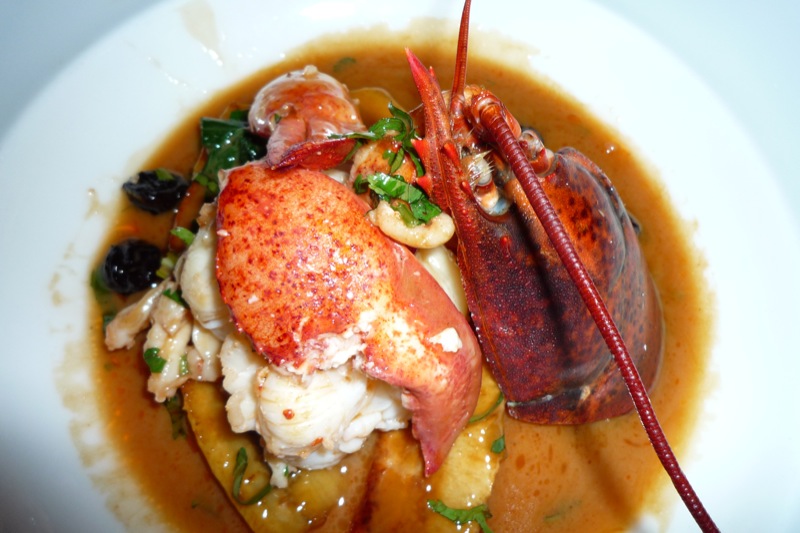 Yesterday, I met Ant in Miami. We had less than 24 hours there so we had to use our time very wisely. Still slightly weary from my 3 and a half hour drive north from Key West, Ant greeted me with a Captain and diet coke to perk me up. As soon as the ice was dry of rum and carbonated sugar water we were out the door and headed down the block to recreate a meal I had nearly 6 years prior. The Blue Door has been on my top 5 restaurant list for as many years and last night I was determined to see if it still made the list.
The lobby of the Delano is where the entire Blue Door experience starts. The 40 foot ceilings, the long, narrow corridor and the towering, white, sheer drapes whose bottoms dance around as the wind blows in off the ocean make you feel literally like a million bucks. Ian Schrager would probably love it if he had coined that phrase.
We started off with the crab and guacamole salad and some duck confit.
For entrees I had the roasted maine lobster with raisins, onions, lime, and cilantro, with caramelized banana and bokchoy(pictured at top) and Ant had the beef tenderloin with gorgonzola cream sauce, beaujolais poached asian pear, crispy potato galette, raisins and green peppercorns. Both were outstanding and held up to the previous taste, texture and presentation.
Feeling satiated and satisfied that the restaurant was still top notch we skipped dessert and walked off the meal. We walked it off straight into an Argentinian style gelato cafe. After overloading on sugar we headed back to the hotel for a quick break. Soon after our arrival back at our hotel our night continued with a call from Manuella, my friend Marcella's niece. She was down stairs with her boyfriend ready to take us over to Love and Hate for a few drinks and maybe some dancing.
Manuella, Alfonso, Ant and Pablo
This morning our time was really running thin. We had only a few hours to get up to West Palm Beach and pick up my parents from the airport. Ant, being the burger fiend that he is, forced a double burger stop breakfast on us. First stop was Cheesebuger Baby. It totally sucked. The burger was overcooked. The bun was stale the service blew. I will not even insult you with a picture instead I present you this image that I think explain a lot.
Stop number 2, and the great redeemer, was Fatburger. Yes it is fast food, but they do make a mean burger.
We scarfed that down, Ant and I both grabbed a bathroom token, used it (easy people don't stray) then jumped in the car and hit 95 North. The plan was to grab our parents and head straight into the giant, Italian, Christmas Eve fish dinner that has been tradition in our fam for as long as I can remember. As we sped off down the interstate we reflected on the completely contrasting types of meals we had only 3 blocks from each other. Talk about one of two or more conflicting ideas that cannot be brought into harmony. If you are interested in the full Florida set, check it out here.
Blue Door At Delano
1685 Collins Ave
Miami Beach, FL 33139
(305) 674-6400
Fatburger
947 Washington Ave
Miami Beach, FL 33139
(305) 534-9696