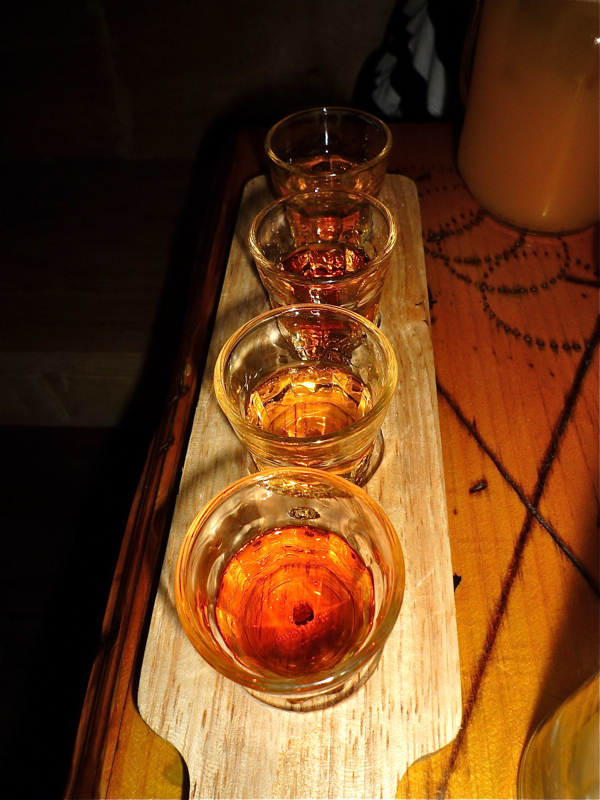 No not literally. Maybe soon though. I hear Central America is beautiful this time of year. This flight might be just as good. Above is a 4-some of premium rums from the Brooklyn expansion of the East Village favorite, Caracas. See, Brooklyn has space and so the lovely peeps behind these arepa bars added a nice sized rum bar up front in their Brooklyn shop. For a tequila/rum guy, like myself, this is heaven. The unsung spirit perfected on the islands of the West Indies is hard to find on the island of Manhattan. Breaking far out of the Captain Morgan, Meyers, Bacardi syndrome, Caracas brings it hard with some of the finest of the batch. The 25 year old Appleton Estates has a special place in my heart. Enough about the sips, let's dig into the grub.
My eater, Canadian friend was first to successfully bring me to this spot. I say successfully because the line in the East Village is usually out the door. This line produced a lot of plan B dinners after realizing the wait would send us into a defcon 1 hunger situation. My first Caracas meal was delicious. This second visit, first to the Brooklyn spot, was equally amazing and with added elbow room. First up was guasacaca & chips (venezuelan style guacamole with chips)
That was paired nicely with tequeños (deep fried white cheese sticks wrapped in wheat flour dough). These babies are like little cheese canolis that had their ends fused together. Dangerous. From there we stepped into the main event. Choosing from the wild array of arepas is tough. It is hard to not get over zealous on the order. It's also hard to keep it simple. There are some very exotic choices on the menu and the knee jerk is to jump for the one with the most stuff in it. Bad decision. My advice, keep it simple.

Choice 1: La de Pernil-roasted pork shoulder with tomato slices and a spicy mango sauce

Choice 2: La Guayanesa-guayanés cheese
Now, if you are normal, you stop here. But….I am not normal and that Canadian I was with? She is definitely not normal. She really should be in the competitive eating circuit but that is another post. So where do you go from here? To the sweet of course.
Not just regular sweet BUT triple, crazy, stupid, rich-ass, mo-fo sweet. As in, marquesa de chocolate (layers of thick chocolate mousse and Maria cookies). 100% homemade. I followed that with one ultra rich cafe con leche that only Latino's truly know how to make and then rolled ourselves home.
So, next time you are on the east side of the Williamsburg bridge, buckle up, stow those carry ons securely and enjoy the in flight meal.
Caracas
www.caracasarepabar.com
91 East 7th Street
New York, NY 10009-5729
(212) 529-2314