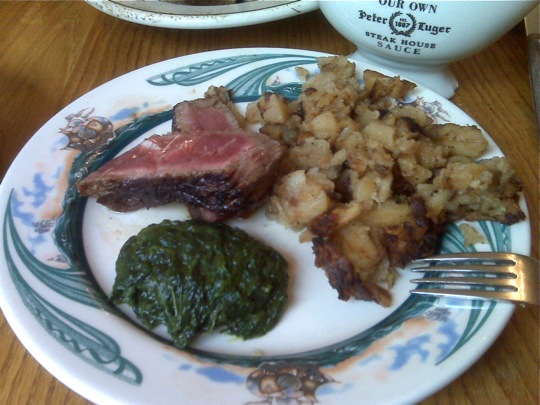 I am not even sure where to start on this one. Today ended much different then where it was supposed to start. Before my eyes opened at 9:30am, I envisioned my self jumping on the bike and putting in a solid day out in the boroughs with my buddy Joe. A little sun, some bike friendly grub and a few peaceful riding breaks around greater Brooklyn and Queens would be the perfect Sunday plan. But that is not even close to what happened.
I opened my eyes at 9:28am to the pitter-pater of rain on my window and the ominous grey of sky pushing against my bedroom. I quickly regrouped and tried to make the day a productive one. I threw in a load of laundry. Grabbed a cup of coffee. Ran out to run some errands; hardware store, Radio Shack and the bank. I touched base with Joe and confirmed that the rain was not going to let up. Poor 5 Borough bike tour peeps. We made a new plan for the day which included brunch and a, decidedly risky, run to B+H for a new amp. I needed one last piece to complete the sound system for our first summer dinner.
We decided to hit Lokal, a neighborhood joint, for brunch. We sat half in and half out of the restaurant and admired the rain from a dry and warm two top while eating our Huevos Rancheros and recapping the conversation about electronics. Our extremely friendly, blue eyed, dimpled waitress kept out mugs filled as we wasted away the remainder of the morning planning our afternoon.
We finally paid the bill and headed into the city. We crossed town, against the rain and the odds, and made it to B+H. We found a very helpful employee who navigated us through the wall of amplifiers. I made a choice, picked out some speakers, paid, packed it into the truck and we started back across the city to Brooklyn. Again, we beat the traffic odds and were heading into the tunnel a mere 20 minutes later. The discussion turned to hunger and I blurted out I felt like a burger. He agreed and we started thinking about where to get one once Brooklyn side.
After a few minutes I suggested Peter Lugars. I still swear they have the best burger in NYC. Joe is a big Lugars guy. His family grew up in Greenpoint so Lugars was a family staple but Joe had yet to have the burger. We agreed Lugars was a great call and headed over. We walked in around 4pm, no reservation. The Maitre D took our name and we bellied up to have a drink at the bar. Within 20 minutes we were sitting at a table. The waiter came over shortly after and we placed our order. Having been to Lugars a bunch of times I didn't need a menu and I spouted the order off with out looking at the menu. As I completed the order, the waiter leaned in and explained that they stop serving their $8.95 burger at 3pm. Our jaws dropped as we both visualized the second least expensive meat item on the menu. That would be the $85 steak for Two. With a quick nod to each other we knew what we had to do.
This simple burger stop had just turned into a full blow Sunday steak dinner in the finest steak restaurant in North America. A giant, rare, porterhouse, german potatoes and creamed spinach later we wobbled out and need some air and a well deserved walk. The meal was fantastic regardless of our unpreparedness. It is moments like that where I realize that life happens in the cracks. It is not about what you need to do or what you have to do as much as its about what actually happens. In 10 years, when I look at the amplifier and speakers that I bought today at B+H, I will remember the accidental steak dinner before the cross town traffic, cute dimpled waitress or rained out bike ride. I like that.