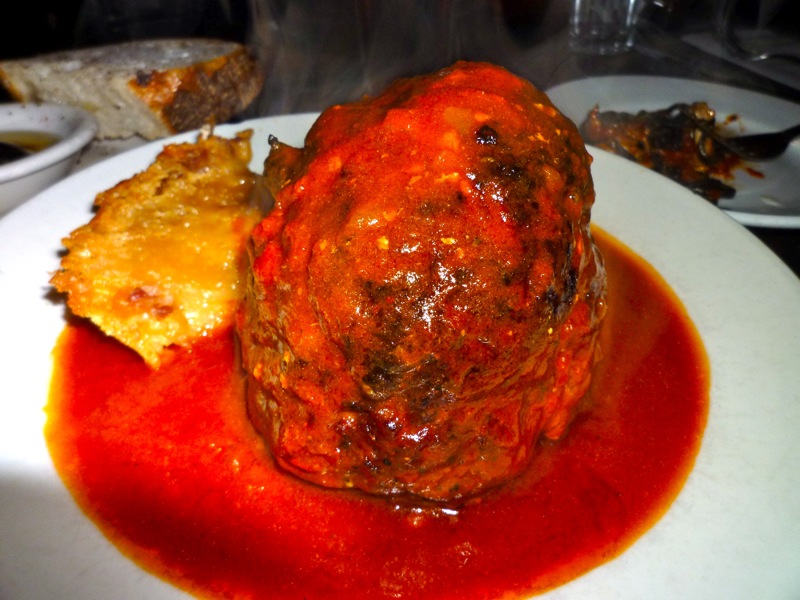 When you spend 3 years aimed at one goal it is extremely important to recognize the milestones you reach while on your journey to that end. There is arguably no better way to celebrate these events with a great meal. The memory recall of a delicious meal can be savored for years. You know what I mean right? Remember your college graduation steak dinner, that first bite of your wedding cake or the final meal on your road trip across the country? Yeah, I knew you did. Adding taste into the sensory equation has an interesting effect on positive recall.
Last week just such a milestone was reached by one of my favorite, frequent eating companions. Preethi, who you have seen a lot of on the blog lately, landed herself a J-O-B. Being the caring boyfriend I am and a sucker for an excuse to indulge in a decadent meal I congratulated her and asked her to pick any restaurant in New York, my treat, to celebrate. Without hesitation she replied Frank Restaurant in the east village. Her hands down favorite spot in all of NYC is a small and homey space. It is always bustling with regulars and now tourists alike but the vibe is distinctly downtown local. The hosts, guests, bartenders and owners all smile and chat making the experience feel more like a family kitchen then a trendy restaurant in a trendy neighborhood.
We were seated up at the bar that looked over the cramped kitchen. A "drink-what-you-want-honor-system" bottle of barolo was placed in front of us along with 2 glasses of water and Preethi's standard diet coke. Knowing way ahead of time what she wanted we were quickly settled on an order and got it into the kitchen immediately.
First out was this incredibly fresh stracciatella mozzerella over beautifully ripe tomatoes and crisp basil. Drizzled over the top was a touch of balsamic and some Extra Virgin olive oil.
Next up, a steaming bowl of squid ink linguini and marinara sauce and calamari. Perfectly done pasta soaked up just enough sauce to hold a burst of flavor in every fork twist full.
Our final course was the reason for Preethi's fast reply when I asked her to choose a restaurant. Over the years this dish has become legendary for its size, taste and tenderness. The polpettone pictured below is one of Frank's signature dishes. It looks like an over sized meatball but is so much more than that. It's crispy outer shell protects the tasty and moist beef center of this softball sized entree. Red sauce drips down the ball and pools at the bottom of the plate where you can find a parmesan crusted potato au gratin that compliments the meat mountain with incredible accuracy.
You can tell by the grin on Preethi's face that the reward was worth the work. Of course the next milestone is passing the bar. For that we might need two polpettones. Stay tuned for that post OMG!
Frank Restaurant
88 2 Avenue
New York, NY 10003
(212) 420-0202
www.frankrestaurant.com