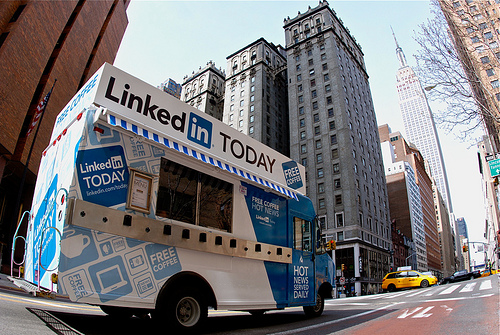 Our First Food Truck
Ant and I launched a food truck last week. Actually, it was more a Manifold thing. I do love when my day job and play job overlap. Regardless of the origin, I wound up designing and building a coffee truck to promote LinkedIn's new product "Today". Ant became the manager of the NY Truck while one of my Manifold partners completed and managed the San Francisco truck. Ohh yes, we did this bi-coastally.
Last Monday we rolled out two identical coffee trucks to the residents of the two greatest cities in America. Me being a very detail oriented type of guy we converted these two beasts into smooth branded, hi-touch coffee experiences that delivered delicious Joe and hot news to our customers. From the truck finish to the coffee cups we had not missed a detail.
From the controlled environment of a South Bay and Brooklyn warehouse I was able to get everything perfect. When the trucks hit the street it was a different story all together. Of course, that is where Ant's work picked up and mine took a back seat. Both cities had their characters but NYC had some doozie's. If you can't beat 'em join 'em is the only way to work with our animated neighbors.
Brewing our coffee at 4am everyday in NYC was the BIG hearted, small staffed Brooklyn Roasting Company. It's co-founder, Jim Munson, became my personal hero for his enthusiasm around great tasting coffee and for his ability to produce over 60 gallons of piping hot coffee each morning. I still don't really know when he slept since they roast the beans for every batch the day before they brew. An amazing process that you should check out if you are ever in Dumbo.
As we look back at last week, the food truck world isn't an easy road. Between finding parking, stocking the brew, storing the cups, playing barista, fending off the crazies and smiling for customers I have to wonder how some of these guys pull it off week after week.
All and all, as a first venture into the booming food truck world I can't say it was boring. I'm not sure you'll see a Forking Tasty food truck on the streets anytime soon but I wouldn't count it out. As my kick ass barista, Nasser, would say "Light + Sweet or Black?" In other words, customers can be nice or harsh but in the end they will be smiling.