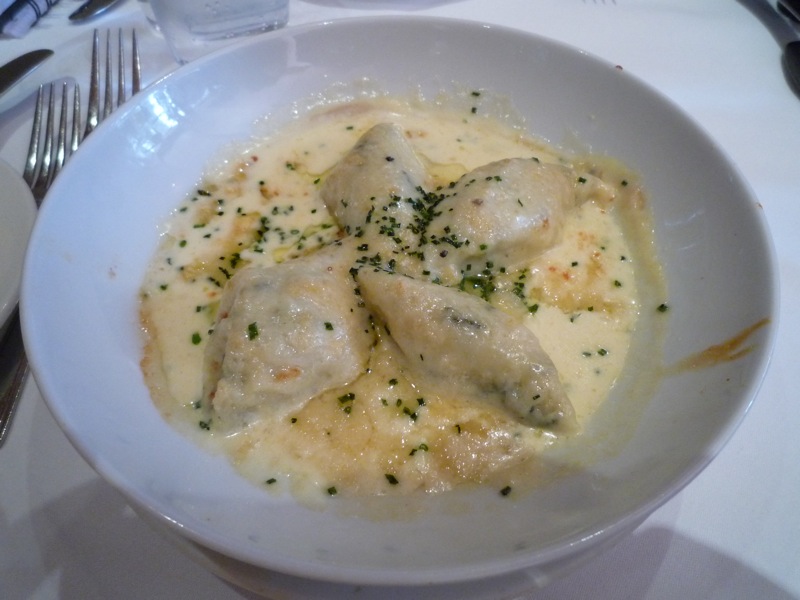 This was the largest gnocchi I have ever seen. It was tender and dripped with a marscapone cheese sauce. What could go wrong? It was lunch time and I sat at a long table just off of Covent Garden with 8 colleagues who were helping me figure out the details of my October Project. Our surprisingly alcohol-less table quieted up so that we could fill our empty bellies with round one of what I will dupe the flip lunch.
After a short digestion period my tuna entree arrived and again the table quieted down to fill our respective pie holes.
I ordered the tuna rare, probably my first mistake. This could be the worst piece of fish I have had in a 3 years. It sat on top of a bunch of tasteless and soggy vegetables that seemed to be there more for support of the fish than for consumption. The saving grace was teh pesto sauce drizzled around the side of the plate. The thin quarter inch thick piece of tuna didn't stand a chance of being properly seared and yet still remaining rare so the chef opted for some sort of grill mark machine after it came out of a poacher. (at least that is my best guess).
I said in an earlier post, London took some trial and error to find the good stuff. This was clearly one of the errors. But, coming off the gnocchi dish ist really blind sided me. An espresso to finish the meal did little to wipe the tuna dish from my memory and I headed back to work disappointed, once again, with London food. I would need a redeeming meal next and QUICK.