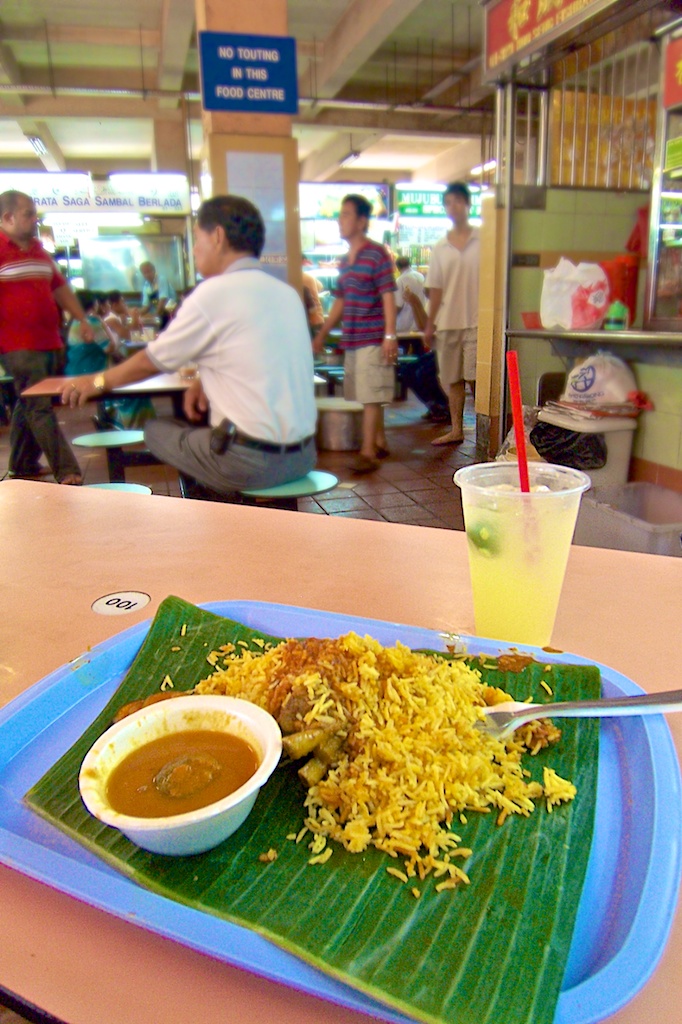 There is nothing more exciting to me than a hawker market. This one happens to be in Singapore in the Little India neighborhood. I'm not sure what it is exactly that makes my eyes widen and pulse race when finding a hawker market but I know it's something about the rawness of the space. Butchering pigs, sorting melons and serving food all in the same general area is both repulsive and intriguing at the same time. Add in, no western refrigeration standards and that many of the meat vendors are also serving cooked food, most people would run the other way. Me? I head straight into the middle. The more unabashed food business that's going down the better.
I do what most seasoned food travelers do when in a foreign land and don't speak the language. I find the longest line and get on it. On this day  the end of the line turned out to be lamb biryani and a cold lemonade. At SGD$4.50 this was a steal regardless of taste but this line was not for some bland rice and mutton. The rice a vibrant yellow had absorbed much of the spices and fatty lamb juice as it simmered in a 3 foot round cauldron pushed to the front of the vendors 5 foot square stall. Masters of working in small spaces with very little they turn out incredible food and this biryani was a testament to that. The lamb was fall off the bone amazing. The Malaysian influenced Indian spice combos were perfect in setting up the dish for my tastebuds as a familiar, traditional dish with a uniquely culture mixed twist. Singapore being a harmonious blend of Asian and South Asian cultures with just the right sprinkling of Western, Australian and Middle Eastern cultures, makes the cuisine standout amongst any place I've ever travelled. The dish came on a giant banana leaf making for excellent recycling and repurposing of what they have on hand. That leaf was placed on the big, plastic, blue tray you see above which is standard for hawker markets. They all seem to use the same but with different colors. Along with my truly "organic" plate came a small bowl of curry broth. This, not traditional, addition allowed me to doctor up or down my biriyani varying the intensity of my bites.
The built in "show" of eating in a hawker market is the best kind of dinner theater I could ask for. While I ate this tastiest of economy lunches I was treated to a symphony of sounds including the slam of a butcher knife, peeling of carrots and slapping of water from the various food stall chores. The audio was augmented by an almost synchronized ensemble of motion provided by the busy vendors, delivery men and food prep chefs not to mention the quick moving customers. If you find yourself in this part of the world go for a snack. Stay for the show. I promise you've never seen or tasted anything like it.
Go there:
Random stall with the longest line
Tekka Centre, Little India, Singapore