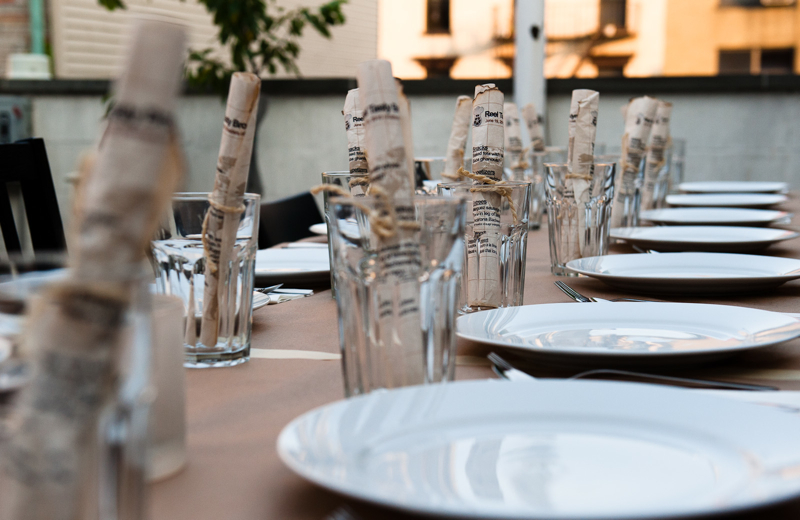 A week ago 16 guests joined us on the deck for a gasto-adventure of summer blockbuster magnitude. In addition to our guests we were visited by one very important person. Dr. Henry Jones took the deck by storm just as the sun settled behind the building he was projected on.
For those who are a little lost, Reel Tasty is our summer supper club where Aimee, my co-chef/host, and I screen a movie on a 2 story building while feeding our guests some of our latest gastronomic creations. The menu that evening was crafted around traditional dishes from the countries Indiana Jones visited in Raiders of the Lost Ark.
The giant leg of lamb was set up on the rotisserie hours before guests arrived. Basted in prune juice and red wine every 20 minutes the aroma wofted over the entire deck and into the kitchen during our prep and setup.
photo credit: Kun Kim
Guests arrived on time as usual and started to mingle over some snacks and drinks.
photo credit: Kun Kim
A new addition to the dinners are hand selected wines by Lily of Dandelion Wines. We recently struck up a friendship with our awesome neighbor Lily under the joint goal of letting people know how cool Greenpoint is. Lily chose a delicious white and red that was specifically paired with our menu.
photo credit: Kun Kim
As the apps rolled out the guests were quick to gobble up the tasty right off Aimee's platter. First up was Snapper ceviche and Za'atar, lamb and feta pizza.
photo credit: Kun Kim
The final app soon followed. Chorizo-stuffed bacon-wrapped dates, one of Aimee's tradmark dishes, was met by happy guests waiting to be transported to Egypt to replay the famous swordsman scene from Indiana Jones.
photo credit: Kun Kim
No adventure would be complete without a signature drink. Pulling from Peru, Aimee mixed up some pisco sours to settle the stomach and clean the palette for the entrees.
photo credit: Kun Kim
The sun finally set and we rounded up the guests to sit. One of our favorite parts of the night, we marched out the entrees and after explaining each dish passed them to the table so our guests could make even closer friends with each other. We love the family style serving because there are few things in life more intimate then spooning food onto someones plate.
photo credit: Kun Kim
Roast leg of lamb with a prune juice/red wine reduction served with a yogurt cucumber mint sauce was first to be announced. That was followed by mergez sausage on a bed of watercress and caramelized onions.
photo credit: Kun Kim
An egyptian lasagna and vegetable ceviche tomato cups followed.
photo credit: Kun Kim
Guests dug in as Aimee, me and the crew slipped back into the kitchen to prep the theatrical start to the film.
photo credit: Kun Kim
As the gasto-adventure part of the evening took a pause the travel adventure part kicked off with a boom. Guests settled in and turned to bask in the glow of the 2 story movie screen that appeared on the wall behind them. After 2 seasons I still get just as excited when that screen lights up.
photo credit: Kun Kim
About an hour or so later, as Indy was trying to catch the bad guys and recover the ark, we served two last treats. Suspiro a la limena with a port wine meringue and a dulce de leche stuffed cookie came out first. It was quickly followed with a homemade masala chai ice cream.
photo credit: Kun Kim
Of course no recap is complete with out recipes and a shout out to the crew. The crew as always. Everyone was on point as usual. Eric had exceptional flare with fedora and bullwhip in hand and our rookie helper, guest-turned-help Hannah, fit right in.
Thanks as always to everyone who attended. You guys are the best. Our next dinner will be announced very soon. So stay tuned or expect an email. If you are not on the list yet. GET ON IT NOW. This season is sure to be packed with tasty surprises.
Get on our list for upcoming dinners dinners@forkingtasty.com
Recipes:
Chorizo-stuffed bacon-wrapped dates
Ingredients
12 medjool dates
1 small Spanish chorizo link (the dry sausage)
4 thin slices of bacon – cut crosswise in three equal pieces
12 toothpicks
Directions
1. Preheat oven to 400 degrees F.
2. Slice chorizo into small pieces – the length of the date but 1/4 inch tall and wide.
3. Pit dates – I use a chopstick to poke the pit out from one end.  Stuff with chorizo batonnet.  Wrap with 1/3 slice of bacon and secure with a toothpick.
4. Line sheet pan with foil or parchment.  Place bacon-wrapped dates, seam-side down on sheet.  Cook for 15-20 minutes or until bacon is cooked through
Vegetable ceviche cups
Ingredients
Vegetables:
celery
celery root
cucumbers
scallions
jicama
tomatoes
Vinegrette:
lime juice
coconut water
parsley
olive oil
red wine vinegar
salt and pepper
shallots
garlic
Directions
1. Seed cucumber. Slice all vegetables (except tomatoes) into matchsticks. Make them as close to uniform in size as possible.
2. Make vinegrette by mixing all ingredients in a food processor. strain and set aside.
3. Using a melon baller or a spoon scoop out the tomatoes so they have enough room to hold the matchsticks. HINT: take a thing slice of the bottom so the cup does not roll on the plate.
4. When ready to serve, dress match sticks and stuff into tomatoes. Serve.