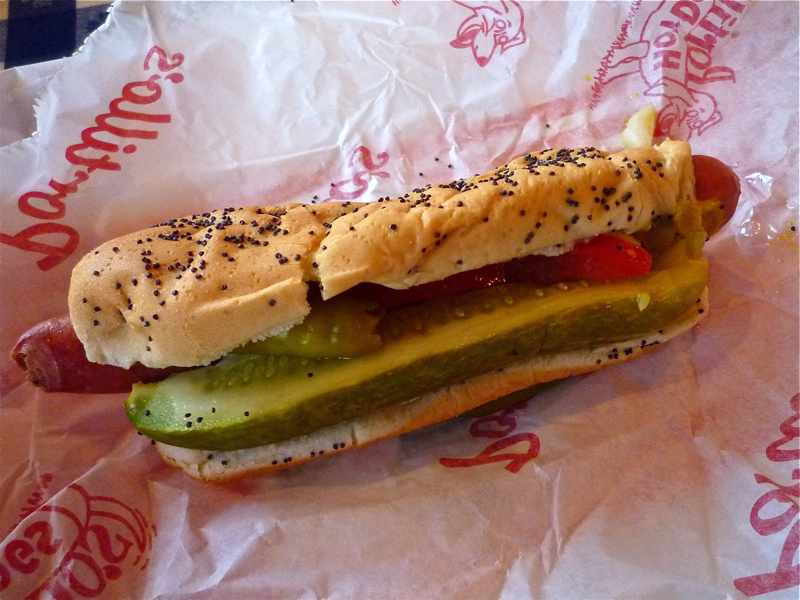 Chicago hot dogs are famous like their pizza. I am not sure I understand why on either account. To be fair I was told to visit this place NOT for the hot dogs but for the Italian beef sandwich pictured below.
The beef was a bit disappointing as well. It was sort of like a mediocre Philly cheese steak without the cheese. The addition of sweet peppers perhaps was a saving grace in the sense that there was a second flavor besides the beef to remind me that the beef tasted good.
A garbage salad was ordered on the misdirected recommendation of the cab stand guy. He told me he loved the chopped salad at Portillo's but when I realized the "chopped salad" mostly consisted of lettuce I assumed he must have been confused with the famous "Garbage".
To round all this out I asked the woman who took my order if I was missing any "must have" items. She replied by pimping the onion rings. Again, sub-par in the sense that I could get them anywhere made the same way. All in, not a bad meal BUT I was looking for a super unique Chicago street food experience and I felt like I had just visited any standard carnival or street fair. If in Chicago you might have to have a "famous" dog for the story but trust me, it's not for the taste.
Portillo's – Chicago, Illinois
100 W. Ontario
Chicago IL 60654
312-587-8910