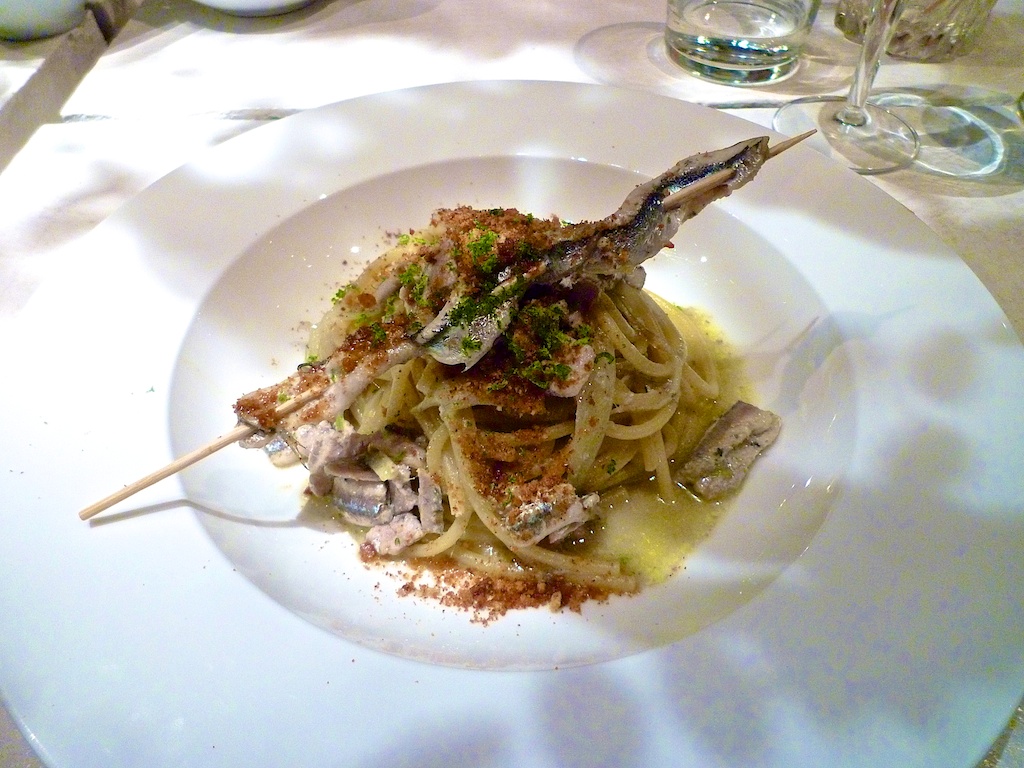 As those who follow religiously know, Missus Tasty and I spent a week (two weeks for her) in Northern Italy a few months back. Amongst the small lake towns, tourist trap cities and true Italian ONLY villages we hit, Milano was the in and out point. We saved 2 days for a walk through the fashion capital. There were few highlights to note except this one. Having opted out of Carlo Cracco's two Michelin star, 174€, tasting menu, in the left ventricle of tourista Milan, I let my well seasoned traveling gastronomer take charge. NOTE: Gastronomer might be a word I just coined* 
Michelin doesn't just give out stars so, a chef that has two has to be superb. If that chef is business minded, or has a great business partner, they understand the need for a less expensive outpost that can turn many more covers a night and cater to those with shallower pockets. The insight here is that no two starred chef is going to make Applebee's food at their "bistro". On this premise we decided to book a spot at Carlo e Camilla. Tucked in the hip Navigali neighborhood housed in a repurposed saw mil, you gain access through a small wood door built into the side of a wall. Once through, the space opens up into a gravel floored courtyard with several sitting areas made from mismatched, but very modern, design furniture. Walking into the main building you are greeted by a leather and dark wood clad bar tucked into the corner. Past the bar the room opens up to a cavernous room with an enormously long cross shaped table. We're talking hundreds of feet in all directions.
See the below image in full panoramic.
The food is ridiculous. Simple Italian with lots of twists and turns on classics and modernia alike but the ultimate surprise doesn't lie in the food. That bar I mentioned a minute ago was where I had my first drink a smoked old fashioned. It was smoked in front of me using a type of reverse vaporizer and burning wood. The drink was delicious as were the cookie wafer, mint leaf and macerated cherries that were placed on top of the drink. This was only the beginning of what I would learn to be the bar menu and the food menu are crafted from the same mold. Like fraternal twins.
Once seated the menu is presented along side a cocktail menu. Each dish has it's own unique cocktail. Each cocktail has it's own unique preparation. When you look down the length of the table, past your party and into sets of other diners, you see an amazing array of cocktail colors, glassware and acoutramonts that bounce off the equally beautiful food presentations.
The spaghetti alici with cipollotto lime and caffe was my favorite dish of the night. (pictured above) That roughly means sardines with tiny onions over spaghetti. I didn't get the paired cocktail with this one. Remember it's Italy so you eat 4 courses that's at least 6 cocktails if you count the proverbial aperitif and digestif. Pace yourself people. Before you get into the gastro-fraternal twin pics below let me close with this. There are few amazing things in Milan that you can reach out and grab but if you spend a little time pushing through the norm and digging into the less central 'hoods there are many amazing gems worth the effort. Carlo e Camilla is on the top of my list.

Gin and Lemon drink paired with a deconstructed shepard's pie

There version of a bloody mary with BBQ pork belly

Moscow mule hot chocolate with this booze soaked donut and ricotta filled crisp

Strawberry gimlet with it's own sugar coated cherry mint add-on paired with chocolate cake and deconstructed peach pie
Go there:
Carlo e Camilla
Via Meda 24, 20015
Milan, Italy
+39 02 8373963

*Gastronomer is to food as astronomer is to the universe. Of course if that's true it is passive in the sense that a gastronomer simply observes. So naturally that leads us to the actionable food fiend and the well established definition of a Gastronaut.