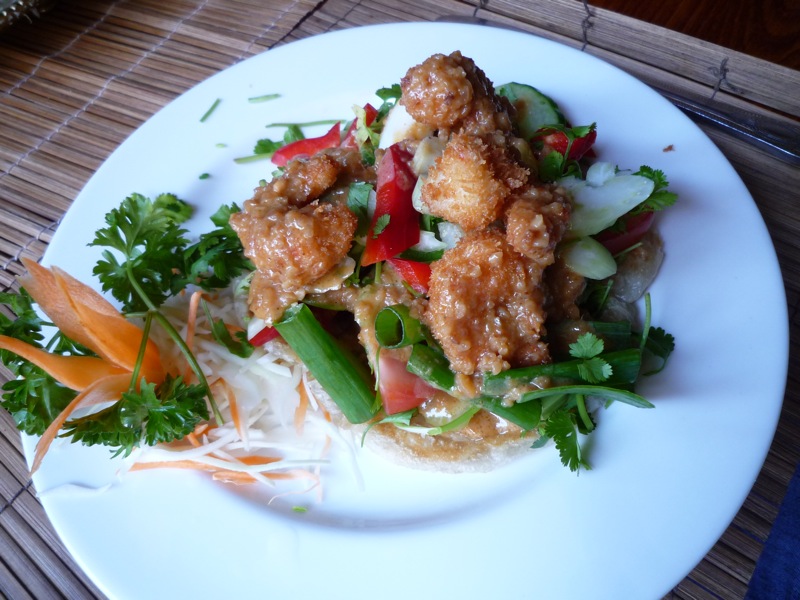 I had the pleasure to visit another one of my yBike riders, Kevin, when I was in England. Kev is one of the most active riders for the whole project and takes his photography very seriously. He lives in Brighton England, a spectacular, quaint, British beach town. He met me at the train station with a small folding bike (a brompton) that I was to ride to the site of our interview. We decided to shoot the interview on the beach. The ride to the beach from the station took us down a long and winding hill through the center of town. As you looked off at the horizon you saw a fantastic illusion. The sea appeared to extend from the beach all the way up to eye level.
The interview went great and our next destination was food. Kev knew how much of a food guy I was and wanted to take me to Marrocco's ice cream shop.
Hopping back on the bikes we began a 15 minute beach side ride out to the shop. We made a quick stop and picked up Kevin's wife Sarah at her art shop. She makes these incredibly intricate yet quirky and fun necklaces. Then we headed out along the beach to a killer ice cream shop. After perusing the cold case I finally settled on some strawberry cheesecake ice cream. Rich and delicious just what I had hoped.
After the ice cream we took a leisurely ride back towards the main part of the beach. After a few photo stops we headed away from the beach and back into town. We had our minds set on some Thai food that Sarah and Kev claimed was excellent. I wasn't leaving Brighton without finding out so onward we pressed. We arrived a few minutes later and locked the bikes up in front of the restaurant so we could watch them while we ate.
Not even a minute after we sat down people started investigating the yBike and poking around at it. It's fascinating to watch how strangers marvel over the purple monster.
Turning my attention to the menu I got down to business. I started with a Thai iced and then worked into a roti with deep fried prawns and vegetables as an app. When it came to the table it was enormous but delicious.
After that I had duck and pork with curry sauce over jasmine rice. Absolutely delicious. And, I must say not what I expected from a Thai restaurant in England. The Roti was still sitting heavy in my stomach but the crispy duck and succulent pork was just begging to be devoured. So I trucked through cleaning my plate over every last drop of sauce and grain of rice.
Time had escaped us over the delicious cuisine and great conversation. I had to hustle up and get back to the station to make my train. One last pedal through some of the narrowest streets in town and we were back in front of the station. I relinquished my rental bike, said farewell to my hosts (yBike included) and headed for the platform. The trip back was comfortable and my full belly aided in my semi-conscious reverie recounting the wonders of Brighton and the friends I made in Sarah and Kevin. I hope to get back soon so we can create another food ride adventure together.
Marrocco's
8 Kings Esplanade
Hove, BN3 2WA,United Kingdom
+44 1273 203764