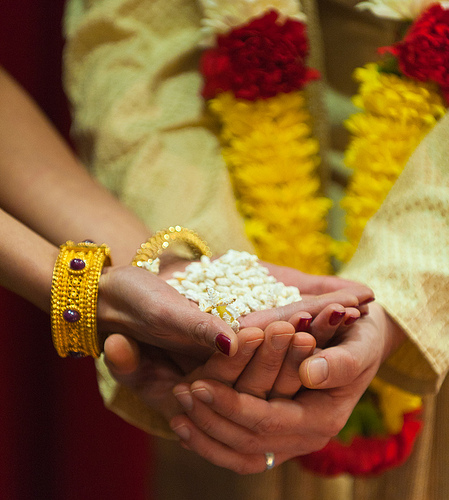 As promised this post is all about the food at my wedding. Although, it is 3 months tardy. I can't really believe how quickly the time has past. I am not exactly sure what happened but a little 48 hour mini-honeymoon in Philadelphia this weekend (stay tuned for that post soon) reminded me of what happens when my wife and I are left to plan eating a day at a time. Before we get into all this I feel compelled to give some of you a bit more context on the days events. First off, I married the Canadian. I have been coy in keeping her identity a bit secret over the years in this blog. Now that she is officially in the family you can expect some guest posts.
The Canadian, in case you have not followed the sloppy hidden path backwards to her identity, is of pure Indian decent. Her wonderful parents, my new in-laws, are from Bangalore and Mysore so her South Indian roots run deep. This has everything to do with the day starting with a traditional South Indian breakfast in the Gnesha temple in flushing Queens. The fact that we visited a year prior just to eat in the temple canteen, as did Tony Bourdain, heavily influenced our decision to have our ceremony here. Breakfast was straight from the heart of what South Indians eat daily and the preparation was extremely authentic.
Medhu Vada are a traditional South Indian morning snack that come in many, many varieties. Depending on what part of what Indian state you are in they can be made of dal, lentil, gram flour or potato. Ours were spiced with onion and plumped up to perfection giving them a unique Queens, New York twist.
Idlis are steamed rice cakes that make an appearance at almost every Indian breakfast. Along side a series of chutney's and sauces these firm, neutral tasting gems absorb the flavor of the dipping elements and convert each bite into a sweet or savory morsel. Along with these two classics were a tray of delicious Masala dosas and a giant vat of masala chai. Both classic in preparation and authentic in taste. These hearty provisions were just the thing to get us and our guests through the next one and a half hours of ceremony. Clearly an abridged version of the traditional 3 day ceremony but a hunger inducing 90 minutes none the less.
After the smoking Ghee had cleared the mundap and the rice and flowers were cleaned from our hair we headed from Queens to Manhattan shifting from tradition to modernity. Our destination was Ustav restaurant in midtown. We had worked with this Michelin rated establishment to craft the perfect blend of contemporary Indian dishes so that our mostly non-Indian crowd could get a taste of how amazing the flavors and textures could be. As the room filled up our first selections appeared being walked around the room on silver platters as if they were presenting royal jewels. But we are eaters, so we all dug in. First up…
Vegetable samosa, Pakoras and Lasuni Gobhi. That was followed by heaping trays of kebabs. Chicken Hariyali Kebab, Chicken Malai Kebab and  Lamb Seekh Kebab to be exact. One of the wonderful things about Indian cooking is it's unique flavors. It is truly a cuisine that can wake a taste bud into curiosity. The Lasuni Gobhi, or Manchurian style cauliflower, did just that. An American taste bud relates this dish closest to General Tso's Chicken from the local  Chinese delivery joint on the corner. Indian-Americans know that Chinese Indian food is a mash up that is more a product of their norther neighbor than a Chinese staple. Ustav takes it up a notch by using fresh cauliflower and a light fry keeping the flavors fresh but getting a solid crunch as your incisors close in.
After our guests had successfully gouged on the passed trophy orderves it was time for the main event. A 42 foot table cut through the center of the room holding 12 ornate chaffing dishes each containing a different hand picked specialty by the Canadian and myself.
Our guests happily lined up ready for the next round as we snuck off to a small corner table to sample our choices first hand. Who says you never eat at your own wedding. Not us. The hand picked selections fall in line as follows.
ALOO GOBHI is a dry Indian and Pakistani cuisine dish made with potatoes, cauliflower and Indian spices. It is yellowish in color, due to the use of turmeric, and occasionally contains kalonji and curry leaves. A mix of garlic, ginger, onion, coriander stalks, tomato, peas, and cumin add to the color and flavor of the veggie staple.

SAAG PANEER is a smooth, exotically spiced Indian cooked spinach dish sprinkled liberally with sizable chunks of a firm cheese much like farmers cheese.
NAVRATAN KORMA is a vegetarian korma made with vegetables and either paneer or nuts. Kormas are yogurt based and usually toe a line very close to a curry.

CHICKEN TIKKA MASALA is a curry dish of tandoori boneless chicken breast served in a creamy, lightly spiced tomato based sauce.

LAMB ROGAN JOSH is an aromatic lamb dish hailing from Kashmir and is quite popular in India. Rogan means oil in Persian, while josh means heat, hot, boiling, or passionate. Hence, rogan josh meaning cooked in oil at intense heat.
PEAS PULAO is simply basmati rice with peas, fried onion and saffron. Simple and delicious.
CHANA MASALA is a curry chick pea dish popular mainly in the Punjab region of northern-India. It is commonly cooked dry, with tangy spices but ours was excitingly a bit on the saucy side.
CHICKEN BIRYANI is a classic world dish. Like sausage almost every regional cuisine around the world has a variation on this rice and chicken combination. I've practiced my hand with a few variations of my own but this plate was strictly, perfectly South Indian.
No Indian buffet is complete with out the fresh naan. Like the white bread slice that comes with a classic slab of BBQ ribs, this heavenly dough napkin doubles as a sponge and sops up all the loose sauce so you don't miss a drop.
Satiated and over stuffed there was one more part to this course trifector. A 4-tier red velvet cake had sat creamily and quietly in the corner during the entire afternoon. It was finally time for this king of confections to roll to the main stage.
Accompanying this rouge monster of moistness were a few traditional Indian sweets. This creamy and sweet mango mouse and the donut-hole-like gulab jamun rounded out the impeccably prepared Indian menu.
As the afternoon came to an end my beautiful new wife and I said our goodbyes to our much loved friends and family and escaped for a little rest in a nearby hotel complete with an expansive Central Park view and a jacuzzi tub. Secretly we five fingered a huge piece of our red velvet cake from the restaurant without our parents seeing. Staring deeply at us from the ultra modern couch in our suite room, the cake called us to be eaten. We broke down indulging with our fingers like two unsupervised five-year-olds before passing out on the ultra-white, super-stuffed, 1000 thread count, goose down everything, California King. Waking up a few hours later after our suger high burned off we both agreed that we had just experienced one of the best days of our lives from both an experience and a gastronomical perspective. Life tastes good.