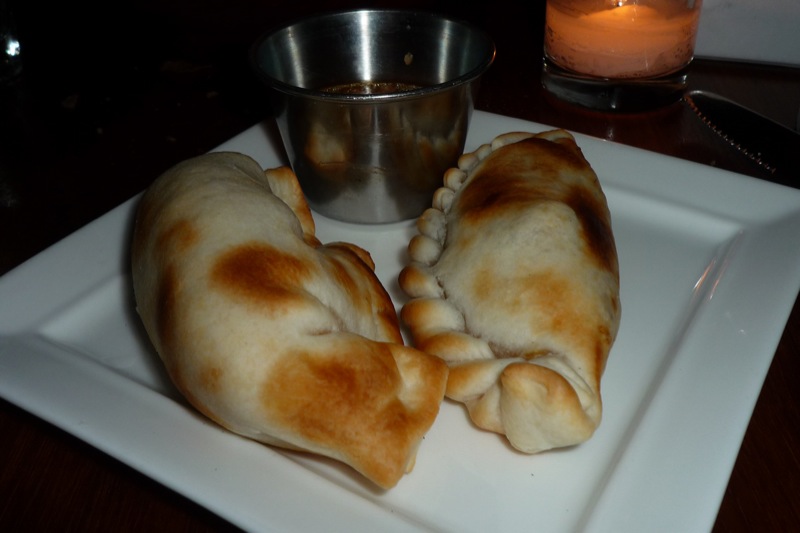 Ant and I decided to have a brothers meal before he headed back to the ship for 4 months. We chose Argentine food to hopefully reminisce about the trip to BA we had last year. The food was ok. We definitely were not in Recoletta. But we persevered through it. Like all good memories humans try and replicate them. So we didn't really bother looking at the menu, we simple ordered our favorite, standards from our BA days hoping they would know what we are talking about. They did and, to their credit, they are an authentic crew. Most of them are from Argentina, which is definitely a plus.
First to hit the table was the Provoletta and then those beautiful empanadas. (pic up top)
Then the Parilla arrived. Lamb, sirloin, hanger, sweetbreads, chorizo, morcilla. A good Mocilla(blood sausage) but the heat on the grill dried out some of the beef. I should not pan so much. Part of the true Argentine experience is that their meat is grass fed and totally free range. It is also killed 30 miles away that day before it hits your plate. Something we do not have any idea about here in the US. Regardless, we went over board and kept ordering.
hearts of palm salad
Osso Buco
We topped it off with a few bottles of Malbec and definitely went home happy. I can't say we didn't miss Argentina even more after that meal but I will say it was fairly authentic for being 10hrs by plane away from the epicenter. The price? That's is a different story. That would have cost us one tenth as much in BA. I guess I will just have to start looking into flights.
Industria Argentina
329 Greenwich St
New York, NY 10013
(212) 965-8560