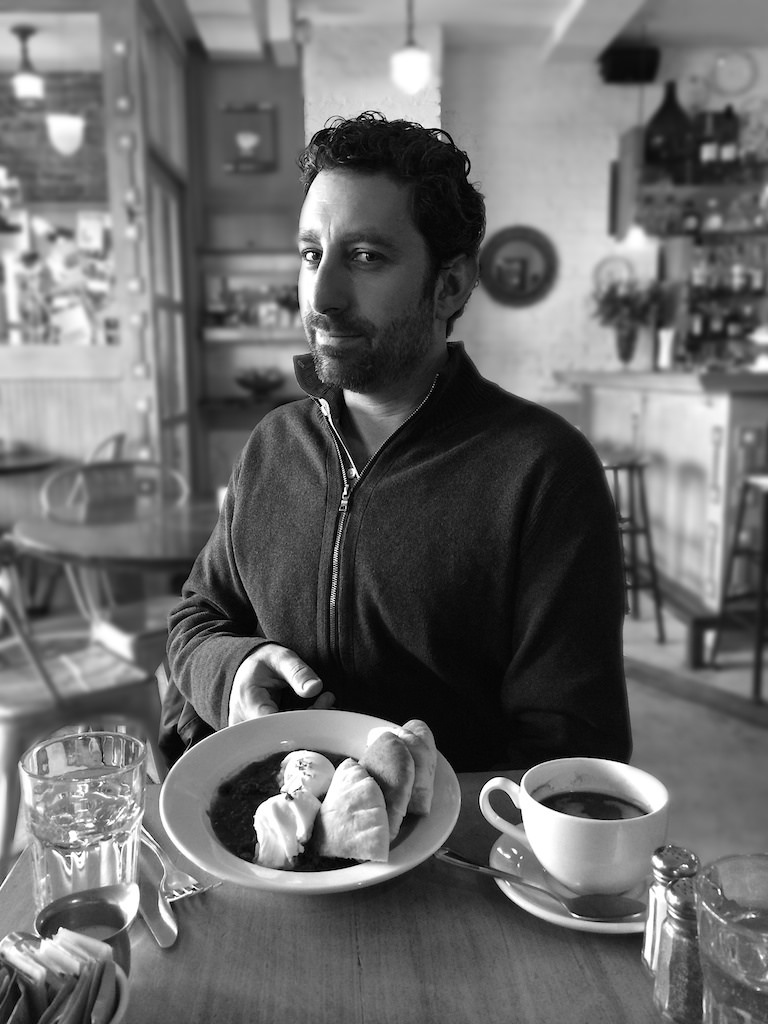 Forked with Jeff Allen
I was introduced to Jeff three times independently. That should speak to his social circle. In a word, TREMENDOUS. Which also is an adjective used for the type of guy he is. Jeff's one of those mild mannered, UBER connected guys that, most likely, has three degrees of separation from Obama but you'd never guess it. He also has quite the discerning tongue. Aside from our marketing discussions, (He's danced with the devil of PR, marketing and advertising for as long as I have) we tend to eat up most of our conversations around food talk. He's focused much of his career on the food industry which has put him in close proximity to great food, the people that make it, pay for it, build it and market it.
That said you can usually find him in his home test kitchen instead of the latest, hot, new restaurant. A habit I much admire especially given his early access to the latest restaurant openings or hot new chef event. His reason is perfect, he saves his palette for the amazing and not just the next. Here's what he had to say over one of my favorite Moroccan breakfasts.
What do you think when i say dinnertime?
It depends on the day of the week, but we try to cook at least twice a week including Friday and Sunday.  We have very spicy turkey and pinto bean tacos nearly every week, with corn tortillas, a variety of chiles (fresh habanero, rehydrated dried chipotles, cile arbol and chile pasilla), fresh tomatillo salsa, and sharp cheddar. I'm addicted to pasta but tacos is my number one home cooked meal.  I grind my cumin fresh, use garlic powder, habanero powder, and a bunch of other spices, so it can get pretty intense.
What is your favorite meal memory?
That's an impossible question!  Even though I didn't eat that much, our wedding food (in New Orleans) was amazing. Fried chicken cooked in lard, duck gumbo, a whole pig, gulf shrimp, etc. Our incredible caterer also packed us a to-go basket that we ended up eating, drunk, at 3 AM in the hotel (we ordered a microwave from room service, but no food). Eating deep fried pork with sticky rice and fried garlic at 6 AM on the street in Thailand with my wife is up there as well.  And, I certainly didn't appreciate it at the time, but my family used to eat together most nights growing up and I appreciate my mom's effort to cook good food and bring us all together much more now in retrospect.
If you could have your last meal with one person who would it be? Why?
Excluding my wife, friends and my family I would say either a) Peter Chang, who is an amazing and often elusive Sichuan chef. He doesn't speak English so I can focus on eating his unbelievable food, not talking.  Or, b) Harold Dieterle, who is a chef and also a friend. I'd ask him for a 'surf & turf', with Alaskan king crab, his ridiculously good crab pasta in red sauce, and a grilled bone-in ribeye.  It's worthy of a last meal.  He's also not too chatty, which is perfect for such a solemn occasion… 🙂
Food you love?
Pretty much any type of crab. Duck (especially Peking). Very spicy jerk chicken.
Food you hate?
Beets. Also, acrid, bitter, polluting green bell peppers. Nothing can ruin a dish more for me, though I love jalapeno, Serrano, poblano, Italian frying peppers, etc. Go figure.
Favorite food city, state or country?
New York City, California, Thailand
If you were a food what would it be?
Garlic.
Eggs or pancakes?
Eggs. Sunny side up or poached.
Last person you ate with?
Happily with my wife Diella, five nights in a row. One at the lovely new restaurant Delaware and Hudson and four in a row grilling at home.
What time is dinnertime?
Depends on the day of the week and how late I'm at work or playing basketball. 8 – 10 PM.
What did we eat?
We met at the crack of dawn by Williamsburg standards, 9:00am. Cafe Mogador provided him some Moroccan eggs in spicy tomato sauce with homefries and pita bread. I opted for my standard Halumi eggs. Poached eggs over roasted tomato with halumi cheese, salad and zahatar pita. I passed on the side of merguez sausage because it was a work day BUT you definitely shouldn't.
Address: 133 Wythe Ave, Brooklyn, NY 11249
Phone:(718) 486-9222
Hungry for more? Check out the whole Forked With series.