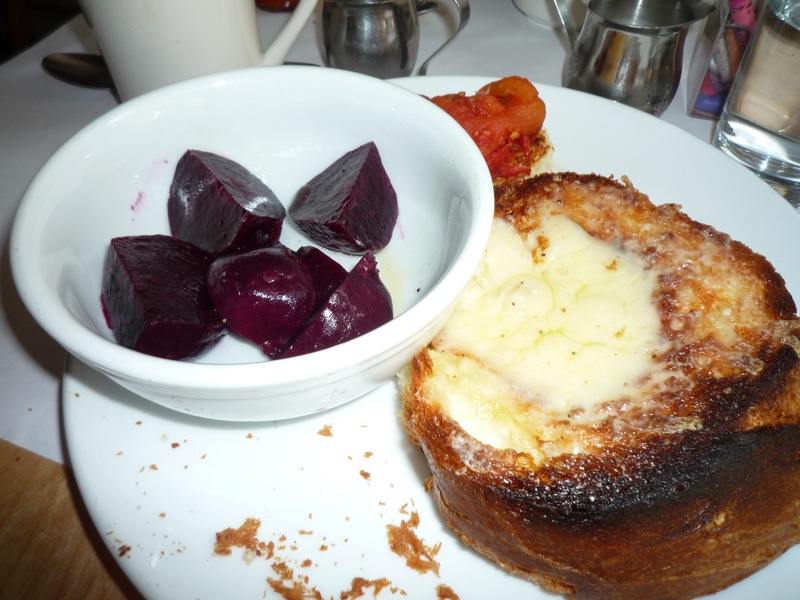 I took some time the other morning to have a business/personal breakfast with my friend Jeff. Jeff has been a long time Billyburg resident and a comrade in food talk. Earlier in the week Jeff introduced me to Ben over at Rooftop Farms where he volunteers on Thursdays.
We decided to meet in the Burg at EGG. Anthony just visited about a week ago and I suppose it was now my turn. I have somehow been able to avoid this ubber trendy, organic food mainstay of breakfast joints since it opened. Those who know me know I am not the biggest fan of trendy places that have bad service. Egg turned out to have neither. Without a crowd nor poor service I was free to enjoy.
I ordered the above poached egg in brioche. Both were done to perfection. Along side were some roasted tomatoes and a bowl of beets. To accompany that I ordered a coffee which came in a nice little press pot. I have not had that since San Francisco. Nice touch EGG.
Jeff and I took the time to enjoy the food in between various conversation topics. Soon breakfast started pushing noon and I had to go to my next appointment. Jeff had a full day planned himself. So full, he created a spreadsheet for his tasks. He was headed out for a week vacation on the beach with his family. Thumbs up for the organized and prepared. And, thumbs up for EGG.