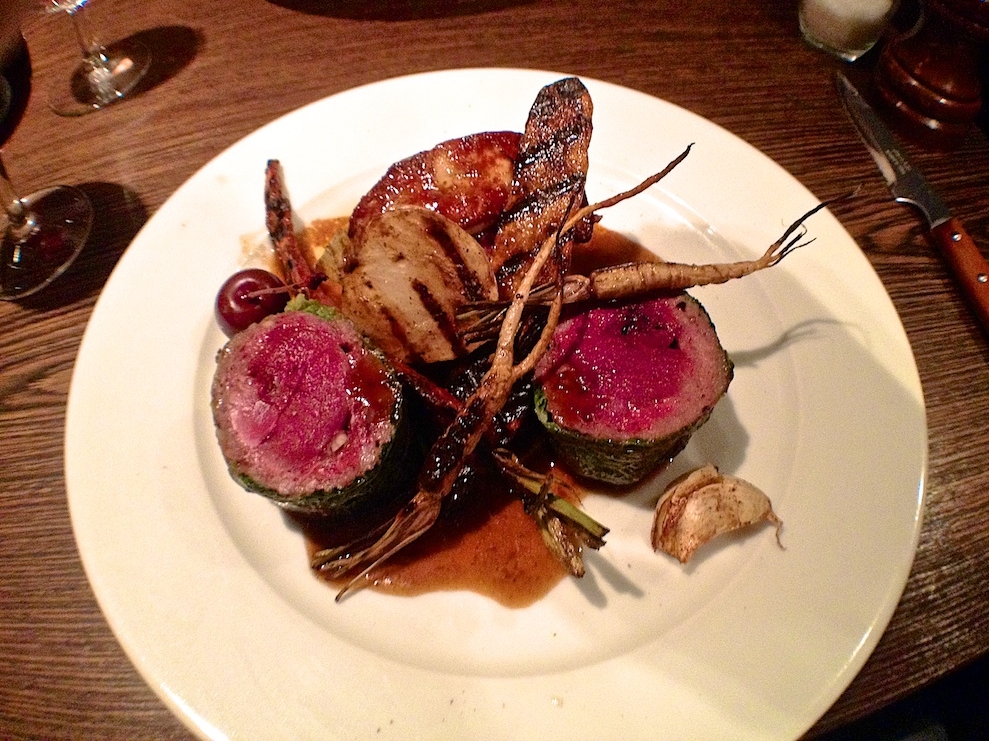 It's no big secret that we're not the biggest Paris fans when it comes to food. Why does making that statement publicly make me feel like the Francophile henchmen are going to hunt us down and feed us fois until we admit France's superior reign in food technique, presentation and preperation? If you want a raving review about all things Parisian gastronomie, go here. Although, the rest of this story is positive, this is the anomaly in our recent week long family vacation to the City of Lights.
Above is Bolottine de Grouse avec legumes racines. Translated that means a bird like a small chicken with root vegetables. This bird, excitedly, cooks like a red meat. A thing I personally love. See my squab love here. This delicate and perfectly done fowl hit the table after an equally fantastic appetizer and half bottle of beaujolais. It would be followed by the best espresso I sipped the whole trip and an equally magnifique dessert. So I suspend my negative judgement on Paris temporarily because of Philou and their staff. Upon arrival, wine was immediately poured as we waited for our table to be prepared. The vibe was definitely neighborhood. Definitely local. English was barely heard and the menu was a traveling, table side, chalkboard that had smear marks across 86'd items proving the truly "daily market" sourced ingredients. Besides being written up in the NY Times we found this spot because it's far from the city center. We always aim our guns just beyond where the tourist circle is drawn. We find food gems are more discoverable with this approach. In Paris, it seems the further we get from the single digit arrondissements the better food we find. "Find" is the problem actually. Even way out in the 10th or 11th the restaurants don't seem to welcome us in like they do in Barcelona or Buenos Aires. It's almost as if you have to be walked to the front door by a local to know which is a smart choice and which is an overpriced, sub-par food establishment.
Philou makes the cut and for more reasons than one. A single particular detail was what sold my skeptical mind and tastebuds alike. The lone cherry in the upper left of the plate was magic. It looked like a standard garnish but the cherry was pickled. The sour complimented the grouse perfectly making me hunt, unsuccessfully, for more which in turn forced me to savor the one I had. That's where the French shine. That extra step, that elevated detail, that old world technique is omnipresent. It constantly reminds you of the roots of French cooking and their distinctive place in global food history.
Go there:
Philou
12 Avenue Richerand, 75010 Paris, France ‎
+33 1 42 38 00 13 ‎