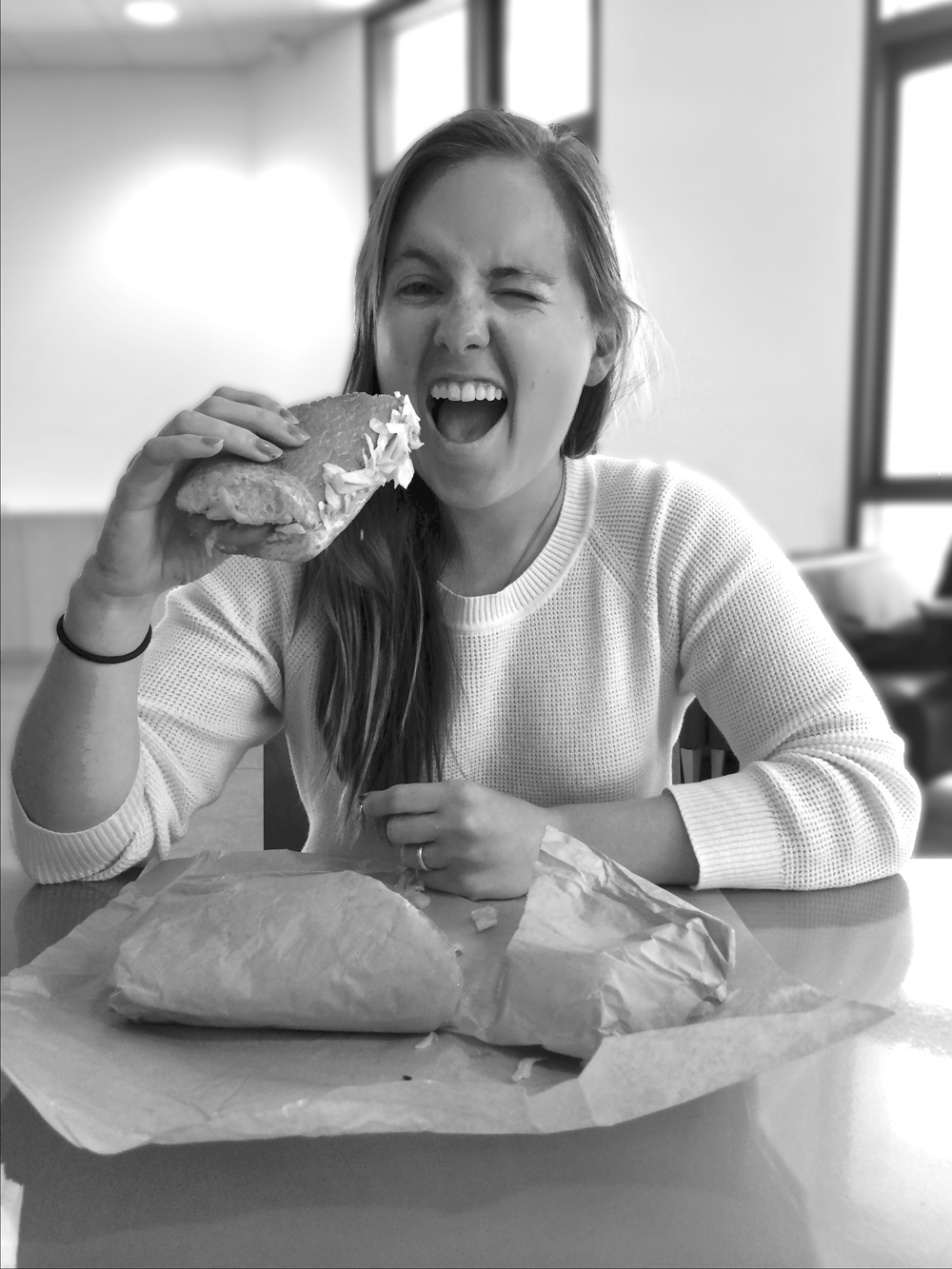 Forked with Ashley Batz
Food, photos and Italian-ness. That's how my first conversation with Ashley Batz went so, needless to say, I was instantly intrigued. As it turns out we'd talk a lot more in the next few weeks as we prepared to finish this project with her incredible photos. After I picked her up from the Palo Alto train station, for our scouting trip, we started in immediately by discussing our mutual love for dinnertime and the family meal. We swapped stories about the dinner table, dinnertime and the fading ritual that shaped us both so much as people. On to food photography, we meandered through descriptions of our favorite tastes and meals. Ashley went all business once we arrived at our location. After our steadfast and professional assessment of the photo shoot that would happen in the coming weeks we headed out to lunch. Where else but to the Stanford outpost of the famous Ike's Sandwich shop (now closed). When the shoot day finally came we finished with her treating me to my very first bubble tea. Needless to say we got along like lost siblings. Here's what she had to say about fake restaurants, freelance life and the cast of Ocean's 11.
What do you think when i say dinnertime?
Playing video games in the den of my childhood home, with fragrant whiffs of chicken cutlet parmigiana in the air, with the ambient sounds of pots clinking, pans and cabinets opening and closing. I hear the words "dinner time" screamed from my mothers lungs. At that point my lips smack together anticipating the cheese wiz macaroni and cheese that will mask the taste of the broccoli, the video game would be reluctantly paused, as I dashed to the table nearly slipping on the polished linoleum floor in my socked feet.
What is your favorite meal memory?
A few come to mind. You can pick!
1. Getting around my grandparent's dinner table, and having to pull out the leaves of the table to accommodate everyone. I loved sitting around the table and listening to everyone's conversations. I loved when the conversation would ebb and flow and turn into one big chat. I loved binge eating with my cousins and laughing about everything.
2. I remember losing a tooth while eating ice cream, and the tooth came so loose that it lodged itself into a gummy bear. I love gummy bears.
3. My mom wouldn't let me use the oven or stove until I was in high school. Like a senior in high school. I managed to explode a grilled cheese in the microwave and she never trusted me again.
4. I used to run a fake restaurant out of my playhouse that was in the backyard of my grandparents' home. It was this plastic yellow house with a blue roof and pink window shutters, and I'd sit in there and "take orders" and "make food" while my sister would ride around on her tricycle and pick up the food, bringing it to my cousins (twins that are 5 days older than me) on a table nearby. I'd pretend to be frustrated, extra hospitable to my clients, and a madman chef all in one. At one point, I fashioned a credit card machine out of an old refrigerator cardboard box, and would sit inside it to collect fake credit cards, spitting out fake money to my clients.
If you could have your last meal with one person who would it be? Why?
The cast of Ocean's 11. Why? Because they're the coolest guys ever and I want to be their best friends. And maybe partake in their next witty heist.
Food you love?
Bistec from Sol Food (in Marin). Chai tea lattes. My papa's Pasta Fagioli (napoletano is "Pasta Fazool).
Food you hate?
Indian. I can't handle the spices.
Favorite food city, state or country?
I'm definitely spoiled with damn good food having grown up in the Bay Area and to wonderful chefs from my Italian family, so I'm a bit partial to here. However, I absolutely loved the food in Florence.
If you were a food what would it be?
As manufactured as they are, I might be a Sour Patch Kid. I'm sweet and sarcastic (does that translate into sour?) all at the same time. Or maybe a Warhead candy? I get really passionate about things (the shock/sour of the initial taste) and I'm also really loving, easy going, and welcoming (the sweet aftertaste?). I like candy.
Eggs or pancakes?
Pancakes, though I should be eating eggs.
Last person you ate with?
My fiancé made me a smoothie when I came home tonight at 945pm and sat with me on our couch.
What time is dinnertime?
Anywhere from 6:30 – 10:30.
What did we eat?
She had a Jim Rome (Avocado, Cheddar, Ike's red pesto, Turkey) and I had the Tony Soprano (Ham, Italian Dressing, Provolone, Salami, Turkey). Or, maybe it was teh reverse. Wait…Maybe not the Tony Soprano. Damn you Ike's for your naming conventions. Whatever it was, it was delicious.
Hungry for more? Check out the whole Forked With series.