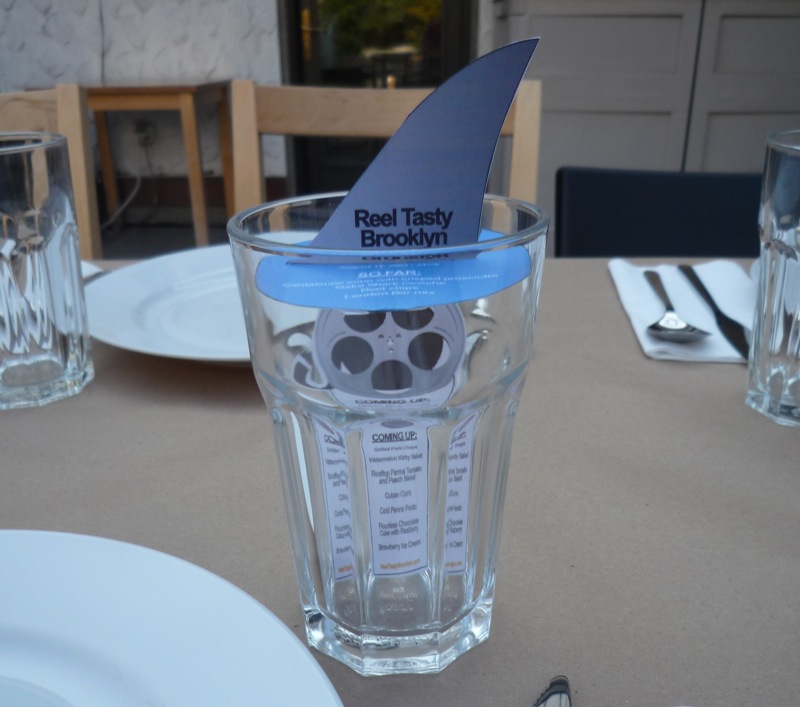 A few days ago a giant, man-eating shark visited the deck along with 17 dinner guests. Our fourth dinner this summer was another beautiful evening. Some old faces mixed with a few new ones made for a great evening.
We started off with some snacks. We brought back a favorite of ours with the London bar mix. Aimee made a few batches of homemade beet chips as well. For those who are first time readers, Reel Tasty is our summer supper club where Aimee, my co-chef/host, and I  screen a movie on a 2 story building while feeding our guests some of our latest gastronomic creations. Once most of the guests arrived we moved quickly into appetizers. I say quickly because we knew we were racing against the sun. It is later in the summer and things have been getting darker sooner. First up was Cuban corn.
photo credit: Kun Kim
Shortly after that, Aimee served her delicious cantaloupe soup finished with a crispy piece of prosciutto and a basil leaf.
photo credit: Kun Kim
Our final appetizer was inspired by the cinematic honoree for the evening. Mako shark ceviche was served on scoop sized tortilla chips.
photo credit: Kun Kim
Earlier in the day Aimee and I struggled with the ceviche a touch. The prep went fine. So did the dice. The marinating in citrus went well too. When we mixed the citrus cooked shark with the other ingredients we felt the flavor wasn't bold enough but we could not figure out what it was missing. Some red onion brought it up a bit but it still lacked the punch we both wanted. We finally found that punch in a granny smith apple.
Guests enjoyed as we prepped the next course.
photo credits: Kun Kim
As darkness came, even a bit earlier than expected, our guests kept mingling in the dark. I suspect the hollowed out watermelon filled with rum punch had something to do with that.
As I tended to the grease fire my apricot glazed pork chops had created, Aimee and the rest of the crew started mixing the salads and pasta. "Big Silver", what I call our largest mixing bowl, was going to have to work overtime tonight. We needed him to finish three of our dishes.
photo credit: Kun Kim
As the guests sat I pulled the pork off the grill to rest and we broke out the good olive oil to dress both salads. Finally staged and ready, we presented the entrees. At the far end of the table was the watermelon kirby cucumber salad.
photo credit: Kun Kim
In the middle, the rigatoni pesto shared space next to the peach and tomato salad. I was most excited to announce this dish because the tomatoes came from rooftop farms a few blocks away. I literally picked the tomatoes off the vine myself that morning. Rooftop Farms is a project started by Ben Flanner. He converted a warehouse roof in Greenpoint Brooklyn into a working farm that produces everything from tomatoes to honey.
Finally, at the close end of the table were two heaping plates of apricot glazed pork chops that were served with fresh grilled apricots and caramelized onions.
photo credit: Kun Kim
Guests started passing and sharing the family style portions discussing each dish and helping serve each other. This is one of my favorite things to watch at these dinners, strangers sharing and serving food to each other. After topping off everyone's vino and making sure the table didn't need anything we retired to the kitchen to clean up the kitchen and prep for the next course.
photo credit: Kun Kim
Movie time came 20 minutes later and I fired up the projector drawing the guests attention to the big wall at the end of the deck. I realized that those of you who have not been to a dinner have been missing out on part of the experience that could have been easily shared. Before the movie starts we have a bit of a pre-show. This show is a Trivia Game. Below is the one we created for Jaws. Note that this seamlessly transitions into the movie but for legal and size purposes I did not keep the movie in this video.
About half way through Jaws we served some parmesan popcorn as REEL TASTY tradition mandates. And then, just before jaws got killed we plated and served flourless chocolate cake with fresh whipped cream and raspberry sauce.
photo credit: Kun Kim
That was accompanied shortly with a few pints of homemade strawberry ice cream.
photo credit: Kun Kim
The movie ended and our evening was coming to a close. Our guests started to trickle out but not with out one last treat, a homemade resses peanut butter cup that Aimee whipped up the night before the dinner.
The September dinner is already in the works and we will release details soon. The seats have been going really quick so if you have been thinking about joining us on the deck snap one up for September. Make sure you are on the guest list by sending us a note at dinners@forkingtasty.com. We only have September and October left in our summer dinners. We are currently looking into moving things inside for the winter so stay tuned for that. Thanks again to our guests and killer crew that make these dinners a success. We hope to see some new faces on the deck in September and October. As always, below are some of the recipes from the evening.
Recipes:
Watermelon, Kirby Salad
ingredients
kirby cucumbers peeled and seeded (cut like halfmooms)
scallions
juice of 1 lime juice
watermelon cubed (not too ripe)
salt+pepper
olive oil
mint -finely minced
directions
1. mix all ingredients together except olive oil
2. drizzle with olive oil and mix again
3. serve immedialtely
Tomato-Peach Salad
ingredients
tomatoes
peaches
red onion
cider vinegar
olive oil
salt, pepper, sugar
directions
1. cut tomatoes and peaches into wedges
2. slice red onion thin ribbons
3. mix all ingredients and serve
Apricot Glazed Pork Chops
Ingredients
10 pork chops (bone in)
1 jar apricot preserves (preferably with whole fruit)
Juice of 1/2 medium lemon
3/8 teaspoon hungarian red pepper flakes
1/8 teaspoon cumin
6 apricots pitted and halved
1 onion sliced thin
directions
1. mix all ingredients in bag except the apricots
2. put in pork chops and marinate up to 3 hours
3. grill chops 7 mnutes per side (approx based on thickness)
4. grill apricot for 2 minutes each side
5. carmelize onions in saute pan
6. plate chops and place apricots and carmelized onions over chops