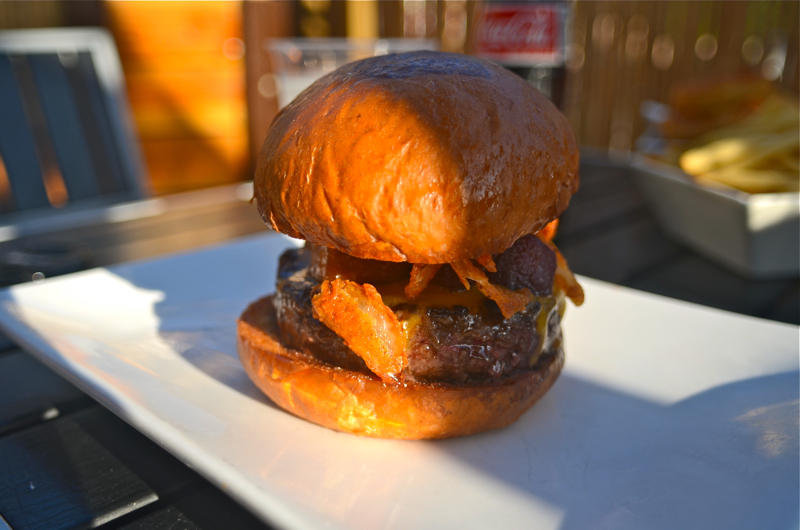 Forgive the silence. I've been traveling and tasting for the last 10 days. Amongst my travels, without my macbook, (sigh, a nice break from my normal techno strapped reality) I landed in L.A. for one day. Having used all four of the standard tastes at excess in the proceeding travel locations, I thought it was time to explore the fifth, and somewhat new, taste at the aptly named Umami Burger. Ranked number three in the laist list of best gourmet burger in Los Angeles, I figured this would be a pretty solid hit.
The menu is simple with 9 burger choices. The last two, the greenbird and the earth, were tossed out immediately since we were looking for beef not turkey or veggies. That left me with seven choices. Actually, I had six choices. I also tossed out the Triple Pork Burger. I know, it's not like me to throw out any pork, let alone 3 types all wrapped into one delicious patty. As I said, I wad looking for beef and in the past pork burgers just don't cut it for me. I didn't want to risk it even though the allure of the ground up swine was extremely strong.
With my six options all jostling for attention the choice was difficult. I decided on two, feeling they would give me the best of all worlds in experiencing the 5 tastes at once. First up was the Manly. Beer-cheddar cheese, smoked-salt onion strings, bacon lardons piled high on a freshly ground beef patty sandwiched on a fresh brioche bun slipped in front of me blocking the SoCal sun with it's towering height. Atop the bun was a branded U. Very nice touch. The sandwich was medium rare and juicy as hell. Bacon lardon's dumped into my mouth on the first bite satiating my angst for turning down the triple pork burger. In fact this solidified the idea that pig on burgers belongs as an add on not as the star. The chewy salty lardons complimented every other component to the burger including the beef patty.
Burger two was chosen to keep things simple and taste the meat without two many other distractions. It was also chosen to compete with the now favored LaFrieda mix of aged beef we get back home at the Lobster Joint. The truffle burger had a house made truffle cheese and a truffle glaze. That's DOUBLE TRUFFLE. sorry. How could I let that pun go.
The idea here was that the truffle taste would replace the aged beef taste. It didn't replace but it succeeded in distracting. The truffle made the burger luxurious but didn't overpower the meats taste. I could still taste the ground sirloin in all it's glorious fat dripping succulence which is good. The abscence of lettuce, tomato and ketchup made it all that much more distinct and allowed me to relish in the simplicity of a perfected item.
To accompany these beauties and test the full Umami experience, I added some fries and onion rings to the order. Both were ok but nothing to get crazy over. The fries were standard and salted well. The onion rings were crunchy but tasted of used oil.
It's tough to keep oil tasty when you use it all day long. I'm also partial to a breaded onion ring instead of a flour dipped ring. The flour holds the oil more and brings less taste and crunch. A breaded ring will give you better texture, flavor and crunch any day. That said the rings dipped in one, or all, of Umami's side sauces can make it a vehicle for flavor in which I prefer a flour dipped ring to the breaded.
That was all washed down with some water and a Mexican coke. Rare for me but it seemed fitting. In the end, before I had the valet bring my rented hyundai around to the front of the tiny, unpretentious-short-of-this-service, shop, I noticed my plate was trying to tell me something about Umami burger. This was either a sign from above or the best damn branding idea I have ever seen.
Either way, I actually did love Umami Burger and I like to see that they are expanding to more locations. I never did quite recognize that elusive fifth taste but it really didn't matter. Quite frankly, I am happy with the original 4 tastes.