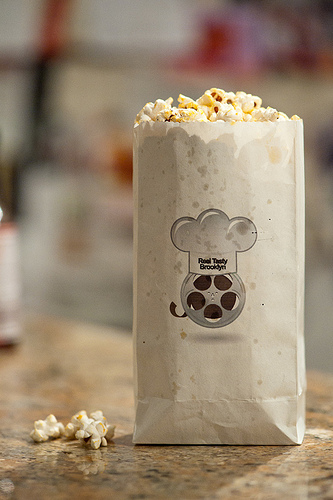 Last week we packed out the deck with another set of 16 friends (and friends of friends) to have dinner with Cary Grant. As he was chased across America our guests sat comfortably satiated sampling dishes from the places he visited and the era he lived in.
For those who are unfamiliar with the dinners, Reel Tasty is our summer supper club where Aimee, my co-chef/host, and I screen a movie on a 2 story building while our guests sample some of our latest and tastiest gourmet dishes. The menu last Saturday was designed around the movies story but also after a few stories of our own.
We started out with some Pork belly cracklins, Sullivan St. Bakery's bianca con pecorino and Ricotta with fresh herbs.
photo credit: Kun Kim
To accompany that we had some fabulously paired wines from Dandelion Wines. Lily had done her research picking two perfectly matched vinos. The white(rose) was a Wolffer Estate 2009 Rose, Long Island, New York and the red was Castle Rock 2009 Pinot Noir, Willamette Valley, Oregon.
photo credit: Kun Kim
As if the wine wasn't enough, these Old Fashioned's made easing into the evening that much easier as Aimee brought out the first appetizer, squash blossom pizza with burrata.
photo credit: Kun Kim
That was followed up with a cool and refreshing creamy gazpacho with grilled shrimp and spicy/sweet bourbon-glazed chicken wings with blue cheese dipping sauce.
photo credit: Kun Kim
As guests dipped and sipped we got the entrees fired up. The fish was popped into the oven. The short ribs were pulled apart. The corn hit the grill and the frybread was…well…fried. While all that was happening the sun bid us a good evening and slide behind the giant movie screen. Our guests found there seats at the long 16 person table continuing their conversation and eagerly awaiting the entrees.
photo credit: Kun Kim
Soon enough the entrees and matching stories rolled out. First up was a baked black cod with a fennel, cucumber mint salad crown. This was supposed to be blackfish, instead of cod, but apparently there was a scarcity of blackfish all of a sudden. The cod turned out to be a perfect, thick and supply base for the thinly slices and lightly dressed fennel/cucumber on top.
photo credit: Kun Kim
This was accompanied by a mustard green salad with grapes and a tangerine vinegrette sourced from the local rooftop farm, Brooklyn Grange. It was my first trip up to Ben's new farm and it blew my mind. What seemed like miles of crops layed out in front of me after I poked through a few abandoned industrial spaces on the 3rd and 4th floors of the city block long building. Ben popped up from behind some tall corn and showed me to the makeshift office. A rooftop farm operation is a truly amazing urban innovation. I highly suggest a trip if any of you are interested.A quick follow up to those two dishes was roasted corn on the cob with a basil ghee and the short rib Indian tacos pictured below.
photo credit: Kun Kim
As always, the entrees were served family style to promote sharing and bring our guests just a little closer together.
photo credit: Kun Kim
The entree plates finally made their way around the table and our guests chatter dropped to silence as they indulged in the tasty and sipped their wine.
photo credit: Kun Kim
Soon enough Cary Grant joined us on the deck and our the guests spread out across teh deck to make themselves a bit more comfortable.
photo credit: Kun Kim
Just before the BIG Mount Rushmore scene we cooled our guests off with some wine-soaked peaches and raspberries with almond sables.
photo credit: Kun Kim
We followed that with some Homemade coffee iced cream. After all, Cary's character  is an ad executive in the late 50's. It was either that or 3 martini lunch ice cream.
photo credit: Kun Kim
Of course no recap is complete with out recipes and a shout out to the crew. We were back to basics this dinner with our senior crew Ross and Eric. A bang up job by the pros as expected. Thanks as always to everyone who attended. You guys are all wonderful. Our next dinner is July 31st. GET ON IT NOW, while seats last.
Get on our list for upcoming dinners dinners@forkingtasty.com
Recipes:
Short Rib Indian Tacos
This recipe has a bunch or parts although the assembly is quite simple.
Part 1: The Fry Bread
ingredients
3 cups flour
1 tablespoon baking powder
1 teaspoon salt
1 tablespoon sugar
1 tablespoon powdered milk
1 tablespoon lard or margarine
1 1/2 cups warm water
directions
1. Mix flour, baking powder, salt, sugar, and powdered milk.
2. Add lard or margarine and mix. Add water to make dough soft. Refrigerate until use. Dough will keep several days.
3. In a heavy skillet, heat 3/4-inch of oil to 375 degrees F.
4. Pat or roll out dough into about 6 (1/4 to 3/8-inch thick) rounds.
5. Slide into hot oil. Puncture once or twice. Fry until golden brown. Flip the dough over and fry other side to golden brown.
6. Take out and drain on paper towels.
Part 2: The short ribs
ingredients
short ribs bone in or out
bottle of red wine
vegetable stock
salt and pepper
olive oil
directions
1. In a dutch oven heat oil
2. saute short ribs until browned on all sides
3. remove ribs and add enough wine to deglase the dutch oven
4. put ribs back in and add more wine and some vegetable stock
5. put in 325 degree oven for 3 hours
6. remove from oven and put in refrigerator over night
7. separate the short ribs and the sauce, leaving the sauce in the dutch oven
8. in the am remove fat from top of the sauce then reheat the sauce on the stove top over high heat reducing the sauce by half
9. lower heat. add back in the short ribs and simmer for another hour
10. serve and enjoy
Part 3: the tacos
ingredients
braised short ribs(see recipe)
Frybread(see recipe)
shredded ice burg lettuce
shredded cheddar cheese
mexican creme
heirloom tomato slasa
directions
1. build from bottom up on a fresh piece of fry bread
2. short rib
3. lettuce
4. cheese
5. salsa
6. creme