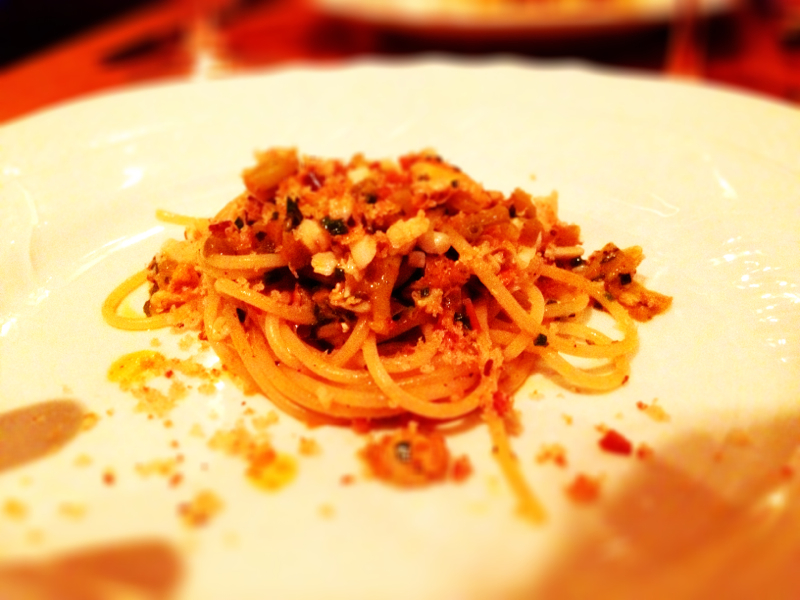 I am probably the last person in New York to have tasted some of the Torrisi mini-empire's treats. As of a few weeks ago that's no longer the case. Plus, I entered the "I've had it" club in a way that puts me in the small category of those who've enjoyed their 21 course tour of New York tasting. I'm not sure yet if this was a good way, or a bad way, to enter this trendy food club. I'll explain.
First off, I had some preconceived ideas about what Torrisi Italian Specialties was all about. From the interviews, the Bourdain appearance and their shop next door I expected Italian-American classics twisted up with their new approach. Secondly, all my ten plus course tastings are pinned against each other regardless of restaurant size, chef and price point. That means these guys were up against my Per Se experience and my Momofuku Ko 22 course may lay.
My dining partner for the evening was my friend Aimee, my Forking Tasty Suppers co-chef and the one responsible for not one but two other of my amazing food experiences. This would be the third HUGE food favor she has given me. I know, I owe her BIG TIME. Below is the full menu and we of course opted for the wine pairings. I'll call out and describe the highlights after you've had a chance to read through.
Sable Cigarette
Wins for presentation. It was plated in an ash tray and even looked as if it were lit. Of course, all edible. A very fun, play-with-your-food course that set up a casual tone which I like. These tasting menus can get quite stuffy and this allowed us to enjoy with more careless abandon for our manners.
Buckwheat Caviar Knish
A flavor explosion. The single best bite I had the entire meal. The texture, taste and presentation all made for a palette exciting mouthful leaving me wanting about a dozen more of those gems. Ohh, and how quintessentially New York is a knish?
Blue Crab Spaghettini
This was more along the lines of meeting my Italian-American cuisine expectations. A solid homemade pasta mixed with the twist of crab made for a delicious and adventurous dish. I could have done a whole bowl of this with a bottle of sangiovese and a half loaf of bread and been happy, fat paisano.
Pastries
A cornucopia of flavor, size, shape and intensity. The stand out came in the takeaway package which I ate while still at the table. First off, we love takeaway food offerings. Second, the contents were perfectly made, brightly colored rainbow cookies. An Italian-American staple that can be found in many New York pastry shops but few have them perfected. These guys got it right with every layer of cake and jam being identified by my tongue with every bite. Bravo!
After I rolled my half drunk self back out onto Mulberry street I started to walk off the courses one by one I sobered up enough to start reflecting on the gastro expedition. In comparison to my expectations I was left wanting more Italian-American flavors in the menu BUT I think that is what Parm is for. In retrospect, I think I should have visited Parm or had Torrisi's regular menu before taking their 21 course New York journey. That would have satiated my Italian-American need and squashed my expectation. Putting that aside, the tour of New York was awesome. It touched upon almost every ethnicity present in old new york as well as some of the famed eating establishments and behaviors of the time. This meal would be best paired after a museum tour of the queens museum and the tenement museum but of course coordinating those would be quite difficult being that the 21 course tasting reservation can take months to get.
I've decided not to compare this experience against Ko and Per Se because all three are so different that they really stand out for different reasons. The fact that they all have more than 15 courses to savor is really their only similarity. To close, I think the visit is a necessity for new New Yorkers and for you old dogs who were around when things still resembled the old world. Hell, break out that three piece suit and throw on a fedora if you are so inclined just be sure you've still got room for expansion.