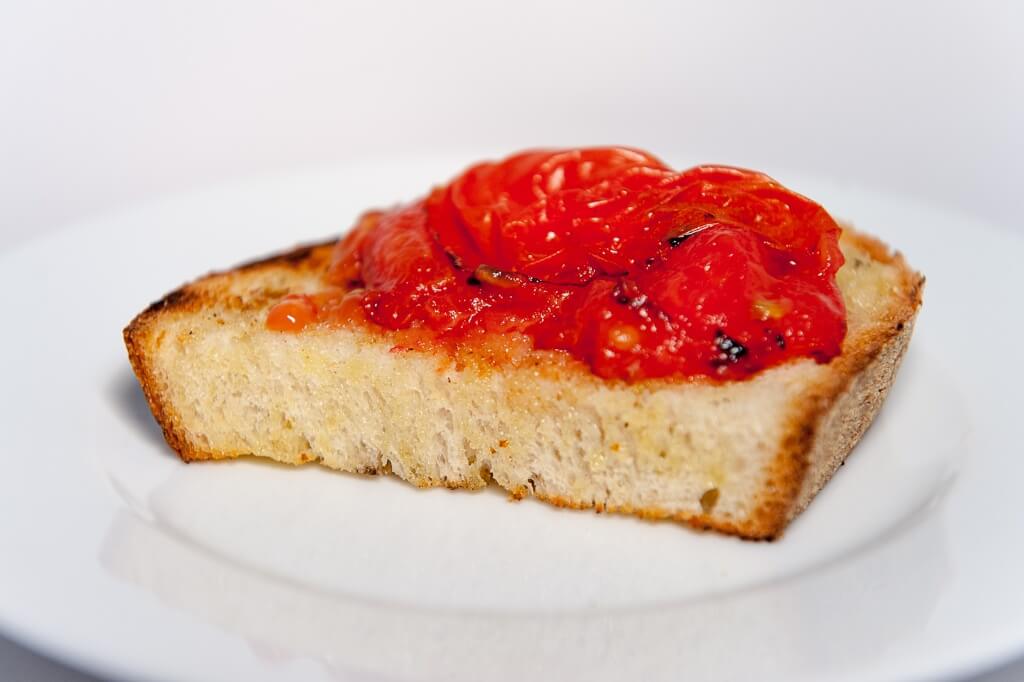 all photos by Kun Kim
Olé Tapas!
Last week we brought a little bit of Catalonia to Brooklyn with our 18 dish Spanish tapas feast. As we were finalizing the menu we just couldn't bring ourselves to edit out any of the dishes. We cut it all different ways and the traditional, simple recipes needed to stay. The twists on our favorites from our time in Barcelona last year couldn't get cut either. It left us in a quandary that in the end, we threw our hands up and put our heads down into execution.
For those who are unfamiliar with our dinners, Forking Tasty's events is our attempt to bring back dinnertime by seating a bunch of strangers around a table to share some food, conversation and laughter. For this one we pulled out all the stops bringing our memories of Spain to the dinner table. To that end the one thing we felt didn't quite go as planned was the story telling. Part of the fun for us is that we get to serve food that not only tastes great but is backed by a reason for being on the menu. More times than not that reason stems from a personal experience and we love passing them along to our guests when we serve. So, as we peck through this recap we'll pepper it with all the stories we hope we conveyed about each dish.
Our guests arrived to a few snacks and a selection of wines hand picked by none other than our friends over at Dandelion Wines to get them started. Some Castelvetrano olives (Yes, we slipped in a little Sicilian) and roasted marcona almonds with a finish of tarragon, our herb of choice for 2013, started off the evenings noshing. As we finished setting the family table   our guests sipped on a crisp and clean 100% Verdejo. The 2012 Ipsum from Rueda complimented the first tapas to emerge from the kitchen. The charcuterie we chose for this meal was labored over for a solid week. It's our belief that Spanish ham is superior to Italian ham. This, in direct conflict with our heritage, couldn't be more clear to us in not only the taste but the color, cut and smell.
Without getting into an entire diatribe about the origins and process of Spanish ham, just know this, the best comes from one breed of pig and it's fed only acorns or olives for most of its life. That gives Jamon Iberico it's legendary sensory pleasure. We wanted to find a way to highlight the different hams and cheeses so guests could distinctly taste the selections and compare. We settled on a visual approach. A skewer that started with a palate waking manchego cheese from La Mancha. Following that was the lesser grade, white pig, Serrano ham. Serrano is raised from a completely different breed of pig with a much less strict diet. A slightly stronger garrotxa goats milk cheese followed the Serrano preparing you for the final bite, the jamon iberico. Like any top of the line product it's been splintered even further into different grades causing the price to increase even further. In both Spain and NYC those grades differ even more in cost based on how you'd like it sliced,  by machine or by hand. To give you a sense of how "precious" this ham is, the most expensive of the elite (hand cut) is $265 a pound. Being that this ham has only been legal in the United States since 2005 you can understand what all the huff is about. Those of you that have tasted it we're sure understand. For the top of the skewer we served a mid-level Jamon Iberico. Not that our guests were not worth top of the line, just that with all the other flavors in the course you lose a little of the true flavor. The point was really to compare the difference between the common Serrano and the rare Iberico.
Next out were canned mussels which to many seems disgusting and cheap. On the contrary the Spanish hold their canning of seafood in very high regard. In many cases the canned varieties are more exquisite than the fresh. We like the mussels best of all the different canned seafood options. The canning process blends the oil and the mussel flavor together giving the mussels a tender and viscous texture. Conversely it gives the oil a flavorful punch that makes you want to savor both equally. We discovered this Spanish treat at Tapas24, our favorite mid-day snack spot in Barcelona. More on that in a second. Tony Bourdain has a great clip that explains this Spanish tradition a bit further.
Grilled octopus is a staple dish in Catalonian cuisine and it's one of our favorites. Traditionally finished with smoked paprika we gave it a little twist by smoking the obligatory accouterment to the dish, potatoes, also. A slow applewood smoke on a thinly sliced potato gave us just the compliment we wanted so the paprika wasn't the only smokey star. The octopus itself was braised in a mixture of pepper, bay leaf and saffron. A wine cork popped in the broth, of course, for good measure. Although not quite scientifically proven, the cork somehow allows the octopus to tenderize quicker and better.
The final tapas in this round was our bikinis. Mini grilled cheese sandwiches we stole straight from Tapas24's menu. Carles Abellan has created a genius menu of all the traditional, must have tapas and placed it in a casual space just off the main rambla. We eat here probably twice a week while in Barcelona because Carles twists on the standards are always fun and not overly proud. They are simple and understated BUT outstandingly fresh and delicious just how we like our food and ambiance. In his, now ours, bikinis, he uses a crustless white bread with serrano ham, cheese and black truffle. Our version was a soft Italian fontina mixed with serrano ham, black truffle shaving and a little black truffle infused olive oil for that extra earth bite.
Along with all of that we brought out some clara con lemon. More commonly referred to as a shandy in other countries or just "clara" in Spain. Beer topped with a little lemon soda is all it is. Personally we think it's a perfect summer drink. The two types above are made with Brooklyn Lager (dark) and, Barcelona's own, Estrella Damm.
By this time guests were deep into getting their snack on. The kitchen was equally as deep into prepping the next 10 courses.
Once seated we started up again with the rest of plates and introduced our red wine for the evening, a 2010 Rioja from Gran Familia. This exceptionally smooth, drink-with-anything wine would hold up to some of the richer, denser dishes about to be served. Another stolen recipe, this time from Bar Jamon in NYC, hit the table first. This uber simple squid dish requires the cephalopoda (fancy name for squid) to be slices into slivers before it's cooked. This inhibits the curling of the meat which gives it it's unique look once on the plate. Mixed with only salt, pepper and kalamata olives we finish it with the best olive oil in the pantry and fresh marjoram. The marjoram brings an unexpected but yet familiar taste to the party. You think it's fresh oregano but second guess yourself because it's too floral for that.
Along with the above squid was this simple shrimp and garlic. Normally finished in a terra cotta plate, these gambas and garlic are even simpler than the above squid dish with the only other ingredients being olive oil and salt. The parsley just gave it some pretty.
The meatballs was our favorite to make and arguably is an acquired taste. The balls are started out with a veal and pork mix but the hero and fun is the sauce. Chicken stock, lemon zest and white wine are simmered along with saffron, salt, pepper and sugar. Meanwhile we made a picada which is an almond, garlic, bread mixture used to thicken, and flavor of course, the sauce. Those three are sautéed, cooled and ground up into tiny pieces. Once added to the sauce it creates a broth that will stick to the meatballs. The balls are than married with the sauce and the whole party hangs out for another 20 minutes to finish cooking and flavor mingle. We first had this dish in Madrid where it touched us so much we needed to replicate it immediately when we got home.
With round two completed we cleared the table and plated a small, simple salad. We've wanted to do a grape salad for a long time and with all the native grape growing in Spain we thought this was the perfect opportunity. A delicate butter lettuce base and some thinly sliced scallion whites set up the two stars of the dish. The grapes were thinly sliced and left to macerate slightly. The dressing was a blood orange infused vinaigrette with grape and lemon juice lending some acidity to the emulsion.
Moving closer to the BIG courses the story of the night was ready. Pane con tomate, simply bread with tomato, was first served to me at a very high end Barcelona restaurant. It was presented in a basket. A warm piece of bread, a clove of garlic and a full, uncut, tomato. I was baffled and on the third pass by the waiter I broke down and asked what I was supposed to do with the contents of this wicker mystery carrier. In his best english he explained that I break the garlic and rub it on the toast. Than I cut the tomato and squeeze the juice deep into the bread. It was not what I expected but you don't have to tell me twice to eat with my hands. Minutes later I was enjoying the best toast I'd had in my, then, young life. Since than we've all enjoyed this Catalonian staple many times over and bringing the story, tradition and dish to our guests was really exciting. Passed as individual components (garlic, tomato and toast) we explained the ritual as they chose their trifecta.
The hanger steak came out next. Simply prepared and served with blistered shishito peppers (because all the padron peppers were snapped up by the NYC restaurants at the green market) we paired it with the ubiquitous patatas bravas. We roasted ours instead of frying them for a twist and slightly lighter bite.
The finally to the savory was the paella. Again another dish enjoyed in so many different restaurants in Spain. On the beach in Malaga where the fresh catch was added straight to the 4 foot diameter pan. In Barceloneta where the seafood mix included cuttlefish and barnacles.  In the mountains near Granada where the seafood was replaced with chicken and sausage. They all were outstanding and memorable. For ours we mixed the best of both worlds with a chicken, traditional chorizo, scallop, shrimp, mussels blend. We wish we could have served it straight from the pan like in Spain but we simply couldn't figure out how the table would pass and serve the goliath dish. Maybe next time we'll work up some sort of zip line.
Eating, talking and food sharing continued as we lit up the big screen and let the storytelling of Woody Allen take over.
As our guests watched the tumultuous adventures of Vicki and Cristina we provided just a small snack of smoked paprika Spanish olive oil popcorn. After all it's not a movie with out the popcorn option right?
Just before Juan Antonio accidentally shoots Vicky in the leg we brought out the sweet. First was this olive oil cake accompanied by a citrus cream and Valencia orange slice. That was followed by a roasted and salted marcona almond, caramel ice cream which mixed the salty and sweet in a crunchy, flavor packed set of mini bites.
With the on screen drama sorted and the kitchen done for the night we thanked our guests for coming but had one last story to tell. On Missus Tasty and my most recent trip to Spain we discovered a bakery up near Park Güell, Antoni Gaudi's outdoor masterpiece, serving "Gaudi Rocks". It was a complete tourist trap but clever and enterprising as well. A Gaudi Rock was basically a giant meringue with some almond shards placed in the center. As a final treat we created our own rocks, actually more like pebbles, sending everyone home with a small package of mini meringues just in case hunger struck them on the ride home.
Of course no recap is complete with out recipes and a thank you to our crew. Without these hands, minds and smiles we wouldn't be able to bring these tasty evenings to you. The biggest thanks always goes to our guests. Seeing them mingle, share, taste and delight is truely the reason we do this.  Looking out the kitchen window seeing guests turn into friends, and many times look like family, gets us one step closer to our mission of bringing back dinnertime. Our next dinner will be announced shortly make sure you are on the list to get the update.
Recipes:
Grape Salad
Ingredients:
blood orange olive oil
white grape juice (concentrate)
lemon oil
salt and pepper
scallion whites (thin sliced)
green leaf lettuce
white grapes
Directions:
Mix all together blood orange olive oil, white grape juice (concentrate), lemon oil, salt and pepper for vinaigrette. Toss scallion whites and green leaf lettuce with half the dressing. Toss grapes with the other half. Top lettuce with grapes and serve.
Olive Oil Cake
Ingredients:
Cake:
Butter, for greasing the pan
1 1/4 cups all-purpose flour, plus more for the pan
3/4 cup sugar
2 eggs
1/3 cup greek olive oil (it's most aromatic)
1 teaspoon vanilla extract (optional)
3 tablespoons orange juice
1 teaspoon baking powder
1/2 teaspoon baking soda
1/2 teaspoon salt
Confectioners' sugar for dusting and/or use citrus cream
Citrus Cream:
8 ounces mascarpone cheese
1/2 cup whipping cream
1/4 cup granulated sugar
1 tablespoon fresh orange juice
1 lemon, zested and juiced
1 lime, zested and juiced
1 teaspoon orange zest
1 teaspoon vanilla extract
2 large oranges, segmented
Directions:
Preheat the oven to 350 degrees F. Oil and flour a 9-inch round cake pan.
Cake:
Mix together the sugar and eggs in a medium bowl with a hand mixer on medium speed until blended and light. Drizzle in the olive oil and vanilla and mix until light and smooth. Add the orange juice mix well. Sift together the flour, baking powder, baking soda and salt in another medium bowl. Add the flour mixture half at a time to the wet ingredients and mix on low just to incorporate. Pour into the prepared cake pan and bake, 25 to 30 minutes. Let the cake cool 15 minutes, dust with confectioners' sugar and serve.
Citrus Cream:
In a medium bowl, using an electric hand mixer, beat all the ingredients together until stiff peaks form, about 1 minute.
Squid Salad
Ingredients:
Squid (Mostly shoots)
Marjoram
Kalamata olives
salt pepper
olive oil
Directions:
Slice squid thin. Cut shoot loops to be long strings
Saute squid with salt and pepper
Chill squid
Mix with finely chopped fresh marjoram and chopped kalamata olives
Salt and pepper to taste.
Drizzle with olive oil and mix before serving
Marcona Almond Sweet Cream Ice Cream with Dulce de Luche Swirls
Ingredients:
Marcona almonds (toasted and salted)
1.5 tps almond extract
3/4 cup sugar
1 cup milk
2 cups cream
1 can dulce de leche
Directions:
Whisk sugar and milk to dissolve
Add almond extract
Whisk in cream
Chill for 30 minutes
Add to ice cream maker for 30 minutes
Whisk dulce de leche to soften
Remove from ice cream maker and fold in almonds
layer into container alternating between the ice cream and the dulce de leche
Mix through with spatula and freeze